This article was correct at time of publishing (May 14). To keep up with the latest information please visit our COVID-19 hub
Personal protective equipment (PPE) is the term used to describe clothing or wearable items that aim to prevent injury or exposure to unwanted chemicals, allergens and infectious material. PPE can include items such as masks, eyewear, aprons and other role-specific garments.
What is the PPE guidance for community pharmacy?
Public Health England (PHE) recently released updated guidance to reflect the changing level of risk to healthcare workers from exposure to COVID-19 in the UK. The updated guidance advises pharmacy staff that there is no need for PPE if social distancing measures of at least two metres can be maintained.(1)
However, if it is not possible to maintain social distancing during contact with members of the public who may have possible or confirmed COVID-19, the sessional use of fluid-resistant (Type IIR) surgical masks (FRSM) is recommended.(1)
Where can pharmacists get FRSM?
The global demand for PPE during this pandemic is unprecedented and it is recognised there may be shortages in the supply network. The influenza stockpiles have been released in the UK, including many types of PPE, and new logistics networks have been established across the country to help ensure supply.(2)
PHE has made PPE, including FRSM, available to wholesalers who routinely supply pharmacies,(2) and additional quantities were delivered to wholesalers from the PHE stockpile on April 9.(3) Despite these measures, many pharmacies are still struggling to get hold of  some PPE – such as face masks – from wholesalers.
The NHS has said that local resilience forums have received PPE supplies in response to local needs. This PPE is intended to support providers whose usual routes of accessing equipment have been exhausted and where there is a continued need for stock. A new online ordering site is currently under development and will enable primary care providers to register their PPE requirements.(2) Details on how to register will be released directly to providers and orders will be managed according to published guidance from PHE.(2)
Pharmacies are reminded that the stock received from the national stockpile is not for sale to the public and only for use by pharmacy staff.(3)
How should face masks be put on and taken off?
It's important that PPE is worn correctly and donned (put on) and doffed (taken off) in the right way in order to minimise risk of infection.
Donning face masks
Before putting on PPE, perform hand hygiene using alcohol hand rub, or wash hands with soap and water for at least 20 seconds.
Any jewellery or watches should be removed, before putting on the surgical face mask.
If tied, make sure the mask is securely tied at the crown and nape of the neck.
The mask should cover the nose, mouth and chin.(4,5)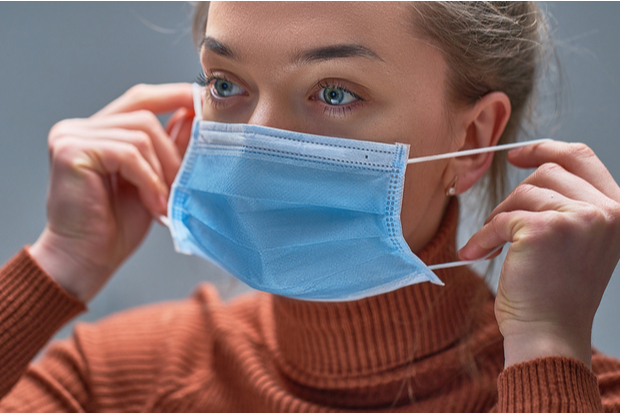 Doffing face masks
Before removing the surgical mask, perform hand hygiene using alcohol hand rub or by washing hands with soap and water for at least 20 seconds.  
Then remove the surgical mask, taking care not touch the front of the mask as this may be contaminated.
Masks intended for single use should be discarded appropriately as clinical waste. Those that are resuable should be cleaned according to manufacturer instructions.
Hand hygiene should then be repeated.(1,4)
What does sessional use mean?
Updated PHE guidance advises the use of FRSM by pharmacy staff for sessional use. A single session is defined as a period of time where a healthcare worker is undertaking duties in a specific care setting/exposure environment. The session ends when the care setting/exposure environment is left.(5)
PHE advises that sessional use should always be risk assessed and the PPE disposed of after each session, or earlier if damaged, soiled or uncomfortable.(5) There is no evidence indicating that disposing of face masks between patients reduces the risk of infection transmission. In theory, the constant handling of PPE in order to remove and replace it could instead increase exposure. The recommendation of sessional use in certain circumstances is to help with efficient clinical care while reducing the risk of inadvertent indirect transmission.(1)
The duration of a session is not clearly defined and is dependent on local and individual factors, such as heat, shift and activity length. However, it is advised that use should not exceed manufacturer instructions and may vary from 2-6 hours.(6)
Can PPE be re-used?
PHE guidance advises that the reuse of PPE is acceptable during times of acute shortage.
The guidance advises that FRSM masks with elastic ear hooks can be re-used, while tie-on face masks are less suited to re-use because they are more difficult to remove. Masks that are contaminated, damaged or hard to breathe through should be discarded.
When storing a face mask for re-use, it should to be folded so the outer surface is held inward and against itself and should then be stored in a clean sealable bag or box that is marked clearly with the person's name.
Some models of PPE cannot be re-used as they do not go back to the original condition after being removed.(6)
Advice on social distancing when not using FRSM
PHE highlights that it is important that pharmacies maintain social distancing measures, keeping two metres or more from other staff and patients at all times. Although, understandly, this can be very difficult to maintain in a community pharmacy environment.
If social distancing cannot be maintained and pharmacy teams are working in an area with possible or confirmed cases of COVID-19, then the use of FRSM is advised. In the pharmacy setting, regular use of aprons and gloves is not recommended.(6)
Where else can pharmacists find PPE information?
Further information on these measures can be found on the regularly updated PHE site – COVID 19: Infection prevention and control, which includes quick reference tables on PPE for different healthcare settings, and guides to  best practice hand rub and handwashing techniques.
References