From this module you will learn:
How miscarriages and stillbirths differ in their definitions and management
What pharmacists can do to help parents experiencing pregnancy loss
Where to signpost affected individuals for more information and support

Download this module - this includes the 5 minute test - here.
 
Pregnancy is an emotional time. Once the shock or joy of a positive test result has passed, the following months are filled with a mixture of anticipation, excitement and anxiety.

But for some, these feelings are overwhelmed by sadness if the pregnancy does not culminate in a birth, and instead ends abruptly in a miscarriage or stillbirth.

The difference in these two terms is dictated by time: the spontaneous loss of a pregnancy within the first 24 weeks' gestation is referred to as a miscarriage, whereas a baby born deceased after this time is a stillbirth. Both are more common than is often thought, with more than one in five pregnancies in the UK ending in miscarriage – around a quarter of a million each year, according to charity the Miscarriage Association – and one in every 200 births ending in a stillbirth.

This module provides some background information on unplanned pregnancy loss, with a focus on the aspects of care that you and your staff are most likely to be asked about.
Miscarriage
Most miscarriages occur during the first trimester of pregnancy and are the result of the embryo having a chromosomal abnormality – which prevents normal development – or a problem with the placenta. The mother's age plays a factor in the likelihood of a miscarriage, with around one in 10 pregnancies in women under 30 ending this way compared with more than half of those in women aged 45 and over.

Other risk factors during pregnancy include obesity, tobacco smoking, illicit drug use, drinking more than two units of alcohol per week or ingesting more than 200mg of caffeine (more than two mugs of instant coffee) each day.
Second-trimester miscarriages are sometimes the result of:
uterine abnormalities (including fibroids)
cervical incompetence
maternal infection (common examples include rubella, HIV, chlamydia, gonorrhoea, syphilis, malaria, bacterial vaginosis, listeriosis, toxoplasmosis, salmonella and cytomegalovirus)
an undiagnosed and hence uncontrolled chronic condition, most notably:
thyroid or renal dysfunction
lupus
hypertension
diabetes
coeliac disease.
Certain medicines can also increase the risk of miscarriage, particularly misoprostol, retinoids, methotrexate and NSAIDs.
A woman who suffers from recurrent miscarriages (the consecutive loss of three pregnancies, each before 24 weeks' gestation) usually finds her situation highly distressing, and often feels at fault. Therefore, it is important to understand the causes.

Where a cause can be found – and this only happens for around 50% of cases – it is far more often to do with the mother than the father. A uterine abnormality may be at play, the woman may have immunological or thrombophilic (tendency for the blood to clot) problems, or have been exposed to something in her environment that has caused an issue. The only reason the father may be responsible for recurrent miscarriages is if they have a genetic abnormality. Of course, this may equally be a cause on the mother's side.

This makes the need for a careful choice of words when providing support all the more important. You should consider focusing on lifestyle factors that the woman feels may have caused the miscarriage but have, in fact, been proven to not increase the risk. Factors wrongly perceived to affect risk of miscarriage include exercising, having sex, emotional state, working, air travel and eating spicy foods.
Miscarriage management
The first sign of anything going awry with a pregnancy is vaginal bleeding. This is typically light spotting or a blood-stained or brownish discharge. It may recur over several days, and be accompanied by abdominal cramping or lower backache. While it can be inconsequential, any woman reporting such symptoms should seek medical advice.

Urgent help should be sought if the woman reports persistent and severe abdominal pain (which may be one-sided); pain in the shoulder; diarrhoea; vomiting; rectal pressure or pain on defecation; or feeling faint. Any of these symptoms may indicate an ectopic pregnancy.

In many early miscarriages, nature will take its course and the products of conception will be expelled from the uterus without any intervention being necessary. The National Institute for Health and Care Excellence (Nice) does not recommend that women who experience pain-free vaginal bleeding before six weeks of gestation need to be referred to an early pregnancy assessment unit (EPAU) unless they are in pain or an ectopic pregnancy is suspected. This is because ultrasound assessments at this stage are unreliable; they may also add to the distress and uncertainty already being experienced.

At more than six weeks' gestation, an ultrasound (which may be transvaginal rather than abdominal if the pregnancy has not progressed very far) can establish whether there is a foetal heartbeat. It may be accompanied by blood tests to check the mother's human chorionic gonadotropin (hCG) and progesterone levels.

Management of a confirmed miscarriage depends on the woman's symptoms and personal preference. Some may be prepared to wait for the foetal tissue to pass naturally, particularly if they are not experiencing any pain. In such cases a pregnancy test or scan should be performed after two weeks, though advice should be sought urgently if bleeding or pain becomes very severe or a fever develops.

Medical or surgical management should be offered if the woman has:
ongoing symptoms after 14 days of watchful waiting
an increased risk of haemorrhage (for example, her pregnancy is at the late first trimester or later) or its effects (meaning she cannot, or will not, have a blood transfusion)
had a previous adverse or traumatic experience associated with pregnancy
an infection.
Taking vaginal or oral misoprostol offers women the opportunity to feel more in control of the situation, and works by stimulating uterine expulsion of the products of conception. A pregnancy test should be conducted three weeks later.

Surgical vacuum aspiration – using gentle suction under local or general anaesthetic – is more invasive but provides rapid resolution of symptoms, which the woman may find easier to cope with.

The emotional ramifications of miscarriage, no matter at what stage and regardless of the number experienced, cannot be understated. Grief, anxiety and depression are very common, and are comparable in both nature, intensity and duration to the reactions displayed by individuals suffering any other form of bereavement. Support is of huge importance, for the father as well as the mother, as are practical actions, such as making sure that any planned antenatal appointments have been cancelled.
Stillbirth
According to the charity Kicks Count, the UK has the second highest stillbirth rate in the developed world, with more than a third of cases happening after 37 weeks of pregnancy. Around 10% of stillbirths are due to the baby having some kind of birth defect, and around half are attributed to placental complications. A small percentage are due to an issue with the mother's health, such as pre-eclampsia, placental abruption, haemorrhage, infection, diabetes, obstetric cholestatis (a liver disease), or a problem with the umbilical cord.

There are a number of factors that can increase the chance of a baby being stillborn, including multiple pregnancy, poor foetal growth, and the mother being:
over 35 years of age
obese
having a pre-existing condition such as epilepsy
smoking
drinking alcohol or misusing drugs.
However, for some stillbirths, no cause or reason is found. Many cases are picked up at routine antenatal appointments, while others are diagnosed after the mother has sought help, most commonly because she has noticed an absence of foetal movements.

Labour is usually induced, either by means of vaginal dinoprostone or sometimes using intravenous oxytocin. Many parents find the prospect incredibly upsetting, coming as it does on top of the news that the pregnancy has failed.
Given time, reassurance and information on how the process is safer for the mother if done this way instead of via a caesarean section, most individuals come to terms with it. If there is no threat to the mother's health, waiting for labour to start naturally is an option.

However, this wait cannot continue indefinitely as the baby's condition will deteriorate within the womb, which not only affects the appearance, but makes a post-mortem more difficult. A woman who wants to wait in this way will need to have twice weekly blood tests to check her health, and will be strongly advised to undergo induced labour within two to three weeks.

Women who go on to produce breast milk after having a stillborn baby may find this experience to be an added trauma. Dopamine agonists can stop lactation, but they are not suitable for all. Some women may prefer to offer their milk for donation and let their supply dry up naturally, considering it part of the healing process.

Having a stillbirth can be devastating, and people deal with it in different ways. Hospital staff will take photos and collect mementos such as a lock of hair, footprints and the blanket the baby was wrapped in at birth, and give them to the parents to look at when they feel ready – which may be immediately or sometimes months, or years, later. Bereavement support services can help with practical details, such as registering the stillbirth (a legal requirement across the UK), organising a funeral, and arranging counselling.
All women who have had a stillbirth should be followed up so their physical and emotional health can be checked. They will have an opportunity to ask questions about the post-mortem (if the parents consented to one being carried out) and test results, as well as discuss future pregnancies.
Maternity exemption certificates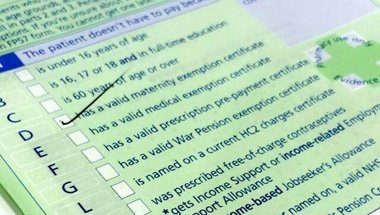 In England, women who are pregnant or who have had a baby in the previous 12 months are eligible for free prescriptions as long as they have a maternity exemption certificate. This is issued by the NHS Business Services Authority following submission of a FW8 form that has been completed by the patient and their GP, midwife or other relevant health professional. But what happens if the pregnancy does not go as planned?

If the pregnancy ends in miscarriage before the 24th week of gestation, the certificate ceases to be valid, and the woman will need to pay prescription charges unless she is exempt under another category. A woman who experiences pregnancy loss after the 24th week of gestation, however, remains exempt from prescription charges until the maternity exemption certificate expires.
Asking a woman to produce the certificate of exemption or stillbirth is rarely appropriate, as it is likely to cause distress, and instead you or a staff member should mark the "evidence not seen" box on the prescription form.
 
For more information
NHS Choices is a good source of information for patients and carers, as is the website of the British Pregnancy Association.

The National Institute for Health and Care Excellence (Nice) has a pathway on antenatal care, which includes links to more detailed pathways and guidance on ectopic pregnancy and miscarriage. 

Clinical Knowledge Summaries pull together a range of resources to provide information on conditions and their management. 

Charity the Miscarriage Association provides support and information to anyone affected by pregnancy loss, with information and printable leaflets on its website, as well as phone and email helplines.

The charity Cruse Bereavement Care delivers face-to-face and group support to those who have lost someone close, and has email and telephone helplines.

The resources available from charity the Ectopic Pregnancy Trust can be very helpful to those who have experienced pregnancy complications. 
 
Pregnancy loss CPD
Reflect How common are miscarriages and stillbirths? When should medical or surgical management be offered for miscarriage? What are the risk factors for stillbirth?
 
Plan This article discusses how miscarriages and stillbirths differ in their definitions and management, what pharmacists can do to help parents experiencing pregnancy loss and where to signpost affected individuals for more information and support.
 
Act Read more about miscarriage on the NHS Choices website at tinyurl.com/pregnancyloss1
 
Find out more about stillbirth on the NHS Choices website at tinyurl.com/pregnancyloss2

Find out about charities that offer support for parents and families affected by miscarriage or stillbirth such as Sands at tinyurl.com/pregnancyloss7, the Miscarriage Association at tinyurl.com/pregnancyloss4 and Cruse at tinyurl.com/pregnancyloss5, who offer bereavement counselling.
 
Find out about advice that can be given to those who want to try for another baby on the Miscarriage Association website at tinyurl.com/pregnancyloss6
 
Evaluate Are you now confident in your knowledge of the management of miscarriage and stillbirth? Could you signpost patients to reliable sources of information and support?