This article was correct at time of publishing (June 17). To keep up with the latest information please visit our coronavirus hub
Ms Wilson approaches the pharmacy counter and asks to speak to the pharmacist. She wants to ask for some advice on behalf of her father, Mr Wilson, who is a regular 64-year-old customer in the pharmacy. He was diagnosed with chronic obstructive pulmonary disease (COPD) two years ago and is in the 'vulnerable group' so is currently shielding on advice from his GP.
Due to the respiratory complication of COVID-19 and increased risk of severe illness, Mr Wilson would like some advice on quitting smoking. His daughter tells you, "Despite his condition, he's never wanted to quit before but given the severity of the pandemic, he doesn't want his condition to get worse and put himself at further risk."
Ms Wilson explains that her father takes a salbutamol inhaler when required, a tiotropium Respimat inhaler and theophylline tablets. He does not usually buy anything over the counter except paracetamol occasionally for headaches and has no known allergies.
You arrange to have a telephone consultation with Mr Wilson. What advice do you give him?
Why are COPD patients vulnerable to COVID-19?
Patients with severe respiratory conditions such as severe asthma, cystic fibrosis and COPD are at higher risk of developing severe illness from COVID-19. Patients in these at-risk groups have been placed on a shielding list and should follow government guidelines on social distancing. Patients on the shielding list can now leave their homes but should remain at a safe 2-metre distance from people who are not from their household.(1)
You should seek to reassure patients and families or carers who may be anxious about being vulnerable, and encourage those with severe respiratory conditions such as COPD to continue taking their regular inhaled and oral medicines in line with their individualised COPD self-management plan to ensure their COPD is as stable as possible.(2)
For more information on advising patients with COPD and suspected COVID-19 infection, read our summary of the rapid National Institute for health Care and Excellence guideline for community-based care of patients with chronic obstructive pulmonary disease (COPD). The guideline reiterates the importance of smoking cessation in this patient group.
Why is smoking cessation important?
Smoking cessation is crucial for patients suffering with COPD as this intervention can helps to slow down progression of the condition and reduces the risk of acute exacerbations.(3) Smoking cessation can reduce the risk of poorer outcomes associated with COVID-19 infection.(4)
What should be considered before initiating smoking cessation?
Smoking acts as an CYP1A2 enzyme inducer, causing theophylline to be metabolised faster than normal. Therefore, when beginning smoking cessation a patient's theophylline levels should be closely monitored, as theophylline will no longer be cleared from the body at the same rate and may lead to theophylline toxicity.(4) Target therapeutic concentrations of theophylline is normally 10-20mg/L. Patients should also have their urea, potassium and liver function monitored by their GP.(5)
Signs of theophylline overdose include:(5)
Nausea and vomiting
Headache
Tremor
Insomnia
Palpitations
Arrhythmias
Convulsions – although this is rare.
These signs are typically seen when plasma concentrations of theophylline exceed 20mg/L, but it is important that you advise patients to be alert for these symptoms and to seek urgent advice from their GP if any of the above symptoms develop.
What are Mr Wilson's options for smoking cessation?
It is highly recommended to refer patients to a smoking cessation service, where medication can be managed and they can be monitored closely.(4) During the COVID-19 pandemic, smoking cessation services can be accessed online or via telephone.
NHS Stop Smoking Services are available, and they can help with:(6)
Smoking cessation treatments eg nicotine replacement therapy (NRT).
One-to-one or group behaviour support (this service is not available during the COVID-19 pandemic, however support can be offered via telephone or video).
Providing vouchers or prescriptions to stop smoking treatments.
It is crucial that this process is powered by shared decision making between the patient and the healthcare team so that they feel in control and empowered to quit.(6)
Available treatment
NRT, varenicline and bupropion are three treatments that have shown evidence of effectiveness in smoking cessation. Varenicline or combination NRT (a patch plus a short-acting preparation) have been shown to be the most effective treatment combination.(7)
All of the NRT treatments are thought to be equally effective, therefore treatment choice is often made on patient preference.(7)
Choice of treatment should be considered carefully, taking into account the patient's:(7)
previous history of trying smoking cessation medications
preference of treatment choices
risk of taking the medication, considering any contraindications, interactions and risk of adverse effects of the treatment.
NRT should be prescribed by brand name as dosage instructions can vary between brands. Varenicline and bupropion should not be prescribed together or with a long acting NRT (eg a NRT patch).(7)
NRT formulations
Each NRT has a different duration of action and can help to reduce cravings and withdrawal symptoms when quitting smoking. Treatment with NRT usually lasts around 8-12 weeks, when the dose is gradually reduced before stopping.(8)
NRT patches
Patches are a longer acting formulation. How often the patient experiences cravings will determine whether they should use the 24-hour patch or 16-hour patch. For patients who smoke within 30 minutes of waking or smoke during the night, it may be more appropriate to recommend the 24-hour patch. The strength of the patch depends on how many cigarettes the patient smokes per day. Patches can be used to act as a baseline for cravings to smoke, supported by shorter acting NRT products such as lozenges for "breakthrough" cravings. Patches can also be a good option for patients who want a discreet form of NRT.(8,9)
Patients should be advised to wash their hands before and after applying a patch or removing an old patch. Patches should be applied to an area of the skin that is not irritated, undamaged and the skin should be hairless, clean and dry (for example the upper arm or hip). Applying each new patch to a different site will reduce the risk of skin irritation. Side effects of patches can include insomnia, vivid dreams, itchiness, mild redness or irritation at the application site.(8)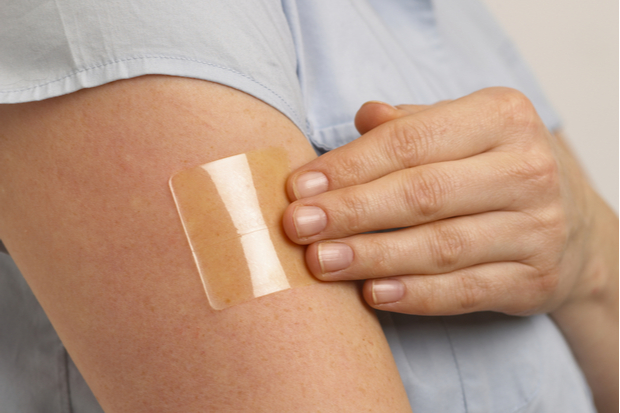 NRT inhalator
NRT is absorbed via the nasal mucosa and tends to work after 10-15 minutes. Each nicotine cartridge roughly lasts for 40 minutes of use. When smoked like a cigarette, using an inhalator for 20 minutes can release up to 2mg of nicotine. NRT inhalators may act quickly and be useful for cravings. Side effects can include cough, irritation of the mouth and throat and nasal congestion. Some patients may prefer this NRT because as well as helping to satisfy cravings, it also replicates the hand-to-mouth action of smoking a cigarette.(9)
NRT gum
Nicotine is absorbed through the cheek via the buccal mucosa, and onset of action tends to peak around 20-30 minutes. It is available in different strengths and flavours and tends to work for about 30 minutes. The 2mg gum is generally suitable for patients who smoke 20 cigarettes a day, and 4mg is for patients who smoke more than 20 cigarettes a day.(8,10)
NRT gum should be chewed intermittently and then rested between the cheek and the lining of the gum. Some patients struggle with this "chew and park" method – the gum should not be chewed continuously as this will stop nicotine from being released. Side effects of nicotine gum can include wind, dry mouth, hiccups and throat irritation.(8,10)
It is important that you check that patients do not have dentures before recommending NRT gum, as the gum can damage them. Patients should also be advised not to eat or drink while chewing the gum as this can decrease its effectiveness.(10)
NRT lozenges
Lozenges are absorbed via the buccal mucosa and are available in a variety of strengths and flavours. Lozenges take 10-20 minutes to dissolve completely in the mouth. Side effects can include irritation of the mouth and throat, jaw pain, increased salivation and dysphagia.(8)
NRT oral spray
The spray works slightly faster than the gum and lozenges, achieving a peak plasma level within 13 minutes. The spray can be used on a as required basis or in anticipation of a craving, with each spray delivering approximately 1mg of nicotine into the blood stream. NRT oral sprays contain ethanol. Side effects can include taste disturbance, mouth ulcers, gingival bleeding and dry mouth.(8,11)
NRT nasal spray
Nasal spray tends to work after 10-15 minutes and is absorbed through the nasal mucosa. Side effects can include nasal and mouth irritation, sneezing, and watery eyes. Side effects often lessen after a few days of using the spray. Each spray delivers approximately 0.5mg of nicotine into the blood stream. Nasal sprays are not suitable for patients who suffer from frequent nose bleeds.(8,12)
NRT Microtabs
Microtabs are sublingual tablets, each containing 2mg of nicotine. Microtabs should be dissolved under the tongue and will fully dissolve in around 20-30 minutes. Swallowing, sucking or chewing will reduce the effectiveness of the microtabs. Side effects can include dry throat, sore mouth, cough, unpleasant taste or hot sensation in mouth and hiccups.(8,13)
Varenicline
Varenicline is a selective nicotine-receptor partial agonist and is prescribed by brand name – Champix. It is generally a 12-week course of tablets. It helps with reducing cravings and withdrawal symptoms when stopping smoking. It is suitable for patients motivated to quit smoking who have not yet been successful.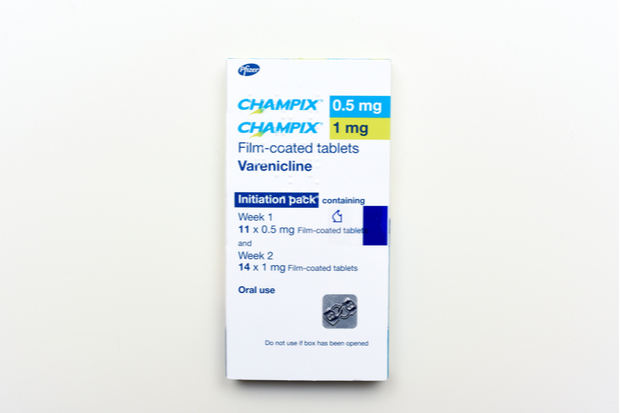 Patients continue to smoke during the first two weeks of taking Champix, with most people setting their quit date between 10-14 days after starting treatment. The dose is 0.5mg in the morning for three days, then 0.5mg twice daily for four days then 1mg twice daily thereafter. Common side effects can include nausea, headache, difficulty sleeping and abnormal dreams. It can cause low mood and Champix should be discontinued immediately patients are concerned about agitation, depressed moods, changes in behaviour, or if they develop suicidal thoughts or behaviour.(14)
Bupropion
Bupropion is a weak selective dopamine and noradrenaline re-uptake inhibitor, used to help with smoking cessation in combination with motivational support. It is used to help curb withdrawal symptoms. Patients are normally advised to stop smoking 7-14 days after starting bupropion. The dose of bupropion is 150mg once a day for 6 days, increasing to 150mg twice a day for a total of 7–9 weeks. Bupropion should be discontinued if no benefit is seen after seven weeks. Common side effects include insomnia, anxiety and taste disorders.(15)
The Department of Health have announced (May 29) a disruption to the supply of Zyban 150mg prolonged release tablets (bupropion), which will be out of stock until November. Patients taking Zyban 150mg as a smoking cessation treatment can be switched to a Champix.
E-cigarettes
E-cigarettes are thought to be less harmful than cigarettes but the long-term effects are currently unknown.(16) E-cigarettes deliver nicotine without the toxins from tobacco smoke. In 2017 to 2018, it is estimated that 5.4% to 6.2% of adults used e-cigarettes. All e-cigarettes are currently unlicensed and cannot be prescribed or supplied by smoking cessation services.(17)
What counselling advice do you give?
It is vital that pharmacy teams support patients going through smoking cessation as it can be a difficult time, especially for patients who use smoking as an aid for stress. Any member of the team with smoking cessation training can provide support to patients going through this process. It is important to follow up with patients during their quitting smoking journey.
References