This article was correct at time of publishing (September 17). To keep up with the latest information please visit our coronavirus hub
By now you are likely to be aware of some customers who have had COVID-19. Most will have recovered from the illness within a couple of weeks; however, this is not the case for everyone.
Common long-term symptoms
Data from the UK COVID-19 Symptom Study, which has been collecting symptom information from nearly four million users, suggests that 10% of people are still having symptoms or lasting effects three weeks after showing signs of the illness, with some suffering for months.(1).
Those reporting so-called 'long COVID' effects are complaining of fatigue, headache, cough, anosmia (loss of smell), sore throat, delirium and chest pain,(1) as well as reduced muscle function with psychological symptoms such as post-traumatic stress disorder and low mood particularly associated with those discharged from intensive care.(2)
It is not known why some people are taking so much longer to recover from COVID-19 infection than others. However, we do know that the virus can damage internal organs, resulting in detrimental long-term health effects similar to those as a result from other coronaviruses such as SARS (severe acute respiratory syndrome) and MERS (Middle East respiratory syndrome).(3) These include respiratory, musculoskeletal and neuropsychiatric after-effects, as well as COVID-19 associated sequalae affecting the metabolic, cardiac and gastrointestinal systems.(3)
Supporting recovery in pharmacy
People who have been admitted to hospital or intensive care with COVID-19 are likely to be referred for further medical follow-up. Many may not have been referred to these services as yet as they are still being developed and put in place.(2)
Community pharmacy is therefore in an ideal position to offer patients support during their recovery process, including those who may have been unwell and were not admitted to hospital. You can reassure these patients that they should expect to see a gradual improvement in their breathlessness and energy levels,(3) but they need to set gentle activity goals and pace themselves, particularly if they are finding their regular activities strenuous. For the same reason, people going back to work after experiencing COVID-19 may need their employer to organise a phased return.
Managing fatigue
Given the novelty of COVID-19, little is known about how best to manage post-COVID fatigue, but there is plenty of general advice you can give your customers.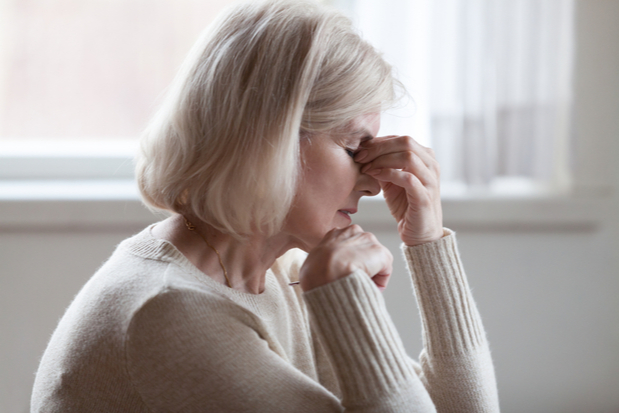 For example, if people are finding daily activities tiring, you could encourage them to think of ways to save their energy using 'the four P's' strategy produced by Homerton University Hospital:(4)
Planning: adapting daily routines to tackle the things they need to do when they feel they have the most energy.
Pacing: allowing more time to get things done and including plenty of rest breaks in the day.
Prioritising: delegating tasks to family members, asking friends for help, or ditching some things entirely, at least for the time being.
Positioning: an often-overlooked strategy, positioning means having everyday objects and items at hand in convenient locations to minimise the physical effort involved in reaching, lifting and carrying.
Diet and exercise
A lack of taste and smell is a common symptom of COVID-19, and this can make it challenging to eat and drink normally. However, people recovering from an infection can benefit from eating protein-rich foods, as well as vitamins and minerals as part of a varied and balance diet to help their bodies repair.(4)
Inactivity from being ill at home or spending time in hospital can result in a significant reduction in muscle strength, so eating higher protein foods alongside a gentle increase in activity will also help rebuild wasted muscles. While it is normal to get out of breath when exercising, advise your customers not to overdo their activity to the point where they are too breathless to speak.(4)
Smoking has been linked to poorer outcomes from COVID-19, so stopping smoking is another vital way to improve lung function.(4) Approaching discussions around smoking cessation can greatly benefit patients and should be a routine part of the discussion with those suffering from 'long COVID'.
Mental health
As well as physical symptoms, many people with 'long COVID' report anxiety and low mood. It is likely that those admitted to hospital will be particularly affected.
Those impacted most in the acute phase of COVID-19 have been identified as the elderly, certain ethnic groups (particularly black, south Asian and Jewish), those affected by poverty and patients with multiple morbidities including diabetes and cardiac disease.
There is insufficient evidence at this stage to identify strong correlations between at-risk groups in 'long COVID', therefore multi-agency working is being recommended to support a wide range of patients who may be susceptible to deteriorating mental health post COVID-19. Community pharmacy can therefore play an important role in early recognition and signposting for the entire spectrum of patients that use their services including those who have had COVID-19 or those who may have been affected by it eg loss of a family member.
Further resources and support
A simple intervention is to remind your customers that recovery takes time, and not to be too hard on themselves. Encourage them to focus on what they can control, such as eating well, gentle exercise, and getting enough rest.
The NHS has set up the Your COVID Recovery website to support people with long-term effects of COVID-19, with information about how to manage ongoing symptoms and health needs at home, and signposting to support.(5)
Asthma UK and The British Lung Foundation have set up a hub to provide information and support for people who have been diagnosed with COVID-19.(6)
There is also a Facebook 'Long COVID Support Group', and people are using the hashtag '#longcovid' on social media to share personal experiences.
If your customer is not seeing an improvement after a couple of months, or if they are feeling overwhelmed by their continuing symptoms, suggest they see their GP for further review.
References