This article was correct at time of publishing (June 3). To keep up with the latest information please visit our coronavirus hub
There are two types of testing methods for COVID-19, testing either for the COVID-19 virus or for antibodies to the virus.
Tests for the virus itself use a saliva sample or a swab, taken from deep inside the nose or at the back of the throat. These tests determine the presence of the virus by looking for part of its genetic material. They are also known as polymerase chain reaction tests and are used to determine if the person has a current COVID-19 infection. Results can be available in under an hour to a few days.(1)
Antibody tests determine the presence of antibodies that have been produced in response to the virus. They involve taking a blood sample, usually a finger prick, and then analysing the sample. They are also known as serology tests and are used to determine if someone has previously been infected with the COVID-19 virus.
It is not yet known if a positive test result indicates immunity to further COVID-19 infections as the link between the presence of antibodies and immunity has not been proven. Antibody tests should only be used and results interpreted by qualified healthcare professionals.(1)
Types of tests
Testing for COVID-19 can be done using a variety of testing kits, including home testing, sampling kits and laboratory or point-of-care testing.(1)
Home testing is similar to a home pregnancy test and involves the person taking the test themselves at home and interpreting the results. Currently there are no rapid response home testing kits for COVID-19 in the UK that have been given a CE mark (CE marks are quality assurance marks that ensure the kit is safe to use and works in the intended way).(2) Therefore, there are currently no home testing kits that have met the required UK medical device regulations. For this reason, it is currently illegal to supply rapid response tests to the public for use at home, although this may change if home testing kits that are CE-marked become available.(1)
It's important to note that these home testing kits are different to sampling kits that are used at home.
Sampling kits involve the person having a sample collected and the sample then being analysed in a lab. Sampling can take place in a variety of locations, such as at home, at a drive-through clinic, in a care home or at a police station. The sample is either saliva, or a swab taken from the nose or throat, which is then packaged and sent for analysis. A valid CE mark is required on a sampling kit for it to be sold to members of the public.(1)
Sampling kits are currently being used by the government to test people who have been prioritised for testing, including key workers.(1)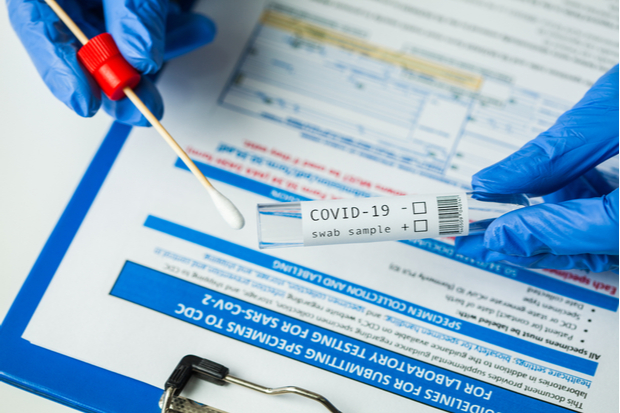 Laboratory, or point-of-care testing, is performed by healthcare professionals. The testing may be conducted using specialist equipment and staff, or other equipment that may be easier to use but still requires a highly trained healthcare professional. The tests can be done in the presence of the person being tested but they are not designed for home use as the results may require interpretation by a qualified healthcare professional.(1)
On May 29, the Medicines and Healthcare products Regulatory Agency (MHRA) asked providers of laboratory-based COVID-19 antibody testing services that use capillary blood collected via a fingerprick to temporarily stop providing this service "until home collection of this sample type has been properly assessed and validated for use with these laboratory tests". This update from the MHRA does not affect rapid, point-of- care tests or laboratory tests that use blood taken from the vein.(3)
For further information about the suitability and legality of selling COVID-19 test kits in pharmacies, please refer to our feature on the topic.
Who can be tested?
People with symptoms of coronavirus can request a test through the NHS website. Testing is most effective if done in the first three days of symptoms developing and patients should be advised that they can request a test for themselves, if they have coronavirus symptoms (a high temperature; a new, continuous cough; or a loss of or change to their sense of smell or taste) or for someone they live with who is displaying coronavirus symptoms.
As demand for testing is currently high, essential workers – and those living with an essential worker – who have symptoms of coronavirus are being prioritised for testing in England, Scotland, Wales and Northern Ireland. Priority testing can be done by self-referral or employer referral through the gov.uk website, where the full list of essential workers can also be found.(4)
In England, care home staff and residents are eligible for testing, regardless of whether they have symptoms or not.(4)
The Scottish government, the Welsh government and the Public Health Agency for Northern Ireland have released further information on testing.
Regulation of testing kits
Testing kits are regulated as medical devices by the MHRA, who ensures the kits are safe to use and of a required standard. These kits are marked with a CE mark, issued by independent certification bodies known as a notified bodies, which are overseen and authorised by the MHRA to issue them.(1,2)
Any questions about the quality of a self-test kit should be reported using the Coronavirus Yellow Card reporting site. Kits should be sealed, with no damage to the packaging and be within the expiry date when issued. Testing kits suspected of being fake or unlicensed can also be reported via this scheme. You can find more information on reporting adverse reactions in C+D's clinical article Yellow Card reporting during the COVID-19 pandemic.(5)
References