As we see an increase in the number of pharmacy-led COVID vaccination sites across the UK, pharmacy teams are having to prepare for the most ambitious vaccination service in UK history.  
The realities of this have been seen by Chris Grahame, former Boots pharmacist and now senior clinical primary care network (PCN) pharmacist in Northampton. He has been heavily involved in all aspects of the set up and running of the Kings Heath COVID vaccination hub in north Northampton for the Blue PCN as part of the NHS Northamptonshire CCG.
To date, Mr Grahame and his team have delivered over 5,500 vaccines through a combination of vaccine centres, care homes and housebound patients. He has also vaccinated over 20 Boots pharmacists who were unable to leave their pharmacies due to time commitments.
From reconstituting vaccines to admin and the importance of hygiene, here is his advice to help your vaccination hub run smoothly.
Hub efficiency tips
Have a dedicated car park kit and a two-person team on-hand because a number of patients in cohorts 1-4 are very frail and immobile, with drivers or relatives requesting a car park vaccination. The car park kit should include an adrenaline kit, a vaccine and needles, a sharps bin, alcohol wipes and cotton wool.
Reconstitution of the vaccine, vial management and vaccinator support are ideally roles for the pharmacist or pharmacy technician. Nevertheless, resilience and contingency planning for a vaccination centre is essential and other healthcare professionals such as GPs, dentists, healthcare assistants, etc must also be trained up to competently complete the process from start to finish.
To help the vaccinators concentrate on vaccinating only, have a supply of vaccine station consumables within easy reach – a sharps bin, hand gel, alcohol wipes, yellow clinic waste bags, cotton wool balls, gloves, aprons, seat cleaning wipes, etc. I do hourly 'sweeps' of the vaccine floor to check on supplies and top up where necessary.
Pre-printed or labelled vaccine cards are hugely time efficient – these are then stored on each vaccination station to be handed out after the patient receives the vaccine dose. Be aware that presenting older patients with vaccine cards pre-injection can lead to many cards being discarded or dropped during the undressing or dressing phases of the vaccination.
The supplied silver cool/transport bags have seven cool blocks per bag. To ensure the cold chain is suitably maintained during care home and housebound patient visits (using the AstraZeneca vials), freeze two of the blocks and keep five at fridge temperature.
The vaccine hub dedicated vaccine fridge has a large 'dead space' relative to the volume of vaccines stored. To buffer the effect of door opening, the fridge can be filled with gel packs from the transport bags and/or hand gel.
The closing two hours of each clinic are a crucial time for preventing wasted doses. Working closely with the reception team and vaccinators is critical to get a balance of booked patients vs remaining doses. In the final hour of a clinic to ensure zero wastage doses, allow the stock on the vaccine floor to reduce to zero and be prepared to reconstitute/remove vials from the fridge on demand eg for Pfizer vaccine six patients waiting and AstraZeneca 11 patients waiting. It is also essential to have a reserve list of first dose patients who are within 15 minutes travel of the clinic and will attend at short notice.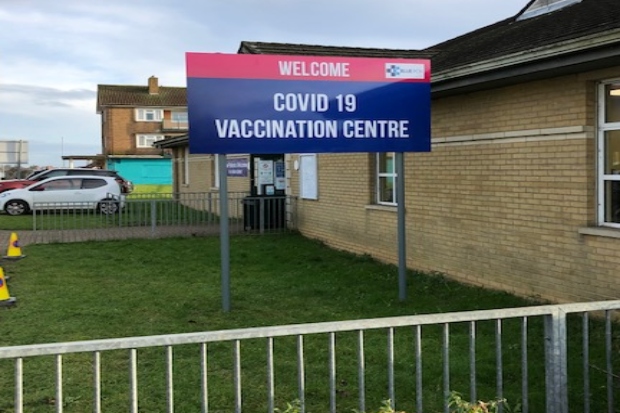 Vaccine receipt tips
A handful of indelible markers or Sharpies are handy for marking up vial reconstitution/use-by times – times can be marked on the vials, freezer bags or the lip of cardboard kidney bowls.
On receipt of the allocation, mark up each box of needles with "NaCl- diluent only" "AZ vaccine only" or "Pfizer vaccine only". This saves time and prevents confusion/misuse.
On receipt of the Pfizer vaccine "pizza box", separate the vials into tranches of 20 into a disposable kidney bowl within the vaccine fridge. This simplifies stock takes and allows quick counting of the vials: once more than 30 vials have been removed from the tightly packed outer container, they roll about and make counting difficult.
Have a separate reconstitution room with a "closed door" policy – when the door is shut, there are no interruptions to the reconstitution process. Ideally, this is where the vaccine fridge is located with an easy read digital clock at head height for marking the time. 
Use a white board inside the vaccine room with dry wipe markers for tracking vial usage in the clinic, vial loss and wasted doses. These figures can then be transferred to an Excel spreadsheet during breaks or the end of the day.
Track usage and movement of vaccine vials stock using the Excel spreadsheet – treat each vial delivery like a controlled drug invoice and monitor stock hourly. This data can then be uploaded onto the Foundry platform when required.
Have vaccine at room temperature, reconstituted and ready to use at least 30 minutes before the first booked appointment. I've found that patients in cohorts 1-4 are enthusiastic and keen to be vaccinated and will arrive early for their booked time slot!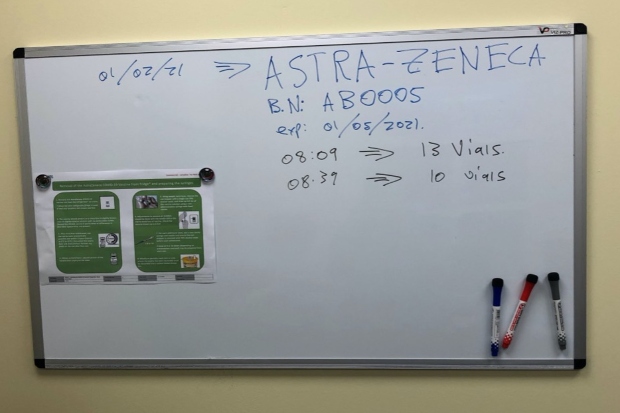 Vaccination preparation tips
AstraZeneca 5ml vials will provide 11 doses provided the drawing up is very accurate with zero air bubbles. To aid precise drawing up of doses, both Pfizer and AstraZeneca syringes should be held up against a white or pale-coloured background. Avoid dark backgrounds, particularly those with similar tones to the syringe plungers.
During the reconstitution of the Pfizer vials, ensure that the green needle is pushed very firmly onto the 2ml Discardit syringe for the sterile saline diluent. If slightly loose or improperly fixed, back pressure from the vaccine vial can separate the two, leading to a vial being wasted.
After introducing the diluent to the Pfizer vial, gently pump the barrel to ensure all the 1.8ml enters the vial: pulling the barrel all the way back to >2ml on the vial eliminates all back pressure and prevents vaccine loss.
The needle and syringe combination supplied for the AstraZeneca vaccine are thin and quite flexible. On drawing up, ensure the needle punctures the vial in the central 'bulls eye' at 90 degrees to the butyl bung, with firm and constant force.
During reconstitution and drawing up, patience is key! Going slow and steady reduces the chances of air bubbles, which will slow down the process.
To ensure the correct number of doses are extracted from each vial, vaccination stations can be provided with a 'vaccination bundle' – one Pfizer vial and six 'Pfizer' needles or one AstraZeneca vial and 9/11 'AZ' needles (subject to 4ml or 5ml AZ vial). These are racked up in advance ready to top up each station as necessary. Vaccinators have standing instructions to collect these as necessary.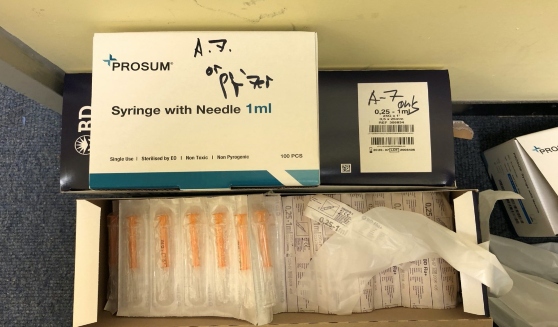 Are you or your pharmacy involved in the COVID-19 vaccination programme? Let C+D know and share your experiences with fellow pharmacists and staff on the C+D Community. Register for free, or access the site via LinkedIn.