In the second of C+D's series on patient perspectives, Ramona Mulligan reveals her initial shock at being diagnosed with type 2 diabetes and why it spurred her on to become healthier than ever
When US-born Ramona Mulligan was diagnosed with type 2 diabetes in 2009, she was genuinely alarmed. "My diagnosis really shocked me," says.
Ramona, 46, who moved to Chorley, Lancashire with her husband Kirk 10 years ago. "At 5'4" and weighing around 17.5 stone, I knew I was classed as morbidly obese," she admits. "But I had always been in pretty good health and had not been to the doctor for about three years."
Up until her late twenties, Ramona had kept "fairly fit", she says. But she started piling on weight as her work/life balance deteriorated. "In the US, you only get two weeks' holiday every year, so it can be very stressful. I enjoyed eating healthy meals, but I gradually started to consume fast food on a fairly regular basis and the pounds began to accumulate," she says.
The unhealthy lifestyle persisted when she moved to the UK in 2004. Things came to a head in late 2008, when Ramona, who works in recruitment, began to feel unwell. "It felt like flu," she says. "I felt really drained. Things were extremely busy at work and I just thought I was putting all my energy into my job, and that's why I felt low."
Devastating diagnosis
A trip to her GP revealed Ramona had infections in both ears and her throat. But a routine blood test also revealed something more sinister – raised blood glucose levels. It was the first sign that her excess weight might be causing hidden health problems, with potentially serious consequences.
In January 2009, Ramona was referred to her local hospital for a glucose tolerance test to assess how well her body was breaking down sugar. Her blood was tested before and after swallowing a sugary drink. When the results came back, Ramona was told she was borderline diabetic and would need to undergo further investigations.
"That really shook me up," says Ramona, who has a 30-year-old son and two stepchildren by her marriage to Kirk. "I instantly thought I had to do something about it and almost overnight started to change my eating habits.
"I got rid of all the sugary treats and started eating more fruit and vegetables. I also began eating smaller portions and cut out alcoholic beverages. Just months after my first appointment, I had lost one and a half stone."
Ramona thought her lifestyle intervention had come just in time to turn the tide. But a test of her HbA1c levels in March 2009 confirmed the worst: she had type 2 diabetes. "I had been expecting good news, so I was absolutely devastated," recalls Ramona.
Personal experiences made the news particularly hard for her. In the mid-1990s, her best friend Jimmy had died from diabetes complications. Then, in 2008, her mother – who had suffered gestational diabetes years earlier while pregnant with Ramona's brother –  suddenly slipped into a diabetic coma.
Confusing treatment
Ramona was immediately put on a combination of tablets to control the condition and limit long-term damage. To begin with, she took 1,000mg metformin per day. This soon had to be doubled to 2,000mg after she failed to respond fully to the treatment.
Alongside the metformin, she was prescribed gliclazide to boost insulin output by the pancreas and sitagliptin. The final drug in her new arsenal of medicines was the statin Lipitor, as tests revealed her cholesterol levels were slightly raised.
Like many patients in her position, Ramona had to acquaint herself with a wide range of new medicines virtually overnight. It was her practice nurse who explained the drugs to her. "I had heard of metformin and I knew it was a good drug that had been around for a long time," she says. "My practice nurse also explained that the gliclazide would help get rid of the excess sugar in my system, but that one of the potential side effects of it was weight gain."
Conscious of this, Ramona signed up to a 12-week NHS activity programme taking place at a local gym that was advertised in her GP surgery. The programme was the catalyst to a major lifestyle change that saw Ramona's weight drop from a peak of 17.5 stone to under 10 stone over the next four years.
A fresh start
Ramona soon started to get the fitness bug. She and Kirk now enjoy taking their dog for long walks every day, but she also undertakes more strenuous exercise. Last year, Ramona joined a local Parkrun – a scheme that organises free, timed 5km runs.
"I began running 5km every Saturday morning and enjoyed it so much that I joined a local running club called the Red Rose Road Runners," she says. "Then I graduated to running 10km races and, at the beginning of this month, I ran the Bupa Great North Run – a half-marathon." She completed the run in two hours and 44 minutes. "Although my time was not great, the run itself was amazing," Ramona says.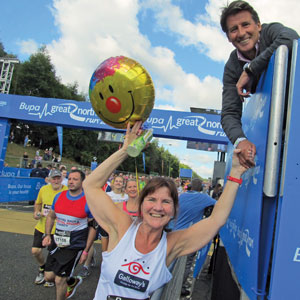 Her personal highlight was speaking to former track and field athlete Sebastian Coe. This wasn't the first time she had met the House of Lords member – in fact, she had spoken to him at a local networking event in Bolton in 2009, when he made a lasting impression.
"I asked him what we could do as individuals to make a difference in the run-up to the 2012 Olympic Games," she says. "He told me to volunteer in my local community, promote sport, help the youth and, if I had the chance, to become a volunteer gamesmaker. I did all of those things."
Shaking Lord Coe's hand again was emotional after making all this progress. "I asked him not to let go because I wanted to thank him for inspiring me," Ramona says. "He said he was extremely proud of me."
Disappointing setback
Unfortunately, a healthy lifestyle is not a guarantee against the worsening of diabetes. Earlier this year, Ramona was told she would have to start injecting insulin to keep her blood sugar under control.
"That was terribly disappointing," she says. "I had hoped to avoid becoming insulin-dependent at all costs by managing my condition through diet and exercise. "At first I felt like I had failed and that has been one of the hardest things to bear," she reveals. "I kept thinking if I had done absolutely everything by the book, maybe I would have avoided insulin."
But an appointment with her diabetes nurse specialist helped Ramona see things differently: "[My nurse] told me not to think of it as a failure, but that I was just supplementing my own insulin production by helping the body with what it cannot make on its own."
Ramona is now slowly coming to terms with her new treatment. "The injection itself does not bother me at all – it's not in the least bit painful," she says. "But it's still early days and, so far, I am not very good at remembering to take it twice a day."
Although the new regime keeps Ramona's blood sugar within a normal range of between 5mmol/litre and 8mmol/litre, she "very often" forgets to take her second insulin injection in the evening. "I am going to have to get better at managing it in future," she says.
Ironically, Ramona says she feels better than ever since being diagnosed with condition: "My life is 10 times better than it was before I got diabetes. I managed to turn it into something positive. I am more self-disciplined, focused and driven than I have ever been."
Not only does Ramona feel more motivated in her personal life, but her career has also gone from strength to strength. Last year, she was crowned recruitment consultant of the year by her company and won a trip to Iceland, and she was also promoted to branch manager.
Now, her aim is to take her positive message to others with diabetes, which she has done by talking to the media.
"All I need to do now is improve my control of my condition and my behaviour when it comes to insulin and I should be able to live a long and healthy life," she says.
6 ways to support patients with diabetes
Mahendra Patel is a senior lecturer in pharmacy practice at Huddersfield University and chairman of the South Asian Health Foundation. He explains how pharmacists can make a difference to the growing numbers of diabetes patients in the UK.
1. Highlight the complications
"Diabetes can be a horrible disease," says Mr Patel. "We don't want to scare patients, but we do need to make them aware of the potential seriousness of its complications." This includes warning them of the risks or symptoms of hypoglycaemia – pharmacists should try to ensure they know the signs.
2. Use the new medicine service
Many newly diagnosed diabetics are baffled by the array of pills they are suddenly prescribed, says Mr Patel. He believes the new medicine service provides the ideal opportunity to guide anxious patients through the early stages and improve their chances of compliance.
3. Make the most of MURs
Similarly, Mr Patel says, MURs lend themselves perfectly to good diabetes management. Patients can really benefit from a private one-to-one session with their pharmacist, he says. "Two out of three type 2 diabetes patients do not take their drugs properly," Mr Patel explains.
4. Promote glucose monitoring
When it comes to managing diabetes, convenience is important to patients. Mr Patel says pharmacists should ensure patients are aware they can request pharmacy testing for their blood glucose or HbA1c levels.
5. Clarify driving regulations
Diabetes patients may need to inform their motoring insurers and the DVLA of their condition, depending on what drugs they are on to control their insulin. "This is often something that's overlooked at the time of diagnosis, and pharmacists are well placed to inform patients," Mr Patel says.
6. Prioritise at-risk groups
Patients of south Asian and Afro-Caribbean descent are particularly at risk of type 2 diabetes and need careful monitoring, Mr Patel says. Plus, Muslim patients with diabetes may need special guidance while fasting during Ramadan.
Diabetes types 1 and 2: what you need to know
Type 1
Causes: Type 1 diabetes is caused by the pancreas failing, which is most commonly the result of an autoimmune response. Onset usually occurs in children or young adults; 2.9 million people suffer from type 1 diabetes in the UK. Symptoms: The condition develops quite quickly over days or weeks, and symptoms include: feeling thirsty (polydipsia); frequent urination, particularly at night (nocturia); lethargy; weight loss; and cramps. Treatment: Most people require between two and four insulin injections per day or insulin pump therapy and a healthy diet.
Type 2
Causes: The causes of type 2 diabetes – the most common form of the disease – are more complex. Either the pancreas fails to make enough insulin for the body to maintain a normal blood glucose level, the body is unable to use insulin effectively (insulin resistance) or it is a combination of both. The condition usually develops in people aged over 40 years. Symptoms: Type 2 diabetes tends to develop gradually over weeks or months. Symptoms are similar to type 1 and include: polydipsia; frequent urination; nocturia; lethargy; frequent episodes of thrush; unexplained weight loss, blurred vision; and cuts or wounds that heal slowly. Treatment: First-line treatment involves a healthy diet, weight control and increasing physical activity. If blood sugar levels remain high, then oral treatment with antidiabetic drugs may be started. In some cases, insulin injections may be necessary.