Pharmacists play an important role in advising patients about the use of vitamins and nutrition supplements, says dietician and British Dietetic Association spokesperson Clare Thornton-Wood. That makes them ideally placed to explain latest guidance about vitamin D.
"Pharmacists can assist patients in assessing whether they really require vitamins and supplements, ensure the dosage is appropriate, and take into consideration interactions with other medications and possible allergies," she says. "They can also signpost patients to obtain more detailed advice from another qualified healthcare professional, such as a registered dietitian, if required."
Ms Thornton-Wood adds: "The majority of the population can get everything they need to be healthy by eating a healthy, balanced diet based on Public Health England's Eatwell Guide, and do not require vitamins and supplements. A balanced diet will provide other essential nutrients, such as fibre, in addition to vitamins and minerals."
However: "There are a few population groups for whom supplements are recommended or would be useful." A recent example, where guidance has changed, is vitamin D. This may give an opportunity for community pharmacists to boost sales.
1 Why do we need vitamin D supplements?
Vitamin D regulates calcium and phosphorus in the body, ensuring healthy bone, teeth and muscles. For much of the year, it's made by the body when skin reacts to sunlight. But between October and early March, sun in the UK isn't strong enough for our bodies to make vitamin D. 
In 2014, the National Institute for Health and Care Excellence (Nice) called for improved access to supplements to prevent vitamin D deficiency, and for raised awareness of health problems associated with deficiency.
NICE guidance on increasing the use of vitamin D supplements in people in at-risk groups (see tip 5), says that some 10 million people in England – equivalent to around a fifth of adults and a sixth of children – may have low vitamin D status. Deficiency can lead to rickets in children and osteomalacia in adults. Osteomalacia can cause severe bone pain and muscle weakness.
Professor Mark Baker, director of the centre for guidelines at NICE, says: "NICE guidance recommends that people who are at risk of low vitamin D should be given better access to supplements to protect their health.
"In the UK at this time of year, sunlight doesn't have the correct wavelength to create vitamin D in the skin. So as the sources of vitamin D available from food are limited, people who are at risk of low vitamin D status may need dietary supplements."
2 How can I spot people at risk?
"Pharmacists could ask about diet and lifestyle, in particular questions regarding pregnancy or plans to conceive; whether patients are eating oily fish twice weekly and the amount of time they spend outside," says Ms Thornton-Wood.
"Other questions might include whether patients are excluding any foods from their diet. For example, those on a dairy-free diet could benefit from a calcium and vitamin D supplement if they are not replacing dairy with other dietary sources of calcium, such as soya and calcium-fortified products."
3 Could we all benefit from extra vitamin D?
In July 2016, Public Health England (PHE) issued advice that everyone requires a daily dose of 10 micrograms (mcg) of vitamin D to maintain healthy bones, teeth and muscles. As people may struggle to obtain this from their diet alone, everyone over five "should consider" taking a supplement in the winter months.
Does this mean pharmacists can expect people to be buying vitamin D supplements in their droves? Dr Louis Levy, head of nutrition science at PHE, explains.
"A healthy, balanced diet and short bursts of sunshine will mean most people get all the vitamin D they need in spring and summer. However, everyone will need to consider taking a supplement in the autumn and winter if they don't eat enough foods that naturally contain vitamin D or are fortified with it. And those who don't get out in the sun, or who always cover their skin when they do, should take a vitamin D supplement throughout the year."
Good food sources of vitamin D include:
oily fish such as salmon, sardines and mackerel
red meat
egg yolks
fortified food, such as breakfast cereals.
Source: NHS Choices
4 Could new guidance cause a spike in dispensing of vitamin D?
The PHE vitamin D guidelines were questioned by some healthcare professionals, including C+D's GP blogger, Dr Messenger.
He wrote in August 2016 of his reservations about the need for a daily vitamin D supplement. He also worried about a rise in requests for prescriptions from charge-exempt patients, or from the "worried well," wanting to discuss the pros and cons of supplementation.
Dr Messenger pleaded for pharmacists to help out by getting up to date with the guidance and becoming "vitamin D experts". Pharmacists could discuss the recommendations with patients and show them over-the-counter options,  "with the message that this isn't something they should expect on the NHS", he suggested. 
In other words, pharmacists can play a vital role in taking pressure off overstretched GPs.
5 
Who is most at risk of 
vitamin D deficiency?
Some people have a higher risk of vitamin D deficiency and should consider taking a 10mcg supplement all year round. This includes those:
• who spend little time outdoors, such as the frail or housebound 
• who live in an institution, such as a care home
• who generally wear clothes that cover up most of their skin when outdoors
• with darker skin, such as people of African, African-Caribbean or South Asian origin, as they may not get enough vitamin D from sunlight.
Source: NHS Choices
6 
What about other people
?
Public Health England recommends:
breastfed babies from birth to one year of age should be given a daily supplement containing 8.5-10mcg of vitamin D all year round
 
babies fed infant formula do not require a vitamin D supplement (8.5-10 mcg) unless they are receiving less than 500ml (about a pint) of infant formula a day. Infant formula is fortified with vitamin D
 
children aged one to four years old should be given a daily supplement containing 10mcg of vitamin D all year round
 
adults and children over the age of five should consider taking 10mcg of vitamin D between September and March.  From late March to September, most people in this age group will get enough vitamin D from sunlight while outdoors.
Source: Public Health England
Some pregnant women and women with young children are eligible for free Healthy Start vitamins, which include vitamin D. See the Healthy Start website for details.
7 What other nutritional advice can pharmacists offer?
The PHE's Eatwell Guide remains a useful and recognised starting point for pharmacists who wish to offer patients advice about healthy eating. However, it has been criticised for lack of supporting evidence and has attracted some controversy over its link to food companies. 
As well as the guide, Ms Thornton-Wood suggests that pharmacists can encourage patients to:
eat two to three portions of dairy products each day 
choose wholegrains wherever possible
eat two to three portions of protein-rich food a day
eat less food high in sugar, salt and fat.
8 Are there any safety issues with vitamins?
There's a common perception by the general public that vitamins are harmless, but they can cause problems.
"Some are toxic if taken in excess – for instance, fat-soluble vitamins such as vitamins A, D and E," says Ms Thornton-Wood. Pharmacists should remember that the Reference Nutrient Intake [RNI] for vitamins and minerals must not be exceeded. The RNI is the amount of a nutrient that is enough to ensure that the needs of nearly all a group (97.5%) are being met.
She warns: "These safe levels can be exceeded if someone takes a multivitamin supplement and then an additional vitamin such as vitamin D."  
Pregnant women or those planning to conceive should not take any supplements containing vitamin A, as these can be harmful to the foetus.
Ms Thornton-Wood highlights the importance of asking patients whether they are already taking any medication, whether prescribed or over-the-counter.  These can interact with nutritional supplements. For example, preparations including vitamin K should not be taken by patients on warfarin. 
Effervescent vitamin preparations can contain around 1 gram of salt per tablet, so should be avoided by people who are trying to reduce their salt intake. Pharmacists should also ask patients about any allergies, as some preparations contain allergens such as lactose, wheat, gluten or nut or fish oils.
9 Which patients may benefit from other supplements?
Women planning to conceive need to take 400mcg of folic acid daily (prior to conception and up to 12th week of pregnancy) to prevent neural tube defects in the unborn baby
Pregnant women can consider taking 10 micrograms of vitamin D daily to prevent deficiency in both mother and baby. Pregnancy multivitamins also contain other minerals that pregnant women may be deficient in, such as iodine and iron. Iron is not routinely recommended unless women are anaemic, as it can cause constipation
Babies and children under five years of age, unless they are having 500ml of infant formula a day, should receive vitamin drops containing A,C and D
People who do not eat two portions of oily fish per week could consider a daily omega-3 supplemen.
People who do not consume dairy food and do not meet their RNI for calcium with alternative foods would benefit from a calcium and vitamin D supplement.
10 What's the take-home message?
Pharmacists who learn about recommended dietary requirements can be a good source of information for patients about vitamins and minerals.  A good knowledge of what makes a balanced diet, and how individual nutritional needs vary, means they can confidently recommend the appropriate use of dietary supplements to those who need them most. 
Sponsored: Juvela announces additional delivery dates for its range of gluten-free bread and rolls
From January, pharmacies in Great Britain can receive deliveries on Tuesday, Wednesday, Thursday and Friday every week (see table).
| Pharmacy ordering deadline (before 10am) | Day delivered to the pharmacy (by 5.30pm) |
| --- | --- |
| Friday | Tuesday |
| Monday | Wednesday |
| Tuesday | Thursday |
| Wednesday | Friday |
For Northern Ireland, Juvela will continue to be delivered once a week on Thursday.
For more details, visit the Juvela website.
Alternatively, contact [email protected] or 0800 783 1992.
Sponsored: Internis releases a new vitamin D supplement for adults and children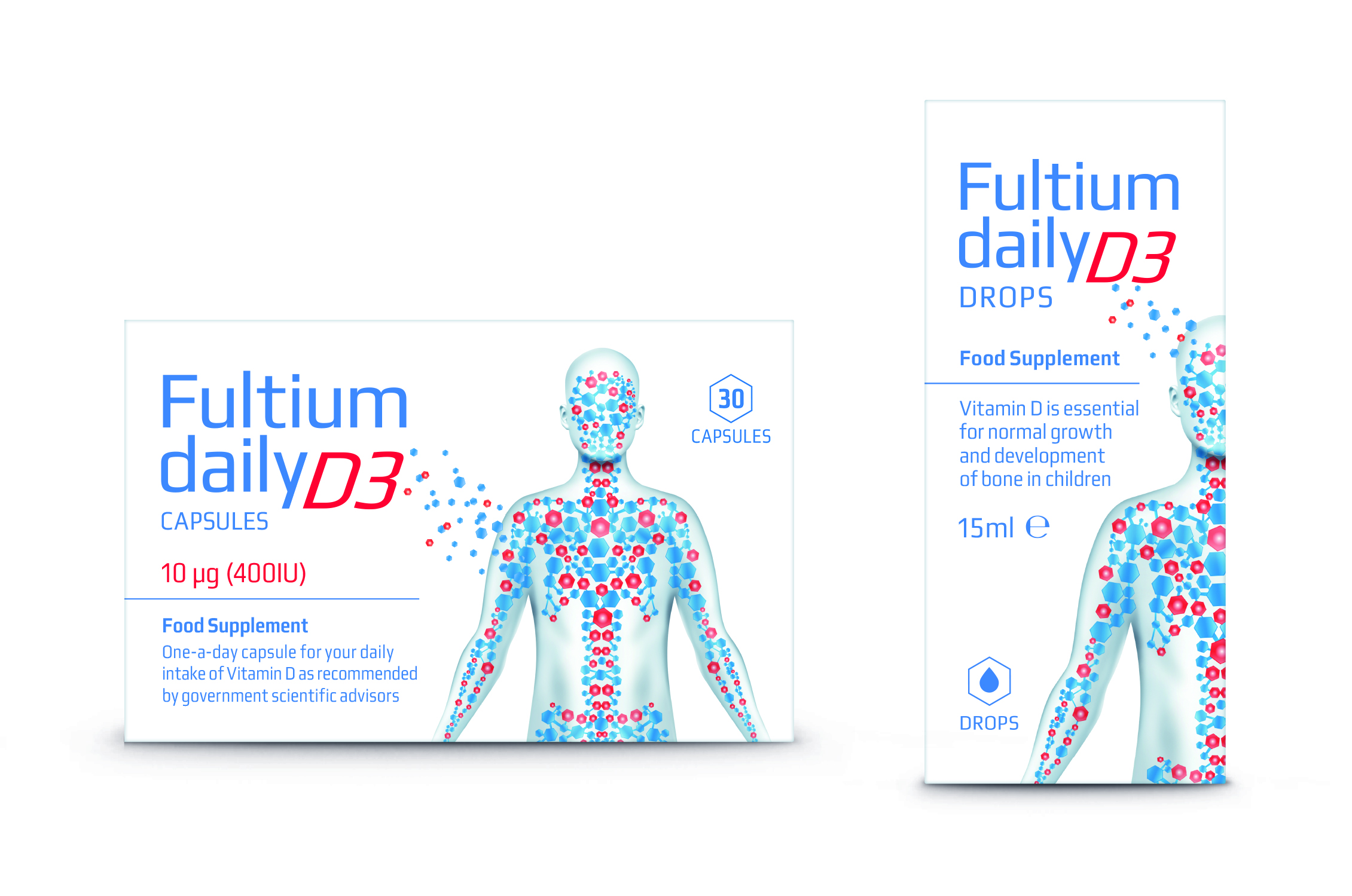 Internis Pharmaceuticals has launched a new vitamin D supplement formulated to meet Public Health England (PHE) guidelines. 
Fultium Daily D3 has been designed to reflect PHE guidance that everyone over one year of age needs 10 micrograms of vitamin D a day (400IU), and under-ones require 8.5-10mcg (340-400IU), Internis said. This advice presents pharmacies with "an excellent opportunity" to recommend an over-the-counter supplement, it added. 
Fultium Daily D3 is available in capsules and drops for infants under one year old, with six drops per day recommended for those aged one and over.  
Packs of 30 capsules retail for £3.99, 60 retail for £7.49 and 90 retail for £10.99. A 15ml container of drops is £7.99.
For more information, contact 01484 848200.