Pharmacy minister David Mowat is a man with a lot on his plate. Signing off on a reconsidered pharmacy budget for England will be number one on his priority list, so one might assume medicines wastage is further down his to-do tray.
But on one of the few occasions when he did speak to community pharmacists – at a Pharmaceutical Services Negotiating Committee (PSNC) event last month organised to persuade him of the sector's value – he stated that pharmacy will not "get away" from the £20 billion the NHS needs to make in productivity savings.
"That will need to be shared across all parts of the healthcare community," he stressed.
A week later, NHS England chief executive Simon Stevens went a step further by highlighting "legitimate considerations" about how much community pharmacy is spending to dole out "£8 billion-worth of medicines". If the last few years had seen pharmacy's service provision dominate debates, it's clear the focus is back on dispensing.
Clamping down on medicines waste is nothing new – an influential study published in 2010 conservatively estimated that unnecessary primary care and community prescriptions cost £300 million in England every year.
But what has changed is that this research, conducted by academics at the University of London and the University of York, is now routinely cited by GP-led clinical commissioning groups (CCGs) who are cracking down on medicine waste as the latest cost-cutting efficiency drive. And as Mr Mowat's warning implied, community pharmacy has found itself very much in the cross hairs.
The rise of CCG schemes
Over the summer, C+D revealed that a string of CCGs in England have imposed schemes to stop pharmacies from ordering repeat prescriptions on behalf of their patients.
We reported that Southport and Formby, as well as South Sefton, CCGs are piloting a system they claim will prevent "wasted medicines" and "improve the safety of repeat prescriptions". Meanwhile, in Cambridgeshire and Peterborough a CCG has rolled out a scheme to stop pharmacies reordering prescriptions in 50 GP practices. These three CCGs say the combined schemes will save £10m a year.
But are these examples of CCGs going rogue – or evidence of a more concerted effort?
To find out, C+D used the government's Freedom of Information (FoI) laws to request exclusive details from all of England's 209 CCGs about their plans to reduce medicine waste through community pharmacies, and received responses from 113 of these organisations.
Our investigation lays bare for the first time the scale of the plans being put in place by CCGs across the country to target savings by ordering GP practices not to accept repeat prescriptions from "third parties", and directly stopping community pharmacies from ordering repeat prescriptions on behalf of patients.
How many CCGs are planning schemes to clamp down on repeat dispensing?
We asked all 209 clinical commissioning groups (CCGs) in England for details of repeat dispensing schemes they have or plan to implement. The responses from 113 CCGs showed: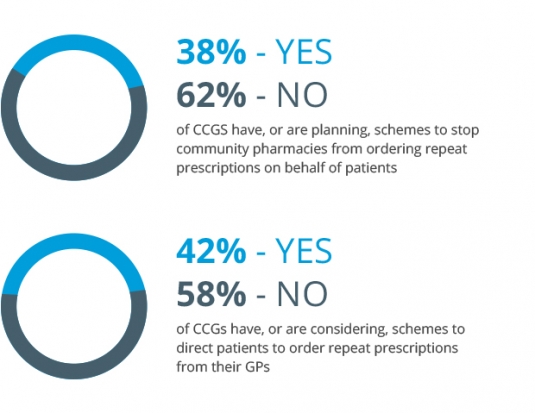 Some 43 CCGs (38% of those that responded) have, or are planning, schemes to stop community pharmacies from ordering repeats, while 46 (or 42%) either already have, or are considering, schemes to direct patients to order repeats from their GPs.
Several of the CCGs who are introducing the schemes are also grappling with significant financial deficits, according to the information C+D obtained. These include North Tyneside CCG, which reported a deficit of £19.3m in its last annual report, Enfield CCG, which has a deficit of £14.9m, and Vale of York CCG, which has one of £13.4m.

It's perhaps unsurprising that CCGs in these circumstances are looking to repeat dispensing as a way to make major cost savings.
How much are CCGs losing out financially?
Seven CCGs that are restricting community pharmacy repeat dispensing also have financial deficits, according to the information they provided: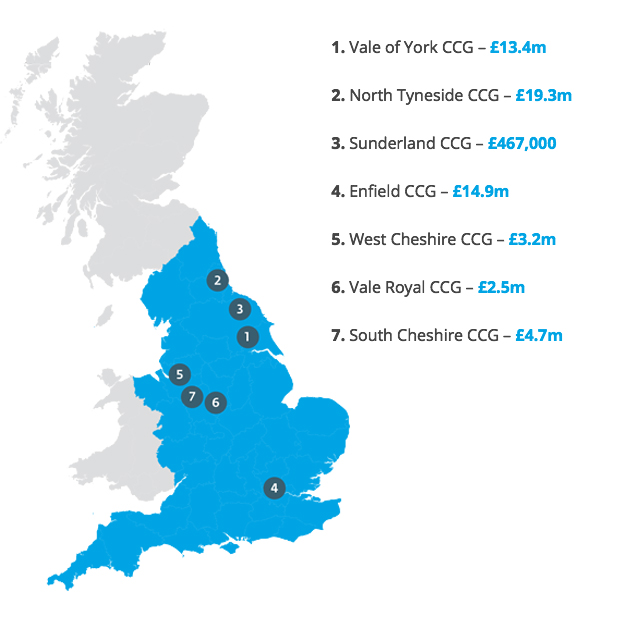 Cumulatively, the 41 CCGs who shared their data on medicines wastage predict that they are losing £74.7m every year as a result. And 19 CCGs which answered a different question say they are earmarking average savings of £1.4m from their own schemes.
Luton CCG was the first to claim it successfully cut medicines waste by stopping pharmacies issuing repeat prescriptions. By October 2015, it had saved £400,000 in four months. An eagerly anticipated assessment of the full cost savings is due to be published this month, but the CCG says the model has set it well on course towards its target of £2.1m of savings by 2020, as well as winning several health service awards.
Savings skepticism
But are savings in the order of millions of pounds replicable in other CCGs? Professor David Taylor, emeritus professor of pharmaceutical and public health policy at University College London and a co-author of the 2010 medicines wastage report, says the potential savings from repeat dispensing schemes "should not be exaggerated".
When the research was published, Professor Taylor and his colleagues stressed that only half the £300m figure they calculated could be saved through reducing medicines waste. The rest was – and presumably remains – unavoidable.
"There's some evidence that repeat ordering schemes are wasteful. If there's poor practice and people have been automatically ordering prescriptions… [then] it may have a small effect, but it's difficult to calculate," he tells C+D. 
However, he adds: "If it inconveniences people or creates extra work elsewhere, then that's going to incur a cost from human labour. What's really expensive in the NHS is not the medicines at the margins. Given an awful lot of wastage is inevitable, the amount that can be saved may be very small."
Whatever the reservations of academics, CCGs appear undeterred and often point to the success of "the Luton model" when planning their own schemes.
The latest such repeat ordering initiative is in West Lancashire, a CCG which this month launched a new campaign to tackle medicines waste, snappily titled: "Being a hoarder is out of order!" (pictured, below).
The CCG says the drive will address NHS medicines waste, as the health service "spends an estimated £300m annually on medicines that are not needed, equating to £600,000 a year in West Lancashire". The most significant way it plans to achieve this? Cutting community pharmacies out of the repeat dispensing loop.
"From November 1, GP practices across the region will no longer accept repeat prescriptions from pharmacists ordering on behalf of a patient or carer," it announced in an attempt to discourage people from "hoarding" their medicines.
Peter Gregory, a GP and clinical lead at West Lancashire CCG, says repeat prescriptions from pharmacies are often ordered, but not needed. Phasing out the process is part of the CCG's "responsibility to its patients to address some very important safety issues", he says.
"With this campaign, we want to give [patients] the confidence to take control of how they take and order their medicines, and to only order what they need. Ultimately, it is about everyone in West Lancashire working together – residents, GPs and pharmacists – so that collectively we can help to tackle this issue of medicines waste."
It seems that plenty of pharmacists agree with him. A poll of 280 readers that ran on the C+D website from August 17-24 found that 43% believe pharmacies should be prevented from ordering repeat prescriptions.
Andrew Green, a GP and clinical and prescribing lead for the British Medical Association's general practice committee, warns CCGs are "wrong in thinking that a ban" will fix medicines wastage. The relationship between repeat ordering and savings may not be straightforward, and rather than make repeat ordering more efficient, banning repeat prescriptions from pharmacies could cause a significant extra workload for GP practices, he warns.
"If practices have got used to large numbers of requests coming in from their local pharmacies in batches, and then all those requests are converted into individual patient contacts, it is likely that GP staff will have many more contacts to deal with, putting pressure on staff time and telephone systems."
His concerns are echoed by another GP, speaking anonymously, who says the schemes could lead to "loads more angry patients, their relatives, carers – and of course pharmacists".
The impact on pharmacies
Elizabeth Wade, director of policy at Pharmacy Voice, says contractors are concerned about the popularity of these schemes. While she doubts there has been a central policy or directive issued, from NHS England for example, she says cash-strapped CCGs are looking everywhere for quick wins. "Because they may have heard that others have saved money by doing this, it seems more attractive," she suggests.
There have already been negative consequences for some pharmacists. One contractor in Bedfordshire told C+D the flagship Luton scheme had decimated the number of local GP practices that accept his repeat prescription orders – from 26 down to just four – and reduced his footfall by 30%.
PSNC has warned of the "unintended consequences" that these schemes could have on patients who are "vulnerable, time poor and/or require assistance". And Pharmacy Voice has advised that schemes seeking to "unpick" the support services pharmacies offer patients to help them with their medications should be "considered and consulted on with local pharmacies, general practice and patients so that people are not adversely impacted".
The two organisations published a joint position statement in August, urging CCGs to consult with local pharmacists on how to reduce medicines waste, rather than impose blanket schemes – which Pharmacy Voice's Ms Wade calls "using a sledgehammer to crack a nut".
"It feels like a disproportionate response. We've been saying to CCGs: 'If you are going to do it anyway, then at least do it in a way that manages the consequences for pharmacists and patients.'"

Elizabeth Wade, Pharmacy Voice
It doesn't seem like many CCGs are heeding this advice, however. C+D's investigation found that of the 47 CCGs who are considering or who have already implemented these schemes, only 15 had conducted evaluations to plan for the consequences. Another six CCGs say they have plans to evaluate their scheme – although not necessarily before they are rolled out.
Yet the few evaluations there have been are revealing. Hambleton, Richmondshire and Whitby CCG says while it is not considering implementing any schemes "in general", it does plan to monitor repeat dispensing along with GP practices and "will consider stopping individual pharmacies" if there are examples of "poor application".
South Kent Coast CCG says its scheme "is not mandatory", but admits "there has been a short-term increase in [GP] workload while the change is made, but no impact long-term".
There's notably less provision made for pharmacies, however. "The NHS is aware that this change will have an impact on how some pharmacies manage their workload," it says. But this is left "for the pharmacies to resolve".
Professional slight
It's this kind of unsympathetic language, and the fact that schemes have been imposed without consulting pharmacies, that's prevented a spirit of collaboration and smooth implementation.
One pharmacist posted on the C+D website: "A blanket ruling on repeat prescriptions assumes that the whole country is the same and that all pharmacies over-order. That is unfair to those of us who try to manage the repeat system correctly."
There were many similar comments in response to C+D's initial revelations, sentiments that do not surprise Ms Wade, who says: "Some of what's really upset community pharmacists has been the implication, in the way the changes have been communicated to patients, that there is consistent waste. That implies a criticism of community pharmacy and people have been accused of being less than professional."
Unfortunately, when it comes to NHS waste, it's hard to disentangle a desire to apportion blame.
Graeme Batten, chair of Sefton local pharmaceutical committee (LPC), has had a CCG repeat ordering scheme running in his area for one month, and already says anecdotal feedback from patients is that it "doesn't go down well". In the meantime, the LPC is running its own survey of contractors, and has even offered to pay for an independent evaluation on behalf of the CCG, to get to the bottom of how the service can be made to work for GPs and pharmacists alike.
"You get a lot of wastage and inappropriate prescribing from general practices. If [the CCG] really wants to reduce waste then they have to look at general practice too," Mr Batten argues.
The search for solutions
It's important that pharmacy is seen as part of the solution, not the problem. Ms Wade, and her Pharmacy Voice and PSNC colleagues, have suggested pushing GP practices to increase participation in the electronic prescription service (EPS) – currently languishing at just 8% across England – would help to cut unnecessary repeat prescriptions and medicines waste.
The feedback that Pharmacy Voice and others have received is that in some areas GP practices are less than willing to sign up to EPS. Ms Wade suggests that here too, pharmacists could be a valuable part of the answer. "It's my understanding that [installing an EPS system] does require quite a lot of work by the practice initially, and there is an up-front investment in time – but perhaps this is something community pharmacists could help with," she says.
Whether it's working with their GP colleagues to boost EPS uptake or improving local prescribing protocols, community pharmacists must be involved in these discussions. After all, when it comes to tackling medicines waste, it makes sense to ask the medicines experts.