It's easy to manage a team when everything is going well. It's only during times of upheaval – such as having your pharmacy gutted by builders for a total refit – when your skills as a manager are really put to the test.
It's a fact that Amish Patel, winner of the C+D Award for Manager of the Year 2014, can testify to. The refit of his business, Hodgson Pharmacy in Kent, saw the pharmacy team working in "dusty, messy" conditions with no retail space, and come out on the other side with first place in the C+D Platinum Design Awards last year. It was down to Mr Patel to guide his team through this challenging time.
Understandably, there were "teething problems" as the team adjusted to a completely new way of working. There were also fears the upheaval would push away loyal customers. But Mr Patel was determined not to let the setbacks affect morale, and "constantly" communicated with team members to iron out any problems quickly. "You can see moments when the staff are getting stressed out, so...you're supporting them to say: 'Go and have a cup of tea, chill out a bit, and then come back and we'll get it sorted'."
This calm, people-focused approach is what has enabled Mr Patel to excel as a manager on a variety of fronts – winning over staff, commissioners and patients - and made him a worthy winner of the C+D Award.
He explains the successes that enabled him to stand out from the crowd.
1. Ensuring staff satisfaction
No matter what is going on in his pharmacy, Mr Patel is always willing to invest in his main priority: the staff. He is passionate about how valuable their jobs are. "From the day they start, I give a little speech saying: 'You are responsible for saving someone's life or potentially killing them.' They like that responsibility," he tells C+D.
As part of this ethos, Mr Patel is keen to invest in staff training. All members of the Hodgson Pharmacy team are health and wellbeing consultants – trained to deliver smoking cessation, NHS health checks and minor ailments services. One is an accuracy checking technician and another is working towards the same qualification. 
Giving staff these opportunities clearly boosts morale, and Mr Patel is keen to keep this going on an everyday basis. This is evident through his approach to setting service targets – all too often a source of aggravation in the workplace. At Hodgson's Pharmacy, staff receive bonuses for hitting targets, but he doesn't put too much pressure on the numbers. If targets are missed, Mr Patel looks at what the team could learn from the experience.
---
Do you have what it takes to be a winner in 2015?       

---

He also recognises that some staff have certain areas of expertise – meaning they spend their time predominantly in one part of the pharmacy – and recognises this when setting individual targets.
"I don't put that pressure on them [the staff] too much. Every month we have a staff meeting to review what was hit, what wasn't hit. They realise I'm fair and I'll say, 'It was really busy, we didn't hit targets, that's fair enough. Let's try again next month'," he explains.
 "They realise that, with me, it's not about the quantity of everything. I'd always rather have a bit less money, invest in staff and have a better quality of delivery," he says. Patients feel that atmosphere, too, and recognise that Mr Patel and his team are not trying to "get every pound out of them", he says. 
Mr Patel is also clear that services should be done for a valid reason, rather than simply making up the numbers. He explains the benefits of each service to his staff – how many GP appointments they will save, for example – rather than just telling them to "get on with it". This gives individual staff members the impetus to promote the services directly to patients as they collect their medicines, which has proven far more successful than simply using posters to advertise services. "They [the team] are buying into the services themselves," he explains.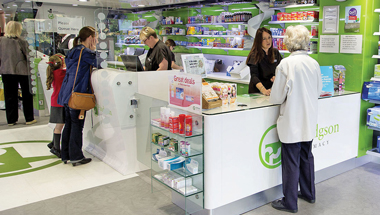 2. Earning patient loyalty
Alongside staff wellbeing, patient  benefit is of clear importance to Mr Patel – and this attitude has secured a loyal customer base. He admits that, during the upheaval of the pharmacy refit, staff were worried about losing patients to a nearby Lloydspharmacy branch. But remarkably – despite a constantly moving dispensary – prescription numbers did not drop. "I was amazed. It just shows that we must be doing something that much better than the competition," he says.
In fact, feedback from patients has taken a positive turn since the turbulent time of the refit and the pharmacy's prescription volume has grown 10 per cent. "Our patient satisfaction has gone up, and it can be attributed to the staff feeling better and delivering better," he tells C+D.
Looking around the pharmacy, it's easy to see why Hodgson Pharmacy has retained its popularity. Mr Hodgson is keen to create an environment in which patients can build rapport with staff – and having a highly trained team means they can afford to be more attentive to their needs than most. 
"When you walk into the pharmacy, it's not a case of, 'Wait a second, let me go and get the pharmacist or someone who is more appropriate.' It's a more seamless and professional delivery for the patient journey," he explains. "Because everyone is trained in everything, as long as we've got the appropriate number of staff to cover the volume of patients, we're good to go."
3. Building relationships
It's not only patients who have responded well to Mr Patel's approach – he has managed to get other healthcare professionals on side, too. Since revamping the pharmacy, Mr Patel has used its new clinical look as a basis to form new links with nearby GPs, a physiotherapist and a private nurse. They are all keen to work with the pharmacy and the physiotherapist is hoping to rent one of the pharmacy's new consultation rooms for appointments.
These interprofessional relationships are highly important to Mr Patel. He points out that simply being helpful can result in impressive results in this sphere. His friendship with the local GP is an example of this. "It's a case of picking up the phone to say to the GP, 'By the way you've ordered this special and it's going to cost x amount out of your budget, have you thought about this instead?'," Mr Patel says. This has not only created a good working environment, but also yielded services. Last year, Mr Patel launched a repeat dispensing scheme in collaboration with the GP, recruiting 140 patients who he retains to this day.
Mr Patel's work with a local nursing home also impressed the C+D Awards judges. After winning an initial bid to manage residents' medication, the pharmacy went "above and beyond" – developing the relationship and ensuring patients' medicines were constantly reviewed. The work did not go unnoticed by others in the community, and a local mental health nurse now uses the pharmacy to manage the repeat medications of mental health patients.
---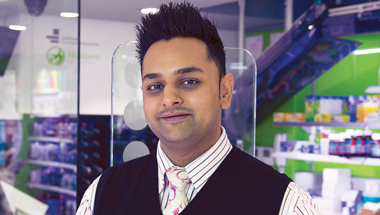 "It's a case of picking up the phone to say to the GP, 'By the way you've ordered this special and it's going to cost x amount out of your budget, have you thought about this instead?'"
Amish Patel
---
4. Being a pioneer
Never one to simply maintain the status quo, Mr Patel has also come up with numerous innovative ways of boosting his service numbers. This has included providing stop smoking services and giving talks on sexual health at the local secondary school to raise awareness of what pharmacy can do. The results of the smoking cessation talk were impressive: a third of the 14- to 16-year-olds and three-quarters of sixth-formers who took up the service managed to quit the habit.
And there's plenty more in the pipeline for Mr Patel. Through forming a partnership – Salveo Health – with other local independent pharmacies he has been able to bid for more services, including an atrial fibrillation service he's trialling in partnership with support group Alphega Pharmacy. The service involves five independent pharmacies in Kent testing patients for atrial fibrillation, and – if positive – conducting an ECG. The results are then sent off to a specialist consultant. 
The service is already proving popular. At the last count, the pharmacists had screened 400 people as part of the three-month trial and found six people with atrial fibrillation who needed further treatment. Although just a pilot, it's an example of how Mr Patel has worked with other independents to try something new – and the local clinical commissioning group has asked for the results, he says.
There are many fronts on which Mr Patel has succeeded as a manager. Looking around, he has clearly combined business acumen with personal skills. But perhaps the biggest testament to his work is the loyalty of his staff, who have remained at the pharmacy for years. "My accuracy checking technician has been here longer than I have, and all of my full-time staff and all my morning staff have stayed... everyone is in a settled role," he tells C+D. "I think they realise the investment we put into them, the relationship I try to keep with them."