What is it like to be a pre-registration student today? The General Pharmaceutical Council aimed to answer to this question with its survey of 829 students who completed their placements in 2013-14. Here's what it found.
1. Size does matter
When it comes to satisfaction with training placements, the size of the organisation appears to be an influencing factor. While 82% of students who trained in a national multiple rate the quality of their training as good or very good, the figure drops to 69% for those who trained in a smaller multiple and was 72% for those in a business with fewer than five pharmacies.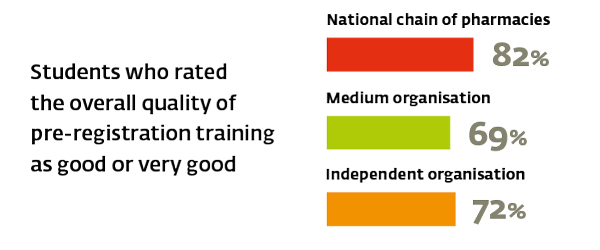 2. Trainees aren't always treated as such
Seventeen per cent of students say they would not recommend their pre-registration training placement. And four in 10 of those who explained their unwillingness to recommend their placement say it was because they had not been treated as a trainee. While 21% of dissatisfied trainees say they did the job of a dispenser, 19% say they were seen as an extra member of staff. "Large multiples are only interested in achieving targets and using their pre-regs as a dispenser, instead of hiring actual dispensers," says one student.
 
3. Hospital outperforms community
Similar to last year's GPhC survey, students who completed their placements in hospitals appear happier with their experience than their counterparts in community. While 89% of hospital trainees rate the quality of their training as good or very good, only 74% feel the same way in the community sector.




4. Community trainees feel unsupported
Nearly one in five community pharmacy trainees rate the quality of support during their placement as either poor or very poor. Digging deeper into the figures, it's easy to see why. Almost half of community pharmacy students say they formally discussed their learning progress with their tutors less than once a month. And 17% feel they did not receive constructive feedback to aid their development.
5. Location, location, location
Again mirroring last year's GPhC survey, location came out as an influencing factor in placement satisfaction. Scotland appears the place to be, with 96% of students rating their pre-registration training experience as good or very good. Only 73% of students in London can say the same.



6. Exams are harder than practice
Despite 78% of students believing their placement adequately prepared them for a role as a pharmacist, only 69% feel it prepared them for the registration assessment.
 
7. Cross-sector placements are popular
Of the 829 students who completed the GPhC survey, 502 completed a cross-sector placement. And feedback was mostly positive. Nearly half of the students who made comments about their experience say their cross-sector placement was useful or good. Any negative comments tended to focus on the length of the placement. Thirteen per cent say the placement was too short, and one respondent says: "I believe two weeks is not enough to learn more about hospital pharmacy."