Three people die of asthma each day in the UK, and many of these deaths could be prevented. Now pharmacists are being recruited in an attempt to tackle the problem of poorly-controlled asthma among people who skip their GP reviews.
In a new initiative from the University of East Anglia, pharmacists have received training with actors to carry out asthma reviews when people come in to pick up their prescription. David Wright, professor of pharmacy practice at the university, describes it as a "no brainer", and an ideal way to catch patients who haven't responded to letters from their GP.
"This is a real opportunity to get GPs and pharmacists working together collaboratively," he says.
Failure to attend
Between 30% and 40% of people with asthma fail to attend the GP surgery for their annual review, the university's researchers believe. The 200 patients in the study – 10 per pharmacy – have already received two letters from their doctor. So why aren't they turning up?
Mansour Dadkhaa, owner of Town pharmacy in Great Yarmouth, Norfolk, says: "A lot of people have got it in mind that their asthma is well controlled, when in fact it's not. They don't use their inhalers properly – people just don't understand."
Patients with good control should use no more than two reliever (bronchodilator) inhalers a year, Professor Wright says. Yet many patients think one a month is acceptable.
By contrast, nearly 80% of patients are using fewer than 12 preventer (steroid) inhalers a year. "It's because you get quick relief from the blue [reliever] inhaler. You've got to organise yourself [to take] the brown [preventer] one," says Professor Wright. "We've got to convince people of the benefits of the brown inhaler."
The study area, Great Yarmouth and Waveney, has high levels of deprivation, and the idea for the initiative came from James Paget Hospital. Respiratory nurse Heather Matthews was concerned that patients who weren't having their asthma reviewed were turning up in secondary care. She realised the "obvious solution" was to approach pharmacists, Professor Wright says.
The appeal of extra pharmacy services
Mr Dadkhaa (pictured above) says when the local pharmaceutical committee (LPC) asked him to get involved, part of the appeal was the chance to offer an extra service, at a time when community pharmacies in England are facing cuts.
"From a service perspective, I wanted to get on top of this. But it was also important for my patients and there was pure personal interest." Of course, there was also the chance to extend his professional knowledge, he points out, and the training counted towards his CPD portfolio.
The training in question included two evening sessions of three hours each. These sessions outlined what an asthma review involves, the importance of inhaler technique and the science behind different types of inhalers. A pharmacist with experience of asthma reviews explained how to run the service, while a specialist nurse described a protocol for these reviews.
Getting actors involved
A more unusual aspect of the training was the use of actors. They played patients with different problems: one who was not using their preventer inhaler, one who had not mastered their inhaler technique, and another with poorly controlled allergic rhinitis. Pharmacists then acted out the best way to advise these 'patients'; for example, telling them that getting control of rhinitis can help to control their asthma.
The £75,000 study is funded by think tank The Health Foundation. The funding means pharmacies can be reimbursed for the time their pharmacists took out to attend the training, as well as £40 for each review completed. Both pharmacies and GPs will also be paid £150 for completing the patient pharmaceutical outcomes database, says Professor Wright, with the university collecting this data.
GP surgeries play their part by putting a note on patients' electronic prescription to alert a pharmacy that they have not attended an asthma review and need to have one.
Pharmacists then review the patient's understanding of their condition by using the ACT test (see below), which covers the frequency of symptoms, the use of reliever medicines, the effect on the patient's daily life and their assessment of their asthma control. The test results in a score ranging from 'poor' to 'complete' control.
The asthma control test (ACT)
In the past four weeks:
How much of the time did your asthma prevent you from getting things done at work, school or at home?

How often have you had shortness of breath?

How often did asthma symptoms (like wheezing, coughing, shortness of breath, chest tightness or pain) wake you up at night or earlier than usual in the morning?

How often have you used your rescue inhaler?

How would you rate your asthma control?
Source: Asthma.com 

Then pharmacists look at how the patient is treating their asthma. Mr Dadkhaa says: "When you ask about their inhaler technique, [some patients] have completely the wrong idea, or they don't have the proper knowledge. When you get them to show you, they do it in various different ways." Some breathe in fast with the blue inhaler and take a second puff immediately, for instance, when they should inhale slowly and wait for 10-20 seconds if they need another dose.
"It's unbelievable that a lot of patients do not use their inhalers properly and this is obviously costing the NHS a lot of money," says Mr Dadkhaa.
He explains that patients keep ordering preventers without using them, or take additional medicine or high doses that could be avoided if only they were using their original treatment correctly. Mr Dadkhaa will tell GPs if the patient is taking two preventers but not using them correctly, as one of those drugs could perhaps be stopped.
He's understandably enthusiastic about the scheme. "Overall I've got a very positive feeling about this. I've got a good interest to make it a success."
The asthma reviews are a separate scheme from medicines use reviews (MURs) – however, many people are eligible for both, assuming they have not already had an MUR. So there's an opportunity to carry out both checks at the same time.
The researchers hope to be able to expand the work. Professor Wright says he wants to do a full randomised controlled trial – designed based on information gathered from the pilot. After the five-month study, he will produce a report and disseminate it through conferences, he explains.
"If it's positive, I'm going to shout very loudly about this," he says. It's "an easy thing to set up", because the appeal is so obvious – pharmacies are in a great position to catch patients who haven't attended reviews, but are collecting their medication.
With "very enthusiastic" pharmacists involved, and GPs who are keen to catch hard-to-reach patients, he's convinced it will be a success: "I like backing winners."
The study is a collaboration between Norfolk and Suffolk LPCs, the James Paget University Hospital, Great Yarmouth and Waveney clinical commissioning group, University of East Anglia school of pharmacy and Rosedale Surgery.
How to conduct an annual asthma review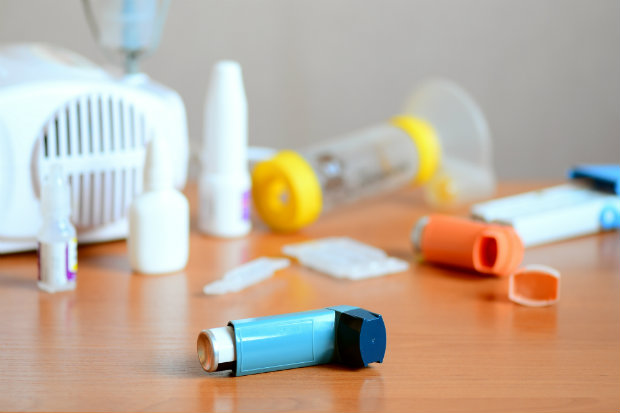 Explain this is the yearly asthma review, to see how well the patient's asthma is controlled
Ask if they would like to discuss anything about their asthma
Obtain signed consent for an MUR if appropriate
Ask the patient to tell you how their asthma affects them
Explore asthma triggers and the patient's management plan
Check patient for undiagnosed rhinorrhoea (runny nose)
Complete ACT test
Check peak flow three times
Check they have a peak flow meter at home
Ask how often they use their preventer
Explain importance of using preventer and ­­address any concerns
Ask the patient to show you how they use their inhaler
If you have concerns, show them how much they need to inhale
Explain how to use their inhaler and get the patient to show you
Check whether they smoke
Check whether they have had the flu vaccine
Answer any other questions
Ask the patient to summarise the points they will take away.