As community pharmacies in England seek to combat the effects of the funding cuts, private services and products offer a potential source of income. One way of boosting demand for these areas is by attracting demand online.
Pharmacist Ahmad Sadiqzai, director of Tech Developers, received C+D's Online Initiative of the Year Award 2019 for his work levelling the digital playing field for independent pharmacies by enabling them to compete with the online presence of the large chains. "Our mission is to provide the same sort of IT infrastructure and digital marketing solutions that the bigger players afford," he says.
In 2015, after finishing a pharmacy degree at University College London, Mr Sadiqzai joined forces with a senior software engineer on a mission to enhance independent pharmacies' online presence. They started a company called Tech Developers. One year later, it launched its first online product, Pharmafocus, which creates websites for pharmacies.
"[Pharmacies] need digital solutions to promote their services and products if they want to survive," Mr Sadiqzai says.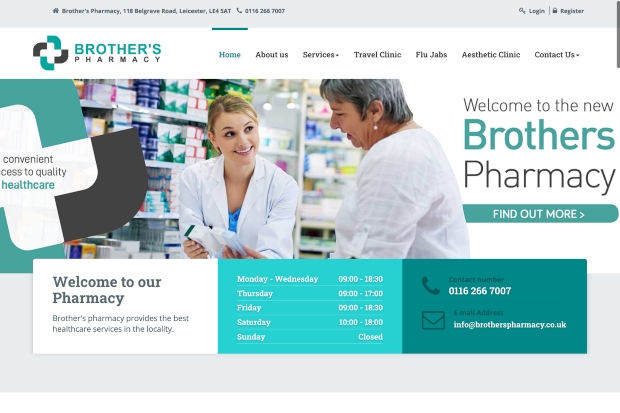 "Pharmacy is behind"
Independents can have an advantage over multiples when it comes to marketing because they only want to promote their services locally, Mr Sadiqzai says. "We're not looking at a national audience, we're looking at a radius of 2-5 miles from your pharmacy. It's easy to target these people. Bigger chains have to do national marketing campaigns."
The C+D Awards judges were particularly impressed by Mr Sadiqzai's focus on less-resourced pharmacies. One said: "This initiative gives all contractors an opportunity to have an online presence." Another explained: "I like the reach of this initiative, as independents don't have the know-how to digitalise."
Pharmafocus says it's trying to solve a problem in community pharmacy. "As a sector, we are behind when it comes to digital products," Mr Sadiqzai says.
He finds it "amazing" that some businesses with annual turnovers of "between £600,000 and £2 million" and thousands of customers don't have websites. He believes they are missing a trick, claiming that "the benefits of having a professional website are immense".
Why have a website?
Pharmacies can use their Pharmafocus-designed website to inform customers about the products they sell and the services they offer. This can include the option of booking an appointment for a travel clinic or a flu jab.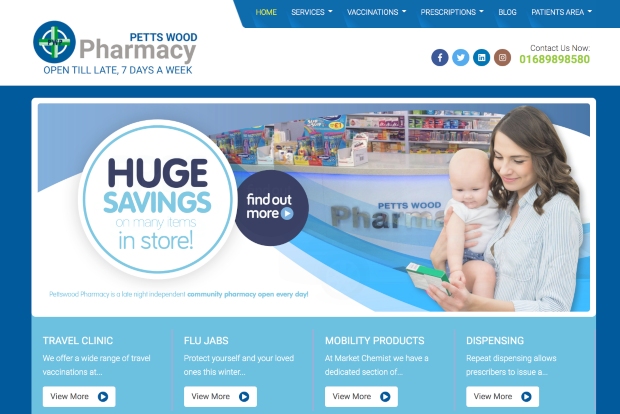 Pharmafocus can also take out some of the administration of services. In the case of a travel clinic, patients can tell pharmacies in advance which vaccinations they need, where they're going, and fill in a risk assessment form – work that would otherwise have to be done in the pharmacy.
Pharmacy teams can then prepare by ordering the required stock ahead of appointments, instead of guessing the demand for walk-in patients. "This is something a lot of our clients have been benefiting from," Mr Sadiqzai says.
Pharmafocus also helps pharmacies foster retail growth. "One of the most popular things is ecommerce, a facility for independents to sell products online," he says.
It has built websites for 250 community pharmacies so far, he says, with an annual subscription costing £299.
SEO-friendly
As well as answering a demand for his services, Mr Sadiqzai believes a key driver of success is keeping his websites up to date. "Some of our competitors started building websites 10-15 years ago, but they failed to upgrade their systems," he says.
Pharmafocus provides a pharmacy with a search engine-optimised website, meaning Google can easily read the information and direct relevant users towards the online platform. This is meant to increase the number of people visiting the site, Mr Sadiqzai explains.
For instance, when a patient searches for a local repeat prescription service in their area, pharmacies with a Pharmafocus website offering one should appear high on the list of Google search results.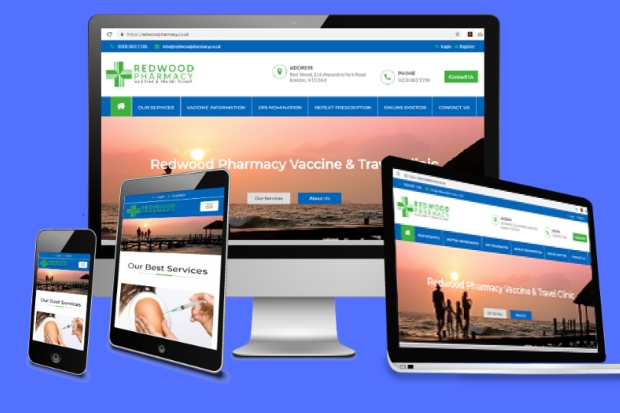 Marketing services
But pharmacies don't just need a Google-friendly website to attract customers. Mr Sadiqzai believes that as the sector starts to offer more private services, it's "really important" they are promoted digitally. "There is not enough awareness" of pharmacy services among the public, he says.
But it can be a challenge getting pharmacists thinking about marketing their services, he adds, as "these things are very new" to them. Contractors can lag behind people in other industries when it comes to marketing, because they often lack the time to focus on it, Mr Sadiqzai says.
"That's where we come in: we provide professional content and fully manage everything for them," he says.
He also believes that if pharmacies want to generate thousands of pounds in revenue a year from a service, they "shouldn't be surprised to pay £200 or £300 for marketing" it, he says.
Social media
Many pharmacists will be inexperienced with social media. But it's an important marketing tool for engaging with potential customers and raising awareness of services, Mr Sadiqzai says.
Socialcombined is Mr Sadiqzai's second product, which markets pharmacies via social media platforms. Pharmacy owners just need to specify which services they want to promote, and the marketing team will create the content for them.
"Social media is the most cost-effective and efficient way of marketing these services," Mr Sadiqzai says. Prices start at £119 for promotion across Facebook, Twitter, LinkedIn and Google.
But ultimately, Mr Sadiqzai explains, the website should be the priority. "The website is the foundation of a digital presence for any pharmacy. If they don't have one, they need one. If they have already one, they need to see how they can improve it."
If the website is not SEO-friendly, if it doesn't have good content or look professional, "it will deter customers", he warns.
He claims the combination of a high-quality website and marketing can boost demand for pharmacy services by up to six times.
For example, one pharmacy in Muswell Hill, London uses Pharmafocus and Socialcombined. "If you type [into Google] 'travel clinic in Muswell Hill' their pharmacy is on top. That's definitely driving customers to their pharmacy."
Locum insight
As well as heading Pharmafocus, Mr Sadiqzai still locums as a pharmacist two days a week at Market Chemist in Marylebone, London to make sure he is up-to-date with the sector.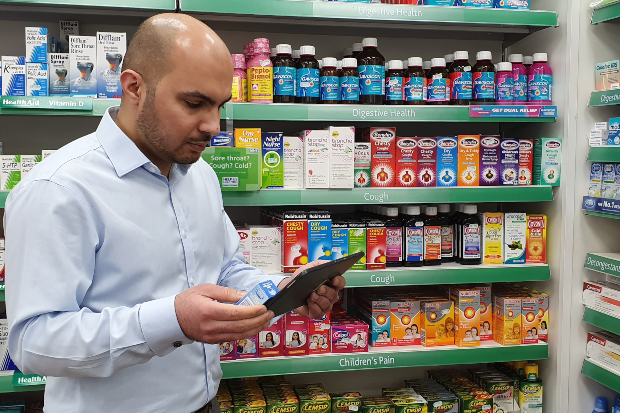 Having a pharmacist director gives Pharmafocus an advantage over rival IT brands. "If I'm designing a new system, for example for repeat prescription services online, I know exactly how things are working. When it comes to the logic of the product, I have a very good idea."
"I am also very passionate about community pharmacy. I'll carry on [locuming], even it's one day a week," he adds.
The world of digital may be a new frontier for many community pharmacies. They know how to offer services and products, they just need to increase local awareness of them. With the right online presence and promotion, pharmacy businesses could drive the crucial demand required for new avenues of revenue – and perhaps even win a C+D award.
Could you win C+D's Online Initiative of the Year in 2020? Click on the link below for more details and to enter: