March 2017 marked the first time in history that sanitary protection products were discussed in the House of Lords.
The Lords debate was sparked by reports that girls in Leeds were skipping school because they couldn't afford sanitary towels or tampons, and that a Leeds-based organisation which supplies these products to Africa had been asked to help out its own local population.
It wasn't an isolated example. The issue of "period poverty" – women not being able to afford sanitary protection – has been rising up the agenda for the past year.
While there is no national data on the extent of the problem, anecdotal evidence from food banks around the UK suggest this is a growing issue.
"People using socks and newspapers"
The Trussell Trust, which runs a network of over 400 food banks, says it welcomes donations of sanitary products, as well as food: "Some of our food bank managers have told us they've met people having to use socks [and] newspaper, and even [accounts] of women's underwear being soaked through because they were using toilet roll and it simply wasn't a good enough replacement for sanitary products."
The problem is even more acute for homeless women. Charities in the homelessness sector have historically been more focused on services for men: while many homeless shelters offer free condoms and razors to their male clients, they may not make a similar provision of female essentials.
Legislation for free products
Scotland may become the first country in the UK to legislate on comprehensive free provision of these items for those that need it. Monica Lennon, MSP for Central Scotland and Scottish Labour inequalities spokesperson, plans to launch a private member's bill in the coming months.
"Currently female prisoners are the only women who have a right to free sanitary protection in the UK," she tells C+D. "When I first asked questions about the issue of period poverty in [the Scottish] parliament, I was told that women can go to food banks, but this is not good enough."
Ms Lennon wants to see the launch of an 'S-card', similar to the C-card– a Public Health England initiative funded by local authorities, which gives people a card allowing them to access free condoms. With an S-card, girls and women could register for the scheme and be given a choice of free sanitary products at pharmacies or health centres.
"For the C-card, there are 10 boxes for men to tick and choose which products they want," says Ms Lennon. "If we can cater for 10 types of lubricant, why can't we do the same for sanitary products? Girls can't opt out of menstruation."
Ms Lennon is also campaigning to raise awareness of menstruation more broadly in workplaces, schools and colleges. She has already convinced one college to convert all of the dispensers in its toilets, so that women can access tampons and sanitary towels for free.
"This is uncharted territory," she explains. "We're not used to talking about periods and we need to be able to have the conversations."
In the UK government, a number of debates have highlighted the issue in recent months. The historic debate in the Lords, introduced by Baroness Burt, included a call for girls who are entitled to free school meals to also have access to free sanitary products.
Labour shadow minister Paula Sherriff has been a key campaigner around the abolition of the 5% VAT "tampon tax", and in March Liberal Democrat MP Greg Mulholland proposed an early-day motion for free provision for girls from low-income families.
Offering practical help
Legislation takes time, so what can community pharmacists do now to help women in need?
National Pharmacy Association chief pharmacist Leyla Hannbeck says pharmacies are ideally located to communicate with women who may be experiencing 'period poverty', and can play a vital role in tackling the issue.
"Community pharmacy teams may be approached by – or be able to identify – women who require help with supplies of sanitary products," she says.
"Pharmacists can then signpost [them] to appropriate sources of help – locally run schemes, charities or initiatives run by other local pharmacies. Pharmacists could play an important role in educating young females at schools or clubs, particularly school girls on issues relating to changes to their hormonal cycle, and offer information on how or where they can get help."
Boots was the first major chain to respond to the problem of period poverty, launching a trial donation point for hygiene and sanitary items within two of its stores – in Dewsbury and Nottingham – last year. The in-store points ask for donations of sanitary products for customers, which are then forwarded to local charities. The health and beauty giant declined to be interviewed about the scheme, and said in a statement that it is still "early days" for the trial, which will be reviewed in the future.
Lloydspharmacy said it also intends to look at what actions it could take, and plans to talk to its sanitary protection suppliers about the role they could play.
Outside of the pharmacy sector, manufacturer Bodyform announced in March that it would donate 200,000 of its sanitary products to women experiencing period poverty by 2020, through the charity In Kind Direct.
"Going unnoticed for a long time"
Across the UK, dozens of local campaigns have emerged in recent years, as awareness of the issue continues to grow.
In Manchester, Christina Ward launched an organisation called The Monthly Gift Manchester, after a chance conversation with a friend who wondered how homeless women buy sanitary products.
She ran a week-long campaign in Manchester's Northern Quarter, inviting local shops and businesses to offer discounts to shoppers in exchange for donations of sanitary products and held an event to raise awareness. When she started looking into the issue, she realised how widespread it is.
"I was shocked," she tells C+D. "I thought it would only be homeless women who struggle to access sanitary products, but it is much wider and has been going unnoticed for a long time. These products are expensive, and if you're on a low income and have a house full of girls, your monthly bill will be high."
Ms Ward has been overwhelmed by the interest from local shops and businesses, and calls on pharmacies across the country to get involved in and support the many campaigning organisations that are now setting up to tackle the problem.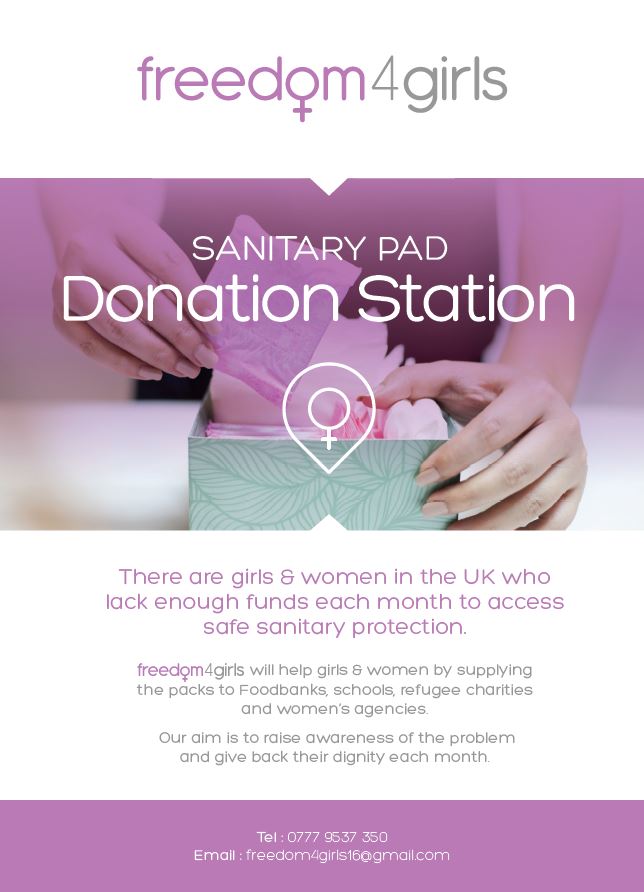 One of these is Freedom4Girls, the Leeds-based campaigning group mentioned earlier in this piece. Founder Tina Leslie says she has been inundated with messages from UK women affected by 'period poverty'. "There are women who are victims of domestic violence, whose partners won't give them money for sanitary towels," she says as an example.
Her organisation is currently distributing sanitary products to schools through the FareShare charity, which delivers breakfasts to schools across the city each day.
Ms Leslie has created a poster for pharmacies and other stores (pictured above), to promote donation points and raise awareness that UK women often cannot afford sanitary protection. She asks pharmacies to not only have their own donation points, but also set up areas where women can come and collect donated supplies.
With period poverty and menstrual inequality finally rising up the national agenda, these simple solutions provide ways for pharmacies to not only support their communities, but help individuals in times of need.
Recap: what can pharmacies do?
Set up in-store donation points
Put up a poster – contact Freedom4Girls for resources
Hold a fundraising event
Stock a range of cheaper products, as well as the big brands
Work with campaigning groups, such as:
Sponsored: Balance Activ launches online symptom checker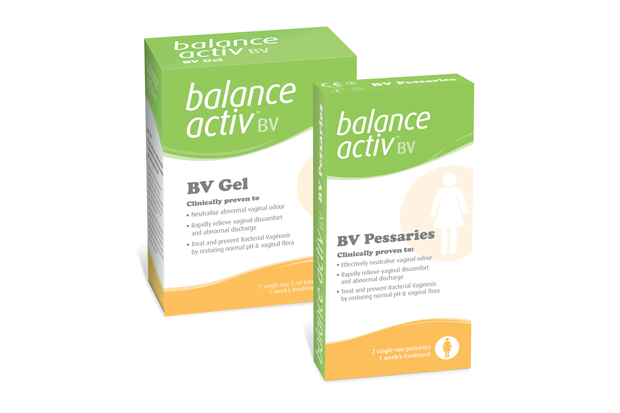 Balance Activ manufacturer BBI Healthcare has created an online symptom checker to help women identify vaginal conditions.
Alongside the checker – which can be accessed here – the manufacturer offers Balance Activ BV gel and pessaries, which it claims "quickly and safely" relieve symptoms of bacterial vaginosis (BV) "without side effects".
It recommends using either one tube or pessary per day for seven consecutive days to relieve symptoms, or between one and two tubes or pessaries per week, as a preventative measure for reoccurring symptoms.
Balance Activ BV Vaginal Pessaries retail at £10.99, while Balance Activ BV Vaginal 5ml Gel retails at £8.65.
For more information, contact 01656 868 930