The skin is the body's largest organ. It is our first line of defence against infections, and its overall health, look and feel has a great emotional effect on people at all stages of life. By keeping this in mind, community pharmacists have a great opportunity to improve sales by helping their customers understand how to manage their skin.

Here is C+D's guide to the strengths, weaknesses, opportunities and threats for this category.
Strengths
The value of community pharmacy in supporting customers' skincare needs is highlighted by the latest data from market research company Kantar Worldpanel. Its findings revealed that so far this year the sector has accounted for almost 50% of overall skincare sales.
Facial moisturisers are the biggest sellers in this category, with retail sales raking in £281 million – nearly half of all the sector's skincare sales. In fact, all products to treat dry skin are proving popular, says Lila Thakerar, superintendent at Shaftesbury Pharmacy in Harrow, north-west London.
"People used to tolerate their dry skin, but now they are more conscious of this condition. So we are selling a lot more products – particularly during winter, when individuals are exposed to cold weather," she says.
Make the most of knowledge
Pharmacists can play to their strengths by offering advice and information about skincare to customers who present with conditions such as psoriasis, rosacea and acne. This can benefit people who do not want to wait for a GP appointment, or who may not have access to a dermatologist.
For Angela Chalmers, a Boots pharmacist based in Hertfordshire, the sector excels in giving patients considered advice on the different skincare options available. Community pharmacists "have the time to understand what customers have tried before, what has worked, and also to establish a pattern caused by skin flare-ups, so they can create a picture to help [them]".
"Sometimes it is about offering a listening ear and [suggesting] new products customers may not have tried, to help them get back into a good skincare routine," she adds.
Male skincare, in particular, is a growing area, Belfast contractor Terry Maguire believes.
"Men used to be notoriously poor at moisturising, but are now recognising the benefits to maintain good skin health," he says.
Weaknesses
As well as being familiar with the skincare products your pharmacy stocks, your team should understand there are clinical issues associated with skin problems (see case study) and promote any relevant services to customers.
"Skincare should not be portrayed as just about beauty products. [It's] not just about looking pretty, but about offering treatments for good skin health," says Ms Thakerar.
A lack of staff training in skincare can, therefore, let a community pharmacy down, she warns. Staff who are not aware of the differences between dry skin and eczema, for example, may offer a moisturiser "rather than recognising the importance of providing products with a hydrocortisone base for customers with eczema", she says.
Educating the whole team is crucial because "you have to enforce the fact that pharmacy staff are trained personnel, not cashiers", Ms Thakerar stresses. "We can give customers options and advice about skincare products and refer to other professionals."
Consider product placement
Failing to make the most of merchandising skincare products, for example by having popular items behind the counter rather than on prominent display, means pharmacists could be missing out on sales opportunities, Ms Thakerar points out.
"There is no need for staff to go to the dispensary – products for dry skin should be available in the store," she says. "When staff have to go behind the counter to get skincare products, they are losing time supervising [the shopfloor]. We have an entire section dedicated to skincare," she adds. 
Skincare products should be displayed at the front of the store, because they are often "impulse buys", says Ms Thakerar. "People don't necessarily visit a pharmacy because they have dry skin. But if they see a skincare product while they are in the pharmacy, they might make a purchase," she says.
Some of these impulse buys – such as lip salves for cracked lips, a common condition in winter – can also be displayed on the counter, she suggests. 
For pharmacies that lack the space to display an extensive range of products from this category, Ms Thakerar recommends stocking a few essential skincare items and then replacing them when they are sold.
"If you haven't got the space, stock just one skincare product rather than 10," she recommends.
Ms Thakerar also suggests placing dummy packs and posters about new skincare treatments in store windows, or approaching skincare companies to install advertising screens to promote their products.
Sometimes the process of finding the right skincare product for a customer is trial and error, so Ms Chalmers recommends giving out samples to individuals with skin problems where appropriate.
Opportunities
Catering for younger people's skin is an opportunity for community pharmacies to enhance their offering further. Ms Chalmers suggests teenagers are a good group to target. 
"It's about getting teenagers to use a skincare routine and appealing to them by letting them know they have an expert on the high street that can help," she says.
Pharmacists can build customer loyalty by approaching conditions such as acne with sensitivity. 
"We need to be aware that having spots can completely knock people's confidence," she says. Helping teenagers to manage their skin conditions has the added benefit of sowing the seeds for these individuals to use community pharmacy regularly later in life. 
But building a long-term rapport with customers doesn't just apply to teenagers, Ms Chalmers points out.
"When it comes to skincare, we need to understand how people are feeling about themselves and their skin," she says. "Put yourself in your patient's shoes – try and find a solution, and ask them to come back, so you can build up a relationship."
Unique services
Expanding your range of skin services can also boost business. Lloydspharmacy offers a free skin testing service called the Skin Analyser. It tests for factors such as dehydration, skin elasticity, and excess sebum production, as well as helping to identify suitable sun care products. 
Holly Westwood, a supervisor at Lloydspharmacy's Kew branch, says the service "has boosted our sales a great deal".
"[It] has made customers more aware of their skin, so they think about what kind of products they are buying rather than purchasing any old moisturiser."
More opportunities may be waiting at pharmacists' fingertips in the form of social and digital media, which enable them to arm themselves with more information about solutions and developments in skincare.
Nina Sargeant, skincare category manager at Lloydspharmacy, says the multiple has "a greater awareness of brands and their efficacy, leading us to actively seek out specific products".
Threats
Kantar Worldpanel data seems to show strong pharmacy skincare sales. After all, it's the number one toiletry category in terms of spend and growth, with total pharmacy sales standing at £582m for the year up to September 11, and growth of 4.3% year-on-year.

Yet the category has seen shopper losses in recent years. The proportion of the population making skincare purchases in pharmacies fell 3.1% in 2016 – the fourth consecutive year of decline.
Online retailers are another threat to conventional community pharmacy sales. But this competition can be challenged by the profession's ability to provide detailed advice about skin health, Ms Chalmers says.
"While people may be buying skincare online, they do not necessarily know what the products contain," she says.
Offering specialist advice is also a way of addressing the challenge presented by supermarkets that give skincare discounts, such as two-for-one offers.
"Pharmacy retains its importance in skincare because of its skills in managing clinical conditions," says Mr Maguire. 
If you have the space, your pharmacy can also tackle competition by offering a greater range of products, suggests Ms Chalmers.
"Having a basic range of moisturisers is not enough these days," she says. "You need to let customers know you have specialist products for skin conditions." 
Ms Sargeant believes boosting skincare sales ultimately boils down to meeting the challenge of using community pharmacists' skills to beat the competition at a lucrative game.
"How we educate, communicate and deliver our service proposition within pharmacy will determine how we grow and compete in the skincare category," she says.
A young man comes into the pharmacy with dry, scaly skin affecting his hands and forearms. He thinks he may be suffering from either eczema or psoriasis, but he's not sure.
How can you tell these two skin conditions apart and suggest the right treatment?
Leyla Hannbeck, NPA chief pharmacist
Psoriasis and eczema are both chronic skin diseases that are often confused with each other. Although the conditions appear similar, the range of symptoms is usually different enough to distinguish between the two, and diagnosis can usually be made based on the appearance of the skin.
Atopic eczema is the most common form of eczema and often occurs in people who are sensitive to allergens. Flare-ups tend to be caused by specific triggers, such as soaps, detergents, stress and the weather. Sometimes food allergies can have an impact, especially in young children with severe eczema.
Psoriasis occurs when the body's process of producing skin cells is accelerated. This cycle typically takes up to four weeks, but in psoriasis, it happens in just a few days. It is thought that the increased production of skin cells is related to a problem with the immune system. Possible triggers can include throat infections, certain medication, or damage to the skin. Psoriasis lesions tend to be thick, red, scaly and dry. 
Although eczema lesions may look similar if they are chronic, they occasionally also appear to be moist and can ooze liquid if the affected skin is infected.
A range of treatments can be used to control symptoms and manage eczema. These include: self-care, lifestyle changes to avoid triggers, emollients, topical corticosteroids and topical calcineurin inhibitors (tacrolimus or pimecrolimus).
In most psoriasis cases, topical corticosteroids or vitamin D analogues should be the first treatment used. If the condition is more severe, light treatment (phototherapy) may be used. 
If these prove ineffective, systemic treatments may be given to the patient.
Oilatum range revamped by GSK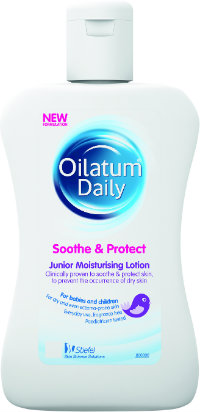 GSK is investing in its Oilatum range of eczema treatments with a number of improvements, including new packaging and a new formulation.
A packaging refresh for the entire range, including Oilatum Cream and Oilatum Junior Cream, will launch in December. The new packaging aims to modernise the brand's look and feel for "strong standout on shelf", GSK said.
A new formulation for Oilatum Daily Junior Moisturising Lotion will also be introduced along with a "stronger claim" to "instantly smooth and protect skin", it said.
Oilatum will launch a new Guide to Managing Atopic Eczema leaflet for use in pharmacies, highlighting the importance of having a regular skincare regime for eczema-prone skin, GSK added.
For further information, call 0800 783 8881.
Diprobase is the 'most prescribed' emollient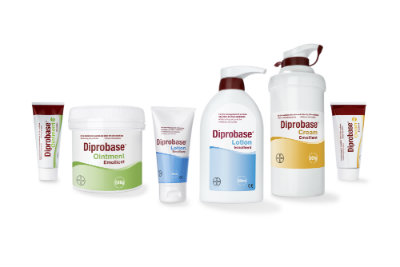 Diprobase cream is the "most prescribed emollient in primary care", according to manufacturer Bayer. The manufacturer pointed to IMS Information Solutions data which showed it was also the "most used emollient cream by secondary care practitioners" in June 2016.
The range includes a lotion which is designed to provide relief from itching from the first application and can be used as a soap substitute, Bayer said.
Diprobase Lotion retails at £3.99 for a 50ml tube and £7.99 for a 300ml pump. Diprobase Cream retails at £3.99 for a 50g tube and £12.99 for a 500g pump, while Diprobase Ointment retails at £3.99 for a 50g tube and £11.06 for a 500g tub.
For more information, contact Ceuta Healthcare on 01202 449 763
Polytar coal tar shampoo returns to pharmacies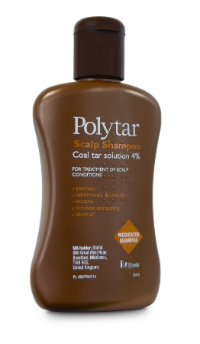 The Polytar brand has returned to pharmacy shelves after a four-year hiatus, GSK has highlighted. The manufacturer made the decision "to accommodate the demand for a medicated product to treat scalp disorders including psoriasis", it said.
Polytar Scalp Shampoo (coal tar solution) has been available since June, in a 150ml bottle, priced at £5.49. Polytar is a medicated shampoo with antibacterial and anti-inflammatory properties. It contains coal tar solution for the treatment of scaling scalp disorders, including seborrhoeic dermatitis, psoriasis and dandruff.
"GSK is looking forward to working with pharmacists to ensure that sufferers are aware that products from the Polytar brand are available again," said Lisa Goodman, skincare brand manager at GSK.
For further information, call 0800 783 8881.
Zeroderma range expands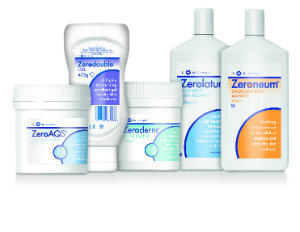 The Zeroderma emollient range now offers more choice with four creams, one ointment, one gel and two bath additives, according to Thornton and Ross. The manufacturer said the range provides a "complete emollient therapy for moisturising, washing and bathing".
Zeroderma products are all sodium lauryl and sulphate-free and are similar in formulation to around 50% of emollients prescribed by clinical commissioning groups in England, it claimed. The products also offer savings of up to 37%, it added.
All Zeroderma products are available on prescription and are listed on the NHS contract.
To request samples, email [email protected] or call 01484 842217.