In recent years, the use of e-cigarettes by smokers, and those who are trying to stop smoking, has soared.
For the second year in a row, Public Health England (PHE) is backing their use in the Stoptober campaign – signalling their shift into a mainstram pharmacy product. Meanwhile, the market for traditional nicotine replacement therapy (NRT) has been challenged. So, what does this mean for community pharmacists and their product sales?
For those trying to quit smoking, research shows that doing so without professional support is less likely to have a positive outcome. In a report published in April, the Royal College of Physicians (RCP) said that NRT "is most effective in helping people to stop smoking when used together with health professional input and support, but much less so when used on its own".
Community pharmacists are ideally placed, therefore, to give added value to their NRT sales, through advice tailored to the needs and lifestyle of each patient, as well as providing follow-up support and encouragement to help people kick the habit for good.
E-cigarettes and quit rates
According to the public health charity Action on Smoking and Health (ASH), an estimated 2.8 million adults in the UK are now using e-cigarettes – a number that has quadrupled since 2012. These users are split approximately half and half between former smokers and those who continue to use tobacco alongside e-cigarettes.
This e-cigarette boom is having a knock-on effect on smokers trying to give up. A study published in the BMJ in September concluded that "changes in prevalence of e-cigarette use in England have been positively associated with the success of [smoking] quit rates".
The study analysed data from 1,200 smokers who attempted to stop between 2006 and 2015, and found that quit rates increased by 0.098% for every 1% increase in e-cigarette use.
The impact on NRT
So where does this leave sales of NRT products and the pharmacies who want to maximise their sales? University College London senior research fellow Emma Beard, one of the authors of the BMJ study, suspects its findings will have a bearing on pharmacy sales of NRT – if it hasn't already.
"There has been a decline in the use of NRT among smokers in recent years. Although the decline in over-the-counter sales does not appear to be a consequence of the rise in use of e-cigarettes, there is evidence to suggest that e-cigarettes may have contributed to a decline in use of prescription NRT," she says.
Dr Beard argues that one explanation for this shift is that more smokers are discussing e-cigarettes with healthcare professionals. Knowledge about these products is therefore essential, so that pharmacists can give comprehensive advice about their use.
With this approach, conversations in the pharmacy can lead to opportunities to find the right NRT product to suit the patient's needs.
Signs from the sales data
Dr Beard's suggestion is supported by research. Data from the Smoking Toolkit Study – a monthly survey of a nationally representative sample of adults and a useful snapshot of smokers' behaviour – shows that in September 2009, 13% of smokers were using NRT to quit. By August 2016, that figure had dropped to just 4%.
Shane MacGuill, head of tobacco research at market intelligence firm Euromonitor International, explains the relationship between sales of NRT and e-cigarettes.
"According to our data, between 2013 and so far in 2016 the total value of the UK NRT category declined by 7% – from £144.2 million to £134.4m," he says. "At the same time, e-cigarettes grew by 287%, from £262.5m to £1.02 billion. It seems clear that in the UK, consumption of e-cigarettes is impacting the use of NRT products."
But the good news is there is still room for growth in both categories. Martin Wood, head of strategic insight at market research firm IRI, says: "With smoking on the wane, there is room for both medical NRT products and 'vaping' to grow sales. It is one of the few product categories with a really positive outlook."
Mr MacGuill adds: "NRT may still play a role for some consumers and there may be 'new' consumers entering the category as a result of the prevalence of e-cigarettes – ie smokers whose awareness of cessation has increased from observation of e-cigarette use, but who may not wish to use an e-cigarette product themselves."
This is supported by data from consumer research firm Kantar Worldpanel. In the UK, Kantar's analysis shows that smoking cessation sales combined across all retailers are still experiencing strong growth, in both value (3.8%) and volume (7.4%).
Community pharmacies stock traditional NRT products in a variety of forms, and sector sales in this category were worth £30.9m in the year to September 11, 2016. One of the most well-known NRT forms, nicotine patches, seem to be less popular at the moment – Kantar data indicates that pharmacy sales of patches have dropped by 27% over the same period.
On the other hand, lozenges are the largest product by value, accounting for 37% of all pharmacy Sales. They are the only NRT product to see growth in pharmacies year on year, of 2.2%, Kantor adds.
IRI's Martin Wood points to "innovative" nasal inhalers and mouth sprays, as growth areas among other retailers.
The range of NRT products offers patients lots of alternatives. This is where pharmacy has an advantage, says PHE's tobacco control programme lead Martin Dockrell, who encourages pharmacies to stock the full range.
"PHE wants to see a choice of stop-smoking aids [available] and we hope to see continuing innovation in the market. Many pharmacies provide a range of licensed and unlicensed nicotine devices and are well-placed to help smokers choose and use the devices that will give the best chance of quitting successfully.
"Pharmacists, their teams and other healthcare professionals should recommend the stop-smoking treatment that best suits the needs of individual clients."
This is a strong endorsement for a pharmacist's expertise, as their knowledge of medicines and of their patients can support those e-cigarette users with safety concerns.
Giving safety advice
Despite their success, some users are still unsure about e-cigarettes' ingredients. In a survey, ASH asked smokers who had never tried an e-cigarette why they hadn't. The most commonly cited issue was: "I am concerned they are not safe enough."
This is another opportunity for pharmacists to advise those patients who may have concerns about e-cigarettes, but it can be difficult to know what the best advice is.
The risk of harm from e-cigarettes is likely to be very small, and substantially smaller than that arising from tobacco smoking, according to the RCP. However, research from Harvard University showed some of the flavours are potentially an irritant to the airways.
One of the most widely publicised of these is diacetyl, a buttery flavour used in popcorn and some other foods. When used as a food flavouring it is safe, yet it has also been implicated in cases of popcorn factory workers who developed a condition called bronchiolitis obliterans – commonly known as "popcorn lung". The safety of e-cigarette flavourings after heating and inhalation is currently unknown.
PHE's Mr Dockrell recommends that pharmacists and their teams read the National Centre for Smoking Cessation and Training (NCSCT) briefing on e-cigarettes. "This provides evidence-based information to assist healthcare professionals in advising patients who want to use e-cigarettes to support a quit attempt," he says.
UCL's Dr Beard also says: "Pharmacists should be encouraged to complete this or similar training. At the very least, they should provide brief advice that involves assessing current and past smoking behaviour, providing information on consequences of smoking and smoking cessation, [and] providing options for additional support and advice on stop-smoking medications".
E-cigarettes: boom or bust?
It remains to be seen whether the rise of e-cigarettes will continue inexorably, and if there is still room for growth among traditional stop-smoking products in the long term.
Dr Beard seems to think not, telling C+D: "Use and interest in e-cigarettes continues to grow, while there is a continual decline in the use of NRT. It is unclear what effect the licensing of e-cigarettes and regulation will have on the market."
The first, and only, e-cigarette to be licensed in the UK as a medicine, e-Voke, has been available in pharmacies since December 2015. Yet even before this, a C+D poll suggested 41% of pharmacists were in favour of stocking the products.
And PHE's Mr Dockrell suggests that more e-cigarette products will become available at pharmacies – perhaps on prescription – "in due course".
According to IRI's Mr Wood, the category of e-cigarette experiencing the greatest growth is "liquids", as opposed to products that "physically resemble cigarettes".
There may be opportunities for pharmacies to expand their e-cigarette sales in future, Euromonitor's Mr MacGuill suggests, as UK regulations become flexible enough to support further growth in the market.
Due to the light-touch implementation of the EU Tobacco Products Directive, which currently applies to the UK, Mr MacGuill believes "it's more possible in this country, than virtually any other, that future developments in the regulatory environment will be liberalising rather than more restrictive".
In this rapidly changing smoking cessation market, pharmacists should make sure they arm themselves with the most up-to-date knowledge of both traditional NRT and its growing competition. This will put them in the best position possible, both now and in the future, to help patients make informed choices and support them to stop smoking for good.
Case study: Leyla Hannbeck, chief pharmacist, National Pharmacy Association
John, a customer who regularly comes in for cough treatments, mentions that he has decided to use Stoptober as motivation to try once again to give up his 20-a-day habit. John says stopping for short periods in the past didn't seem to make a difference to his overall health, so he became easily discouraged.
What can you advise to help John this time?
During Stoptober, which runs for 28 days, you may want to start promoting your smoking cessation products and services, as well as ensuring your staff are confident in advising and supporting smokers who may ask for help.
Tobacco smoking introduces carbon monoxide, nicotine and tar, among other harmful substances, into the body. This increases the risk of cancers, hypertension, myocardial infarction, peptic ulceration and stroke. Each constituent of tobacco smoking has its own damaging effect on the body.
It is therefore worth remembering some quick facts that may support smokers, such as John, who struggle to stay motivated. For example, within 24 hours of quitting smoking, harmful carbon monoxide and nicotine are cleared from the body. In fact, as soon as 20 minutes after an individual has their last cigarete, their risk of heart problems begins to reduce.
Whilst it's true that quitting smoking may lead to withdrawal symptoms – including depression, irritability, poor concentration and disturbed sleep – you can support a quitting smoker by letting them know that these are unlikely to last more than four weeks.
To successfully quit smoking, support from an individual's friends and pharmacy staff is important.
Nicotine replacement therapy (NRT) products available over-the-counter and through smoking cessation services include transdermal patches, oral products (for example, chewing gum, inhalators, lozenges and sublingual tablets) and nasal sprays. Each has its own advantages and disadvantages which you should discuss with patients.
John may need to combine or switch between NRT formulations – there is no evidence to show any efficacy differences between them. You should also tell him about the common side effects of NRT, to ensure he stays compliant, and offer him alternatives if he needs them.
E-cigarettes should only be sold from a pharmacy in line with the guidance published by the Medicines and Healthcare products Regulation Agency, and by following the advice and professional standards set by the General Pharmaceutical Council. Patients should be provided with all the options available for smoking cessation, including the risks and benefits of the different products, to enable them to make an informed decision.
Galpharm launches 'affordable' nicotine replacement gum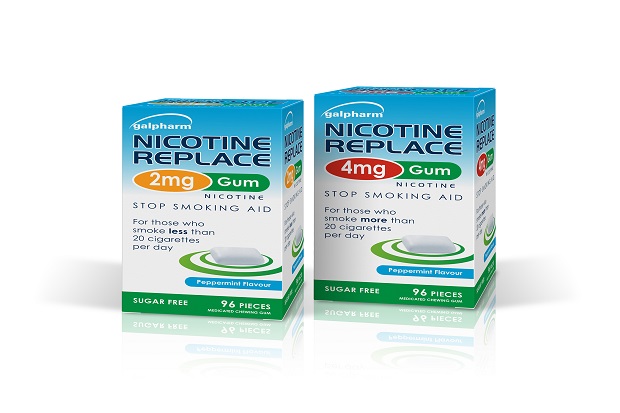 Galpharm has launched its sugar-free, peppermint-flavour Nicotine Replace Gum in two strengths – 2mg and 4mg of nicotine.
The manufacturer said the 2mg gum is suitable for individuals who smoke less than 20 cigarettes per day, while the 4mg is for those who smoke more. It recommends the gum is chewed for about 30 minutes, so the nicotine is not released too quickly.
Galpharm said the gum is "easy, discreet and convenient to use" and helps relieve smokers' cravings and unpleasant withdrawal symptoms.
Brand marketing manager Ruth Giles added that the gum, which launched in August, contains "the same active ingredients as branded alternatives, but at an affordable price, meaning smokers can spend less to kick the habit".
Galpharm Nicotine Replace Gum 2mg and 4mg both retail at £9.99 for 96 pieces.
To order, contact 01226 779911