The first category M tariff of 2013 comes with a slight reimbursement reduction of 1.2 per cent, when recent adjustments for the now off-patent atorvastatin are included.
Overall, this means just under £20.5 million per year was removed from the category, equating to around £5.1m per quarter – around £450 from the average pharmacy's purchase profit over the next quarter.
There have been eight products added to the category this quarter. As well as irbesartan and tolterodine – for which the patents have expired – new additions include diamorphine ampoules (10mg and 30mg) and paracetamol 250mg/5ml oral suspension.
This brings the number of category M products to 503, of which 14 have stayed at the same reimbursement level since last quarter; there have been 280 reimbursement increases and 209 drops.
The quarter's greatest rise is methotrexate 2.5mg tablets 28-pack, which jumped 145 per cent to £4.61 (see What's hot, below).
Unsurprisingly, the greatest fall was seen in tolterodine 1mg and 2mg tablets, with the value of the 56-pack product falling 82 per cent (see What's not, below).
All of these changes mean the new basket of category M products is worth just over £1.63 billion, up from £1.58bn in October.
Following the stability of the drug tariff over recent years, the Category M Barometer was rebased to 100 in the last quarter of 2012; currently, the barometer sits at 98.4.
Data and analysis supplied by Actavis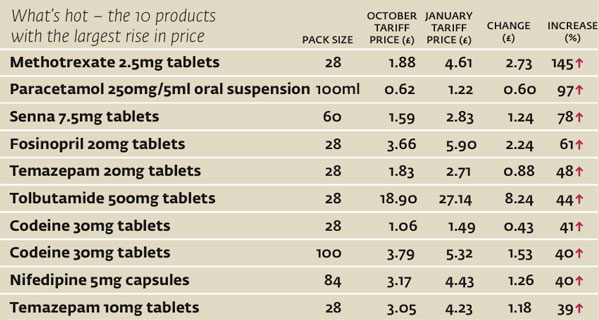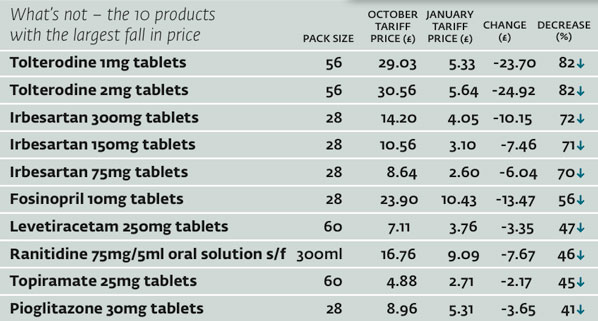 Tips for your CPD entry on category M
Reflect Do I understand the significance of category M to my practice? Plan Read the article and find out the latest changes. Act Change your drug purchasing habits to maximise profits. Evaluate Is your pharmacy able to manage category M fluctuations?