A few pharmacies began delivering COVID-19 vaccines in January, but the process of getting more pharmacy-led sites involved in the programme has been slow.
There are 325 pharmacy vaccination sites in England on the latest list, published by NHS England and NHS Improvement (NHSE&I) on April 2, making up a fraction of the more than 11,000 pharmacies across the country.
Nat Mitchell, the owner of JWW Allison & Sons pharmacy in Cockermouth, Cumbria, was among the first pharmacies to apply to administer the vaccines in December 2020.
In many respects, Mr Mitchell's pharmacy is the ideal candidate for the job, having delivered the most flu jabs in England in the 2017-18 season by completing 1,444 vaccinations. In addition, he says his business has the capacity to administer 60 vaccines an hour – far more than the initial NHSE&I requirement of 1,000 a week – in The Globe Hotel nearby (pictured below).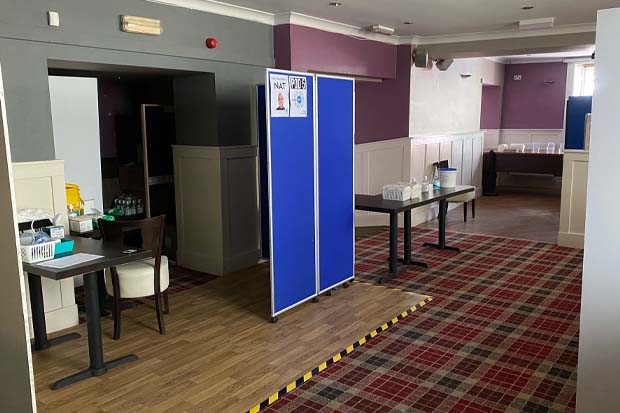 So, why has his pharmacy team not yet started administering the vaccines? Mr Mitchell spoke to C+D features editor Thomas Cox in a podcast about:
Managing a team of over 100 volunteers
COVID-19 vaccine supply delays
How the vaccine service is financially viable for pharmacies
How patients come to pharmacies for vaccines because they trust them
Handling patient vaccine concerns
You can listen to the podcast above. Alternatively, subscribe to C+D's podcasts by searching "Chemist+Druggist podcast" on your preferred app or on Soundcloud.
Are you or your pharmacy involved in the COVID-19 vaccination programme? Let C+D know and share your experiences with fellow pharmacists and staff on the C+D Community. Register for free, or access the site via LinkedIn.