According to charity Allergy UK, of the nearly 18 million people across the nation who suffer from hayfever (seasonal allergic rhinitis), 62% say their current medication isn't effective.
With the hayfever beginning to bloom, now is the perfect time for pharmacy staff to get to grips with the best products to combat their customers' symptoms. So what do you and your team need to consider before you offer advice?
Systemic versus topical
Oral antihistamines are commonly used in allergy management, and in most cases are the first-line treatment. "However, it is worth considering the patient's symptoms as these vary widely and do not always respond well to systemic antihistamines," says Viv Marsh, asthma and allergy clinical lead at training provider Education for Health.
For example, for nasal congestion and red, itchy, watering eyes, topical treatments may be a better choice, unless the patient is particularly unwell. These are delivered directly to the problem area, meaning lower doses or strengths can be used effectively. This reduces the risk of side effects.
"Patients with troublesome congestion may find the short-term use of either systemic or topical decongestants helpful, but they must be aware that treatment must not be prolonged," says Ms Marsh. Using decongestants for too long risks a "rebound" of congestion when the medication is stopped. To avoid this, decongestant nasal sprays should only be used for a week at a time.
Potential side effects
Sedation, cognitive impairment and behavioural changes (in children) are common with first-generation antihistamines, such as chlorphenamine. Ms Marsh advises that second-generation products – such as cetirizine – should be preferred as a first-line treatment for allergy symptoms, although first-generation antihistamines can be useful for emergency treatment of food allergies.
"Topical intranasal steroids are safe to use in recommended doses," says Ms Marsh. "Side effects usually relate to incorrect application technique."
Focus on symptoms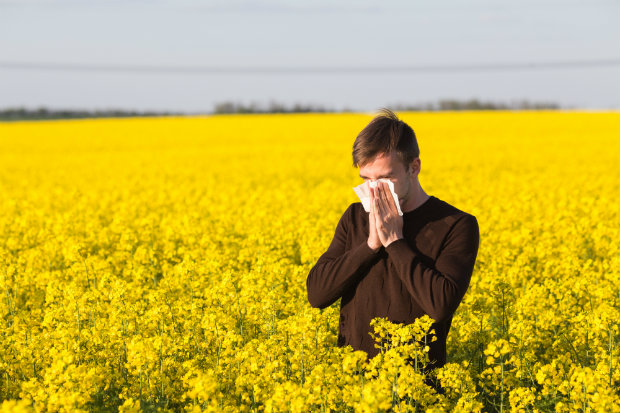 Advise customers to start using antihistamines or a nasal spray two weeks before they usually get hayfever symptoms. If they say the medication is not working, check that they know when to take it or how to use their devices correctly.
It's also important to focus on the specific symptoms that patients report.
A runny nose can be treated with antihistamine nasal sprays
Red, runny and itchy eyes can be treated with sodium cromoglicate eye drops
Congested nasal passages can be treated with oral or intranasal decongestants, used for a minimal period (5-7 days)
Patients demonstrating moderate to severe symptoms may require long-term corticosteroids. You should advise them that improvements may take up to two weeks.
Consider an alternative
Customers can get stuck in a rut with their choice of product, so it's helpful if you are able to recommend alternatives. "Antihistamines are great, but it's about getting the right one," says Allergy UK nurse advisor Holly Shaw.
"[A] daily non-sedating [tablet] normally does the trick, but if they aren't working then you can suggest [the customer] try something else. With moderate hayfever, they may choose to use a nasal spray."
When it comes to these sprays, pharmacists have a key role in showing the patient how to use them effectively, Ms Shaw stresses. "The medicine is not effective if not used correctly."
People may also forget to administer nasal sprays and antihistamines. Pharmacists can therefore suggest that customers:
Keep products somewhere they will see regularly, such as by their toothbrush
Keep a pack in their wallet or handbag – for use when out and about
Set an alarm on their phone to remind them to take regular doses.
Self-care tips
Allergen avoidance may seem to be a logical option for self-care, but avoiding pollen in spring and summer can be difficult. "One tip is staying indoors in the evening, as this is when pollen levels are high," says Ms Marsh.
"This is often a time when people are on their journey home from work. Modern cars are fitted with pollen filters, so it's a good idea to ensure the windows remain closed during car journeys, so that filtration is effective."
Ms Marsh's other tips for reducing pollen exposure include:
wearing wrap-around sunglasses
smearing the inside of nostrils with petroleum jelly or other barrier creams
keeping doors and windows closed
drying washing indoors or tumble drying it for a few minutes after taking off the washing line
showering and washing hair before going to bed to remove pollen.
"It's worth remembering that every person's hayfever symptoms come at different times of year, depending on which pollens they are sensitised to," says Ms Shaw.
Key advice for patients
Non-sedating products should used when possible to treat hayfever, but Ms Marsh says if their use is unavoidable, "patients must be advised of the potential impact on their ability to drive, operate machinery and concentrate".
She adds: "Symptoms that are severe or persist despite self-management may require more intensive treatment." In these cases, patients may need oral corticosteroids or higher doses of antihistamine. Intractable symptoms may be a sign that hayfever is not the true cause, so patients should be advised to see their GP.
In children, severe hayfever can impact upon school performance and exam results. You can tell a parent that the examination officer at their child's school will be able to advise further.
People with allergic rhinitis are at higher risk of asthma and eczema. "If you have both hayfever and asthma, the hayfever has to be really well managed as the nose is the gateway to the respiratory system," Ms Shaw says. "If the nose isn't well controlled, sufferers may find this exacerbates their asthma."
Pharmacy staff should also have a good understanding of which symptoms are suggestive of hayfever and which aren't. "When a patient has complexities – such as multiple medical conditions, if they are pregnant or a child – or if you feel it's out of your scope, then refer them back to the GP," advises Ms Shaw.
The National Pharmacy Association's guide to types of allergy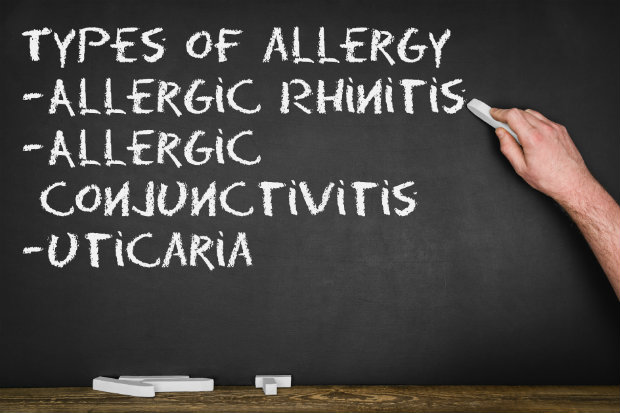 Allergic rhinitis is inflammation of the nasal passages resulting from a reaction to allergens. This inflammation can cause symptoms such as itching, nasal discharge, nasal obstruction and sneezing. The allergens that commonly cause allergic rhinitis include: animal hair; grass, tree and weed pollens; and house dust mites.
Allergic conjunctivitis is inflammation of the eye's conjunctiva caused by a reaction to an allergen such as dust mites, grasses or pollen. The main symptoms are itching, burning sensation, slight photophobia, and discharge and redness of the eye. Seasonal and perennial allergic conjunctivitis can often occur with allergic rhinitis.
Urticaria (also known as hives, nettle rash or weals) presents as itchy, red or white weals which are raised areas of skin surrounded by areas of redness. The rash can appear anywhere on the skin and typically disappears within 24 hours. Urticaria can be treated with oral antihistamines; sedating antihistamines can be recommended if itching is interrupting sleep. In addition, emollients can be applied topically to the skin to treat widespread itching.
Add-on sales
With hayfever products available both on prescription and over the counter, there is plenty of potential for add-on sales, such as tissues and eye masks. It's important to have the full category of allergy relief available now, as hayfever sufferers buy early in the season to prepare.
Stocking a range of products in a variety of formats gives customers a choice. Consider liquids and tablets, with a range from small to larger pack sizes. Remember to stock a range of children's products, which can be merchandised within the paediatric medicines section or dual merchandised where appropriate.
Make sure you have a value equivalent to offer the customer as an alternative to branded products, and replenish stock levels throughout the day.
Immunotherapy
Specific immunotherapy (sometimes referred to as desensitisation) is a treatment for patients with severe allergic rhinitis, despite correct use of all prescribed drugs. The allergic person is given increasing doses of allergen frequently, until a maintenance dose is reached. A maintenance dose is then given regularly for a certain period.
It can be a very successful treatment for severe allergic rhinitis, as it causes the body to develop 'regulatory' immune cells which control the allergic reaction, resulting in tolerance to the allergen. However, as immunotherapy is intensive and time-consuming, only people with extreme symptoms uncontrolled by normal medication are usually considered for it.
Patients who may be suitable for immunotherapy will need to be referred to a specialist allergy clinic by their GP. Ms Marsh says immunotherapy is not suitable for everyone: "Patients with multiple allergies will not benefit from immunotherapy."
Key opportunity
When it comes to treatment success for hayfever, compliance is crucial. Pharmacy staff are perfectly positioned to help address any difficulties an individual has with their medicines. They should use the face-to-face time they have with customers to reinforce the importance of selecting a hayfever product that suits their needs – and ensure they know how to use it correctly.
Sponsored: Piri returns to screen for hayfever season
Manufacturer GlaxoSmithKline (GSK) has launched a £3.5 million media campaign to promote its Piri range "from the start of the hayfever season".
The media campaign – which launched this month and includes a TV advert for its Pirinase nasal spray – will align "peaks of media activity" to coincide with the high pollen count, GSK said.
The manufacturer has also introduced a new claim for its Piriteze Allergy Tablets – that they provide "24-hour max-strength" allergy relief.
GSK will continue to invest in education for pharmacists in 2017, it said, including "training, engaging with pharmacy schools and e-detail aids, outlining the impact hayfever has on customers".
Andy Mahoney, GSK area marketing manager for Northern Europe respiratory, said the hayfever season is a "key opportunity" for pharmacists to ensure they are "stocked to meet consumer demands and provide effective solutions for their allergies".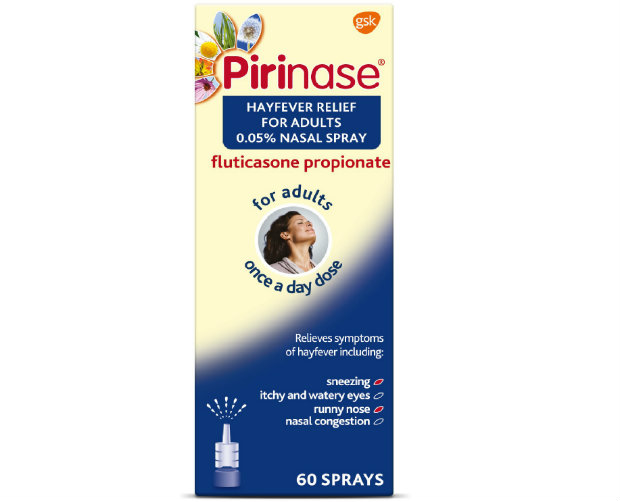 Further information
Allergy UK has a range of allergy resources and information.
Supporting Children's Health is a valuable resource for anyone wanting to understand more about children's asthma and the allergies that affect asthma control.
Education for Health offers an online allergy professional development module and a face-to-face one-day workshop on allergy and anaphylaxis. Both courses are suitable for community pharmacists who wish to develop their knowledge and skills in this area.