Pharmacists who supply methadone will know how long it takes, and the challenges involved in accurately dispensing this controlled drug to people struggling with heroin addiction.
An estimated 10% of the more than 14,500 pharmacies in the UK dispense methadone, and around half of these have leased a MethaMeasure machine. This automated dispensing device processes a patient's data, checks their identity and performs final verification in an average of 10 seconds, before dispensing their daily dose.
The man behind MethaMeasure is community pharmacist turned entrepreneur Stephen Dickson. His invention was borne out of his concerns about patients' safety while he was dispensing 100 doses of methadone a day in a pharmacy in the east end of Glasgow – where he still works as a superintendent.
A "massive problem"
"It was a very risky activity and you could quite easily dose someone incorrectly if you were distracted, so it was a real danger to the patient," says MethaMeasure Ltd director Mr Dickson. "We had a very difficult time running the pharmacy and doing anything productive. It felt like a patient safety incident waiting to happen, and all our colleagues said the same thing – that it was a massive problem for them."
Because of the time it takes to dispense methadone, pharmacies often find they struggle to support all of the patients who require other treatments, leading to waiting lists.
"It takes about six to eight minutes, with a pharmacist involved at every stage, doing it manually," he explains. "So I thought: there's got to be a better way of doing this."
In 2000, he convinced his local health board to fund manual liquid dispensing aids – in the form of bottle-top dispensers – for pharmacies in the area. But he had to use his own initiative to take the solution a major step further.
Getting off the ground
Mr Dickson used his own time and funds to come up with the basic design and technology for the MethaMeasure device, as well as finding an outlet for his computer programming skills. He "made the electronics in [his] bedroom", where he also wrote the computer coding that uses finger printing technology to check a patients' identity.
After a couple of years of "trial and error" – during which Mr Dickson continued working as a community pharmacist in Glasgow – he came up with a prototype that he was able to test in a pharmacy.
"I realised very quickly that the difference it made was phenomenal. We suddenly gained eight hours of practice time a day, [time] that the pharmacist used to spend dispensing and checking the methadone."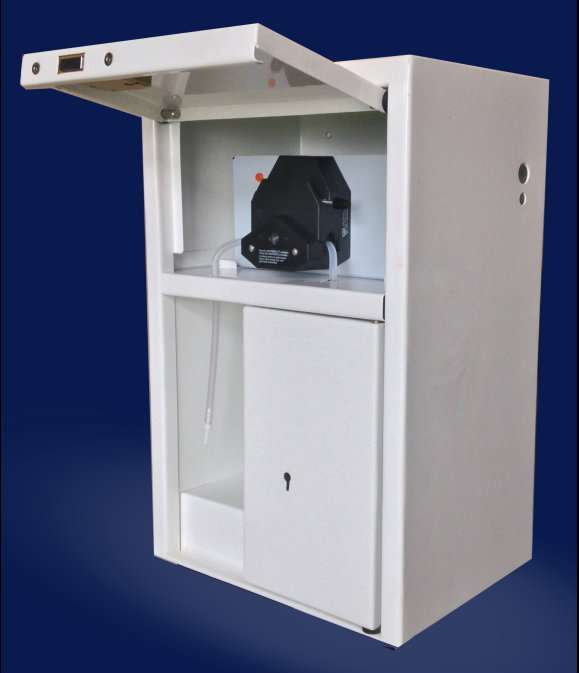 Positive feedback
The feedback from other local pharmacies was similar, and the device "created an awful lot of interest", he says. This prompted Mr Dickson to exhibit the machine (pictured) at the Pharmacy Show in 2005 – which is when the MethaMeasure really took off.
"It became clear we were solving a huge problem and we had come up with something that would make methadone prescribing safer for patients. I've never experienced anything like it – we were completely mobbed," he remembers. Since then, the device has gone from strength to strength.
"We've not really had to sell it hard," Mr Dickson says. "It's something that has an obvious use; if [pharmacists] have the problem, then this is a solution for them."
Expanding internationally
MethaMeasure Ltd now has six full-time UK employees, and has expanded to other countries such as Canada – which has similar regulations to the UK – and the US, where the device is demonstrated in teaching universities that specialise in substance addiction.
It has even made it as far afield as Malaysia and Georgia, and the company has gained funding from the World Health Organisation to introduce it in Africa. There are now plans for it to be rolled out in Kenya to dispense HIV medication, Mr Dickson explains.
"It is gaining traction in Africa, because MethaMeasure can also be used to quickly and accurately dispense antiretroviral agents," he says.
Legal hurdles
But the success has not been unchallenged. While community pharmacists could immediately see the benefits, Mr Dickson says he has had "a lot of challenges over the years" from medico-legal representatives, such as accountable officers and controlled drugs teams, who were "initially confused" about the device.
"It meant going from making methadone up in advance, to making it up automatically when the patient presents, based on a calibration by the pharmacist at the start of the day.
"That means going from checking a prescription three times, to using a calibrated machine and not having a final check. That took a psychological change in the way that pharmacists thought about what their role was," he says.
Mr Dickson says he had many conversations with bodies such as the Royal Pharmaceutical Society of Great Britain, which gave him the confidence that he was on the right track.
"As a pharmacist I had read the regulations and talked to the relevant people to get an answer, but it was challenging. It took a little bit of effort, and engaging pharmacy lawyers, to educate people. It was expensive, and a very stressful time, but it was successful," he says.
Drawing on expertise
Now, Mr Dickson's company is focussing on new ventures, inventing other technology solutions that save community pharmacists time and improve patient safety. His next device is a web-based system for registering controlled drugs electronically.
He insists that the business's success would not have been possible without his community pharmacy background. "For someone else, who didn't have an interest in coding and programming – and wasn't as lucky – it would have been much more expensive.
"If I didn't have that background, it would have been hard to do," he adds. "Being a pharmacist has been essential. I couldn't have done this if I didn't understand the process."

Read clinical editor Kristoffer Stewart's experiences of using the MethaMeasure device here.
Vital service or producing "methadone millionaires"? Why opioid substitutes remain controversial
In England, pharmacies receive an item level fee of £2.50 for all prescriptions for oral liquid methadone. Fees across Scotland vary depending on the individual health board.
The service has long proved controversial. In 2012, Labour MSP Jenny Marra branded pharmacists "methadone millionaires" who were "profiteering from the misery of recovering addicts at taxpayers' expense".
The service made headlines again last year, when BBC Scotland claimed to obtain data showing the country's pharmacists were paid £17.8 million for handling nearly 500,000 prescriptions for methadone in 2014. It prompted the Centre for Drugs Misuse Research's Dr Neil McKeganey to label methadone programmes "a black hole".
Responding to the findings, a spokesman from Community Pharmacy Scotland said: "While community pharmacists are paid to administer the programme, the income is far outweighed by the time, administration and difficulties that can often be encountered by taking on a role in this difficult area."