Almost one in 10 (8%) of women aged 16 to 59 in England and Wales experienced domestic abuse in the year ending March 2019, while the equivalent of one woman a week was killed by a current or former partner in the year ending March 2018, according to the Office of National Statistics.
COVID-19 has only exacerbated the problem for both male and female victims, with lockdown increasing the amount of time they spend at home with their abuser. Demand for domestic abuse helplines has soared. The charity Refuge reported a weekly average increase of 66% of calls to its helpline compared to before lockdown, while visits to its website shot up by a "phenomenal" 950%. Another charity, Hestia, saw a 47% increase in the downloads of its support app Bright Sky over the same period.
To address the escalating problem, an initiative to provide spaces for victims of domestic abuse in pharmacy consultation rooms led by Boots and Hestia – but available to all pharmacies – was launched in May. With pharmacies remaining open throughout lockdown, the hope was to provide reliable ways for victims to access help. However, when the initiative was announced, some pharmacy professionals raised concerns about staff safety, funding and training.
Five months later, companies offering the scheme told C+D how it has helped save the lives of some patients.
All pharmacies in the UK have been encouraged to sign up to the Safe Spaces scheme, which is supported by the National Pharmacy Association, the Royal Pharmaceutical Society and the General Pharmaceutical Council.
Some 3,171 pharmacies have joined the scheme so far, making up over a quarter of all UK pharmacies. The bulk of these are Boots, Superdrug and Morrisons branches, alongside over 400 independent pharmacies.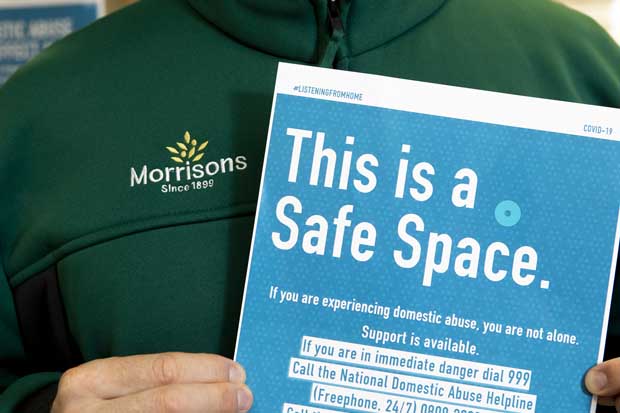 The scheme is advertised through posters. It works by the patient asking counter staff to use the "safe space" of the consultation room, where a member of the pharmacy team can introduce them to Hestia support through calling its telephone number or downloading its app.
Abuser arrested
Superdrug says a "significant number" of abuse victims have used the service. A spokesperson says: "We believe this initiative has saved lives and are assured that victims have been able to seek specialist support…after a long and difficult period of time."
Most participating pharmacies have seen some usage of the safe spaces. Hestia surveyed 178 pharmacies in the scheme from June 30 until 21 August. Some 97% of respondents said the consultation room had been used between one and 10 times, 2% said between 11 and 20 times, and one said between 31 and 40 times.
Lyndsey Dearlove, head of the UK Says No More campaign at Hestia, says the rooms have been used "quite significantly" by one of the multiples, which reported employees using the safe spaces as well as patients.
In one instance, says Ms Dearlove, a domestic abuse victim told a Boots member of staff in the safe space that their abusive partner was waiting for them on the high street. The store called 999 and offered the victim refreshments and a place to wait while the police arrested her abuser.
In another case, a victim of domestic abuse came across the scheme on the Boots website. She visited a safe space in a Boots pharmacy, where she contacted her relatives as well as a helpline. "Through that support, she was able to have the abuser removed from the home," Ms Dearlove says.
An independent pharmacy in Yorkshire offering the scheme had one victim visit its safe space several times over two weeks. On her final visit, the woman left a gingerbread man and a note saying: "Thank you, your safe space has, without exaggeration, saved my life," according to Ms Dearlove.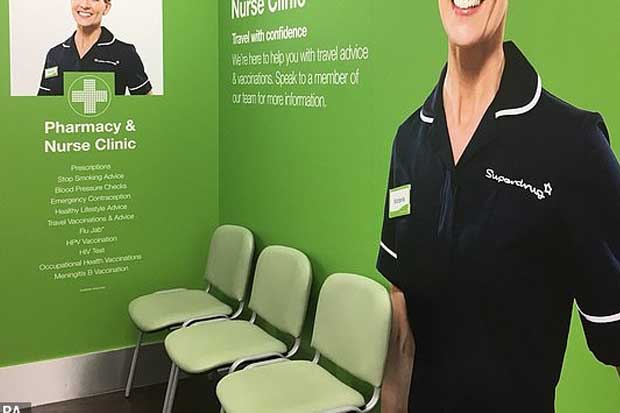 Making spaces available
Ms Dearlove says independent pharmacies have welcomed the initiative, although usage of their spaces by patients seeking help has so far been "sporadic".
The important thing is that people know the space is there, she says. "What we're trying to do is create as many opportunities as we can for victims." This can be as simple as seeing a poster advertising the safe space in the pharmacy to let victims know that help is available.
"The overwhelming response is that if the space hasn't been used, the posters have been equally as important.
"Sometimes you need to see the information in quite a few places to feel confident about asking for help. Then you may ask for help, but it may take you another week or so to action that [advice]. Having the space to make those decisions and it being self-guided is really important."
Vicky Dawson, dispenser at Broadshire Pharmacy in Caterton, Oxfordshire says her pharmacy wanted to offer safe spaces regardless of usage. It's a "great service", she says.
"We haven't had anyone in, but we're embracing it and doing what we can. We have advertising on our windows and our noticeboard, and we posted on Facebook."
Danger for staff?
Despite a positive response from many, when the initiative was first announced, some pharmacy professionals were concerned about the strain the scheme could put on teams.
A C+D article on the topic provoked a number of critical comments. One pharmacy professional wrote: "How will this work if a victim of domestic abuse wants to come in? Do they queue up with everyone else, do they go to the front and tell everyone?" Another said: "This can put staff in danger."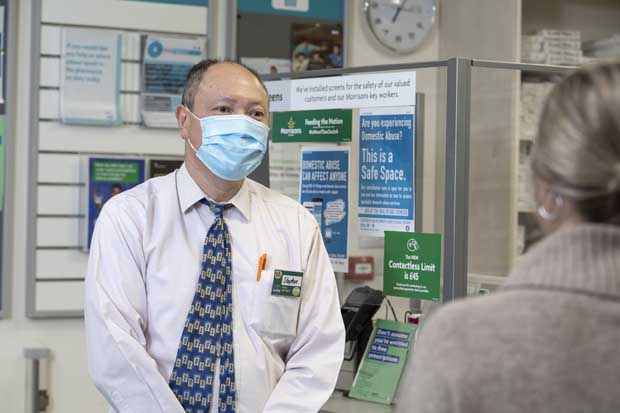 One pharmacist wrote: "Send all worried patients to [Boots]…their consultation areas are much larger than ours." Another said: "Pharmacies could not be a more unsuitable, more public place to seek help. They are almost always busy, almost always full of local people. Pharmacists are not trained in this area."
Ms Dearlove says the campaign should not require much extra work from pharmacies. "It requires only a little bit of input from staff themselves – that they're able to open up the consultation room and, if they're asked for any additional support, to point in the direction of the helpline numbers," she says. "We completely understand that this may work for some pharmacists more than others."
Hestia has developed training sessions for Boots, Morrisons and Superdrug staff and can provide free webinar or face-to-face training for teams at independent pharmacies, she says.
Ms Dearlove acknowledges that the charity cannot guarantee an abusive partner would not enter a pharmacy looking for their victim, but stresses that she has not received a single report of staff being approached by an abuser.
"Victims of domestic abuse would do everything they could to avoid their abusive partner knowing what they're doing," she says. "Many of these pharmacies have store policies where you're able to remove somebody."
Ms Dearlove recognises that flu season will bring a busier period for the consultation rooms used as safe spaces, but that Hestia wants "minimal disruption" for pharmacy staff – who will be reliably accessible throughout the winter.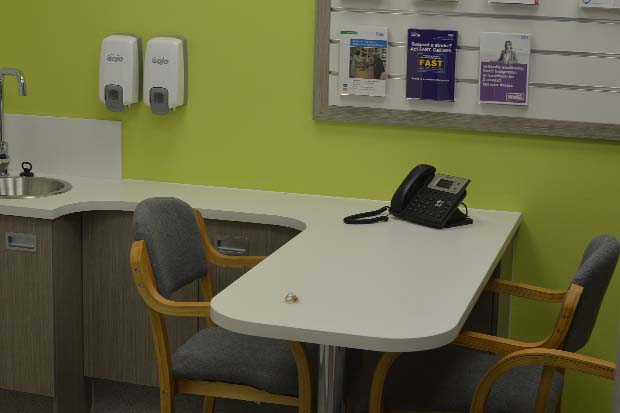 "Pharmacists are already essential to the community in many ways and are used by your community sometimes before people reach doctors. We know that it's a crazy logic, but you can talk to your pharmacist about stuff that you wouldn't even tell your parent or your partner."
Starting conversations
Many pharmacy professionals say that offering a safe space to abuse victims comes with the job of caring for patients.
Ravi Voruganti, owner of Thomas Bell pharmacy in Ambleside, Cumbria, says he signed his business up to the scheme as a way of marketing the work they were already doing – and it had an unexpected side effect.
"We always have a lot of people that come to us for non-pharmacy related things, We're a hub for that already. If you package it up and sell it then it gets promoted that much more, so we put in on Facebook. It was shared loads of times and there were loads of comments," Mr Voruganti says.
"We haven't had anyone through the door [specifically for domestic abuse help], but we did deal with phone calls from people that were experiencing stress, which may have been a byproduct of it."
However, he emphasises that for some pharmacies providing an unfunded service is a challenge. "There will always be this no man's land between contractors who are willing to do a bit more and contractors saying 'we're not funded for it'. If you've got a member of staff in a room dealing with someone for an hour and that service isn't being funded, then [the latter is] a fair comment."
Mr Voruganti is concerned that there is usually no data on unfunded services so they can't be recognised in funding conversations between the Pharmaceutical Services Negotiating Committee and the government.
"We're looking out for people"
Gyasuddin Patel, pharmacist manager of Huncoat Pharmacy in Accrington, Lancashire, also signed his business up to the scheme. He says: "It's our job to take care of our community.
"I know it's extra paperwork, that's the frustrating thing, but at the end of the day we're looking out for people's health – mental and physical."
Kate Murdoch, pharmacy technician and manager of Langho Pharmacy in Blackburn, says: "People know it's there if anyone needs it. We will continue offering it always [just] as part of being a pharmacy."
Reshna Amin, pharmacy technician and manager of Caxton Pharmacy in Bromley, Kent, says: "It's important [to offer the service] because people would trust coming into this sort of environment."
What's next?
Hestia aims to sign up over half of pharmacies across the UK onto the scheme, Ms Dearlove says. As COVID-19 restrictions continue to tighten, they may be among the few places left open to victims of abuse.
The charity has launched a new online safe space in partnership with Royal Mail and there is a "government-backed initiative" related to the scheme in the pipeline, she says.
However, "hero" pharmacies will continue to be crucial in the effort to help victims of domestic abuse, she says. "This wouldn't have been possible without the dedication, commitment and bravery of all the pharmacists across the country who stepped up and made the extra time and effort."
While the initiative has come under fire from some pharmacists, those who have participated are unequivocal that supporting local victims is the right thing to do.
Providing safe spaces to victims of domestic abuse comes with the small risk of bringing staff into contact with abusers, but many pharmacies believe this is a risk worth taking to be able to support a victim in need.
Read C+D's CPD article on domestic abuse during COVID-19