Technology has transformed the way we manage all aspects of our lives, from finances and healthcare to shopping. You can bank on your phone, order medicines online and track your sleep, exercise and diet through apps and wearable technologies.
How can pharmacists retain relevance in this brave new world? One way forward may be to embrace this technology, thanks to a new generation of apps being developed that aim to bridge the gap between GP surgeries, community pharmacies and patients.
Apps for adherence
This gap is clearest when it comes to the problem of medicines adherence. Pharmacists are only too aware of the waste this can cause. So what does the digital world have to offer?
Mobile device apps that help patients manage multiple medications have been around for years. One of the most popular, Medisafe Medication and Pill Reminder, allows individuals to set reminders to take their medicines, track when they have taken them and record useful information. The app can send reports to the pharmacist or doctor, and can even be used to manage several people – which may be helpful for keeping track of a whole family's medications.
The down side is that patients have to set the system up themselves, entering the medicine name, dosage and frequency for each medicine. Not only is this time-consuming, it's open to user error.
An alternative might be to set up these alerts on an online calendar, then enlist personal digital assistants such as Apple's Siri, Google's Google Assist and Amazon's Alexa (which operates via an all-hearing speaker unit).
Putting the patient at the centre
When C+D spoke to Lloydspharmacy's managing director Cormac Tobin in February, he was enthusiastic about the potential of Alexa – which he has installed in his office – to communicate with older people, perhaps with memory problems, about their medicines. He says this new way of doing things puts the patient at the centre of the system.
"It is superb," he says. "Man gets up in the morning, Alexa tells him how to take his medicines. Alexa tells him there's an email – the doctor has changed his prescriptions for renewal. [Should it] send that to the pharmacy or home?"
Another company aiming to put the patient at the centre is Healthera, currently using NHS England funding to develop an app which it claims will allow "the seamless passage of information" from pharmacies' patient medication record systems to patients' phones.
"It eliminates a lot of patient steps," says Healthera managing director Martin Hao (pictured below).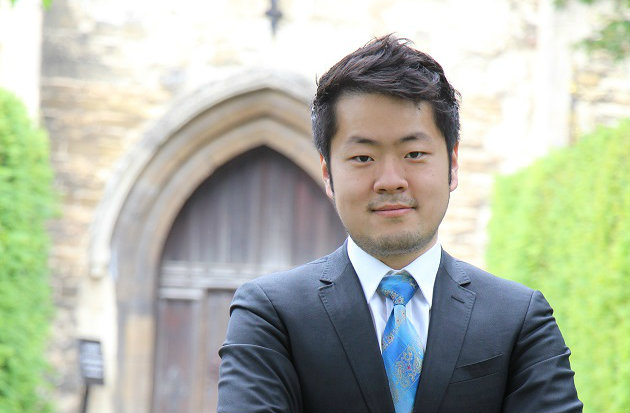 Once the final version of the app is released later this year, he says, it will be capable of integrating with pharmacy systems. Pharmacies will be able to generate code for their medication labels which can then be scanned by a patient's smartphone to automatically set up alerts and a medication schedule on the phone's calendar.
It can also be used to track adherence, which the patient can choose to share with their pharmacy or GP practice, feeding back crucial information.
"Our app detects abnormalities and notifies healthcare professionals – predominantly pharmacists – to take a look," says Mr Hao. "There should be professional intervention when you have misuse or non-adherence."
The motivation question
But former doctor Adrian Raudschal, now product director at technology company Juno Healthcare, says technology still hasn't cracked one of the major stumbling blocks to adherence – motivation.
"People become desensitised to alerts and being told to take medication. [Technology] hasn't found its way there currently. The major bottleneck seems to be on the motivational side. How can we encourage people to think about it?"
Accelerated growth
While there may be no easy answer to adherence, there is "increased momentum" behind digital innovations across the NHS more generally, according to Yinka Makinde (pictured below), a former pharmacist and now programme director for Digital Health London.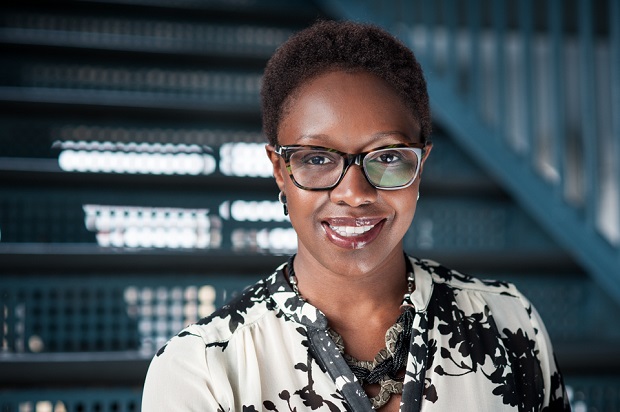 The organisation is an "accelerator", providing advice and support for innovative healthcare technology companies. She says there are several initiatives that pharmacists should know about, including digital prevention programmes aiming to help people manage type two diabetes better.
"If there's one area ripe for innovation, it seems to be diabetes. Community pharmacists might start seeing patients using these self-care apps. [They] may either be asked about it, or it's an opportunity to get involved and find out about the apps," she says.
Another important programme getting started is 111 Online, Ms Makinde says. "They are currently developing an online version – a number of different patient-facing apps that could be used as a substitute for the [NHS 111] phone line. They are testing four products and will release the results in due course."
It's not just phone calls that will have a digital alternative, consultations with healthcare professionals could soon be next. Babylon Health – an app which allows you video call a private doctor – "is being considered quite widely", she says. But she flags up a company "very relevant to pharmacy", called Medicspot. "It was set up by a GP, who created a virtual consultation app designed to be carried out in community pharmacy," she says.
Pharmacies signing up to take part in the scheme will need to have a range of examination tools in their private consultation room. They can then offer patients a chance to talk to a doctor immediately online through the app, along with a virtual examination if necessary.
If a pharmacist encounters a patient issue that means they need to see a doctor, "rather than leave the premises, they can see the GP there and then," Ms Makinde explains. "It's a way to leverage the consultation rooms pharmacies have. It's a halfway house between being completely supervised at the GP practice and being on your own at home."
Future possibilities
Consumers can already buy wearable technology to help them get a good night's sleep, monitor stress levels, encourage them to get active, take their blood pressure and relay 'biofeedback' about the effect of a medicine. In fact, a Californian doctor made global headlines last month when he tweeted a smartphone ultrasound of his kidney stone, which showed inflammation (pictured below) – a diagnosis later confirmed in A&E.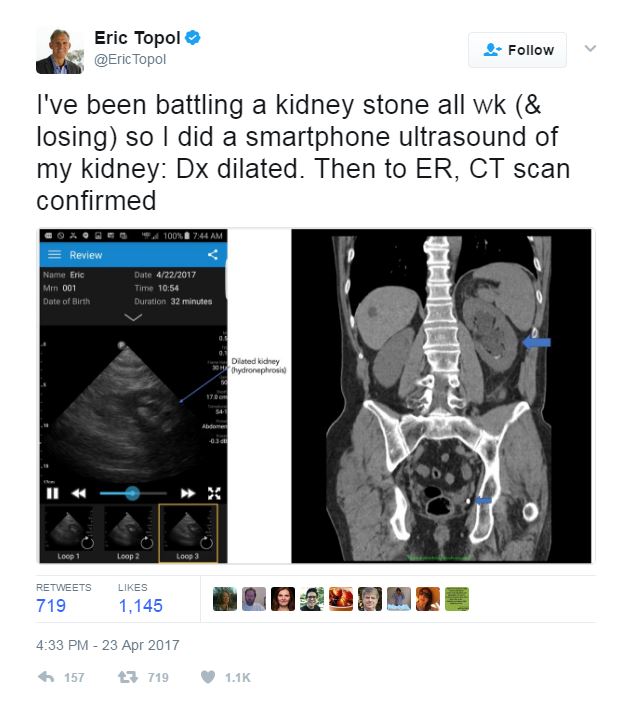 Matt Poole, digital director of Lloydspharmacy's parent company Celesio UK, told C+D in February that he sees the advent of wearable technology as an opportunity for pharmacy.
"More and more people have devices [and] wearables. There's more data and they're sharing more – and that's the expectation," he says. "The patient will share data with you, if they think you're going to use if for their benefit."
But Mr Hao is more cautious. "I'm an enthusiast – I trained as a computer scientist. I keep an eye on the latest trends in the industry," he says. However: "Wearable [technology] has a way to go. I don't want to play Big Brother, monitoring people. It's better to encourage patients to take care of their own health and their condition, rather than being monitored and tracked [by pharmacies]."
He says that, in theory, you could have a medicines adherence system where a collar can detect whether a person has swallowed a drug or not. But he prefers to leave compliance reporting in the hands of the patient.
"If they want to use it as a smart medication diary, that's fine. If they're always forgetting [to take medicines], this app can help with that as well." But, he says: "We're relying on the patient reporting whether they've taken [the drug] or not. My response is always that it's up to the patients."
Mr Raudschal believes data such as blood glucose readings, blood pressure and cholesterol levels will only be useful when it can be collected passively, with as little input as possible from the patient. Otherwise, he says: "We're asking people to actively do something and record it. The future is passive data collection."
"New and shiny" is not always the answer
Mr Raudschal believes that the best solutions may not always be the latest developments fresh from the lab, but making the most of existing options. Older patients, for example, may not have smartphones, but smart thinking can leverage the technology they already have – such as SMS messaging.
"People are so drawn to what's new and shiny, and that's what attracts investment – it's more sexy." But to reach the people who have the biggest problem with medicines management, pharmacists may need to rely on more old-fashioned methods – including face-to-face discussions and rationalised medicines routines.
But retaining their proven strengths of patient interactions and medicines expertise, while taking their pick of the most relevant and other technological innovations, pharmacists may be able to find a solution that works for each one of their patients.
Highly-rated healthcare apps
To help the public pick the right healthcare solution for them, NHS Digital has launched an apps library, which includes: