As COVID-19 cases drop and lockdown eases, the UK may face a wider healthcare crisis. Over the past year, pharmacies, GP surgeries and hospitals across the country had to focus on handling the virus – leaving many other health issues unchecked. In addition, many patients delayed seeking help as healthcare became more difficult to access and increased their risk of contracting the virus. As a result, many conditions unrelated to the virus did not receive the attention they needed during the pandemic.
Globally, organisations have raised concerns about the indirect impact of the pandemic on infant mortality rates. In September last year, the World Health Organisation (WHO) said the effect of COVID-19 on child and maternal health services could put millions of lives at stake. The virus could undo decades of progress in the mortality rates of under-fives, including infants, the WHO said.
In the UK, data has not yet been published showing the infant mortality rate (under one year old) since the pandemic struck the country. However, there are a few clues that shed some light on how the impact of the virus has affected this figure. C+D unpacks what we know so far and what pharmacists can do to advise concerned patients.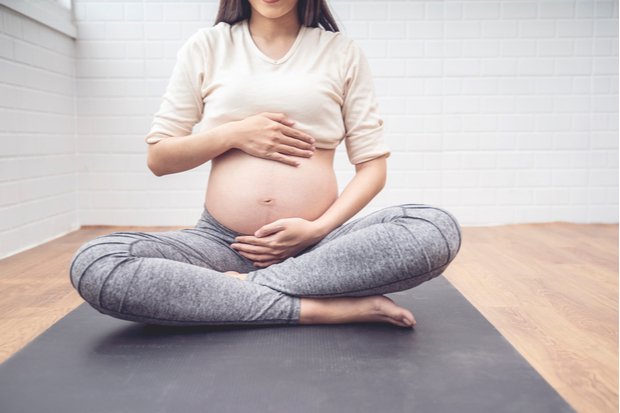 COVID-19 and infant mortality
In February 2021, the Office for National Statistics (ONS) published data for 2019 showing that the infant mortality rate was 3.7 deaths per 1,000 live births in England and Wales.
Although we do not know exactly how the rate has been affected by COVID-19 in England, there are some hints suggesting it may not have been badly affected. For example, Public Health Scotland said in October last year that COVID-19 had caused "no significant increase" in infant mortality in Scotland.
One of the vital factors influencing infant mortality is quality of maternal care. Liz Fisher, the lead for healthcare think tank Nuffield Trust's children and young people's programme, tells C+D that maternal services were only slightly affected by COVID-19.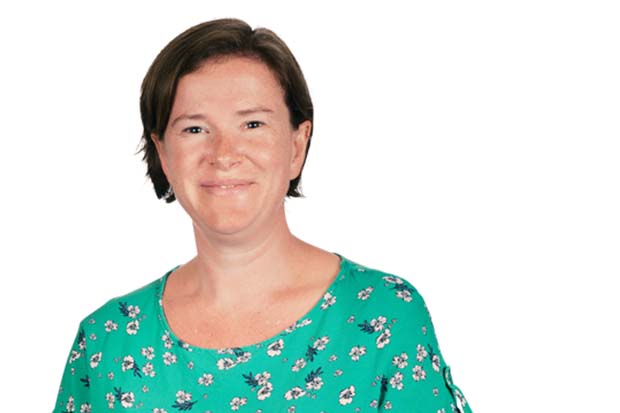 There were some reductions in maternity and obstetric services when the country went into lockdown in March 2020, says Ms Fisher (pictured above), but they were "relatively quite small" compared to changes in other areas of healthcare.
"Maternity services, by the nature of what they do, have to keep going. In terms of the service provision that pregnant women receive, and postnatally, [they] wouldn't have been disrupted as much as other services."
Nevertheless, the number of stillbirths in the UK may have increased during the pandemic. An article published by The Lancet in November 2020 noted an increase in stillbirths in St George's Hospital, London from 2.4 per 1,000 births between October 2019 and January 2020 to 14.2 per 1,000 births in July 2020.
The authors say the increase in stillbirths was "associated with a reduction in quality of care during the pandemic". Lockdown had a potentially harmful effect due to a reduction in patients seeking healthcare, they say.
Stalled infant mortality rate
Before the pandemic, the infant mortality rate in England and Wales had stalled. From 2013 to 2019, the rate remained between 3.6 and 3.9 deaths per 1,000 live births, after decades of gradual improvement.
While the UK's rate marks an improvement from 12 deaths per 1,000 live births in 1980, it remains significantly worse than in many other developed countries. The UK came 28th out of 37 Organisation for Economic Co-operation and Development (OECD) members in 2018 ranked by infant mortality rate. Estonia, the country with the best rate, had a figure 43% lower the UK's – with 1.6 deaths per 1,000 live births.
The 2019 ONS data also shows that the neonatal mortality rate (under 28 days old) had slightly worsened, from 2.5 deaths per 1,000 live births in 2014 to 2.8 in 2019. The NHS long-term plan announced the government's aim in 2019 to reduce stillbirths and neonatal mortality by 50% by 2025 but it remains to be seen whether this target will be possible to achieve after COVID-19.
Most deprived worst affected  
Infant mortality rates in communities with the greatest levels of deprivation are significantly higher than in the least deprived. The ONS says that in 2019, the infant mortality rate was 4.7 per 1,000 live births among parents in routine and manual occupations, compared with 2.9 among parents in higher managerial, administrative and professional occupations, in a trend that has remained constant since 2011.
NHS England data from 2014 to 2016 draws an even starker picture: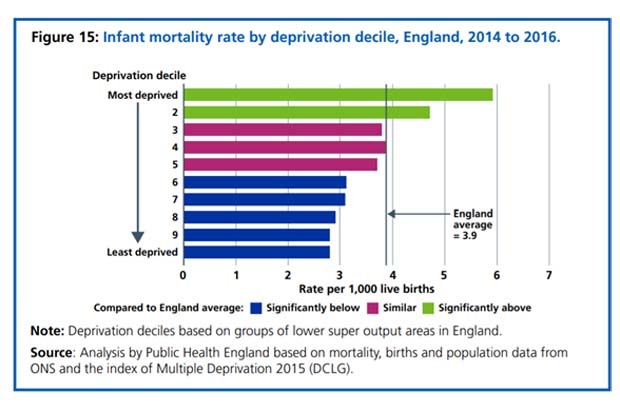 Source: The NHS Long Term Plan, NHS England, 2019
The stalling of the improvements in infant mortality rates will adversely affect the most deprived communities. In a March 2020 blog for Royal College of Paediatrics and Child Health, Dr Joe Ward wrote that the differences of infant mortality rates between the least and most deprived communities "seem to be widening".
"Differences in UK mortality rates have not happened by chance – they are the result of decisions we have made as a society," Dr Ward said. "They are also not inevitable."
Ms Fisher says that although the maternity care data shows service provision did not significantly worsen after COVID-19 hit the UK, the numbers may be hiding other issues.
"There are known inequalities in relation to infant mortality relating to ethnicity and socioeconomic status. If the pandemic has impacted the reasons why those differences existed, then [those figures] could be hiding that level of detail. We just don't have that data to be able to understand whether those discrepancies have increased."
The infant mortality rate is determined by a complex myriad of factors that go far beyond maternal care. These have doubtless been affected by COVID-19, but it is too early to know whether the rate significantly changed during the pandemic. Pharmacy professionals can help to improve some of these factors and reduce healthcare inequality by giving potentially life-saving advice to women.
How can pharmacists help?
Liz Fisher says pharmacists can play a role in influencing infant mortality rates by promoting a healthy lifestyle to women before conception and during pregnancy. Key elements include:
Weight management
Services that help manage conditions with increased risks to pregnant women such as pre-existing Type 2 diabetes and gestational diabetes
Smoking cessation programmes
Promoting a healthy diet.
Read how pharmacists can advise on medicines, supplements, diet and exercise during pregnancy
Sponsored: Nurofen for Children can reduce fever in 3-month-old infants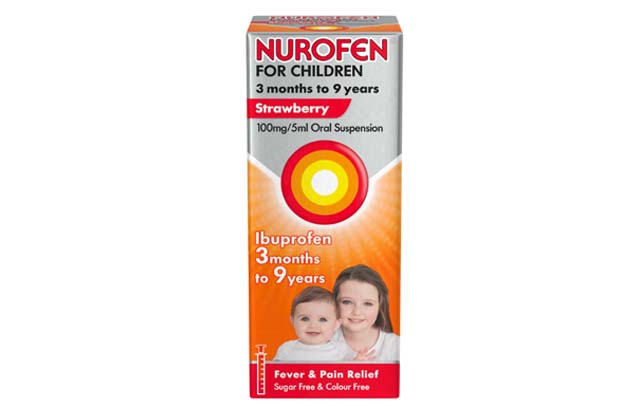 Nurofen for Children can be used to treat a high temperature in babies from the age of three months, manufacturer Reckitt Benckiser (RB) has said.
The ibuprofen-based medicine can start to work in just 15 minutes and provide up to eight hours of relief, RB claimed.
"Pharmacists can feel confident in recommending ibuprofen or paracetamol for children who appear distressed, in line with National Institute for Health and Care Excellence (NICE) guidelines on children's fever," RB said.
Nurofen for Children 100 mg/5 ml Oral Suspension is available in strawberry and orange flavours.
One 100ml bottle of Nurofen for Children in either flavour retails at £3.99.
Sponsored: Multi-Mam breastfeeding compresses can relieve sore nipples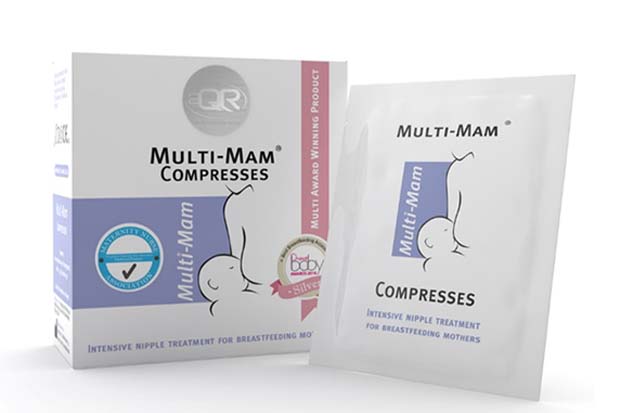 Breastfeeding mothers can apply Multi-Mam Compresses to treat pain, swelling and sensitivity in their nipples, Karo Pharma has said.
The compresses contain a plant-based gel that provides relief, prevents infection and supports skin healing, Swedish company Karo Pharma said.
Mothers can use the pads as often as desired but should apply them at least twice a day. The compress is applied by placing its gel side on the nipple for between 10 minutes and one hour.
The Multi-Mam Compresses are harmless if swallowed by a baby and the gel does not need to be wiped off before breastfeeding, Karo Pharma said.
One 12-pack of Multi-Mam Compresses retails at £12.99.
To order, call 01928 750 500 or 01928 750 750