In the first of a series on patient perspectives, COPD sufferer Joan McCarthy explains how she went from the terror of first diagnosis to effective management – and how pharmacists can help.
Joan McCarthy clearly remembers the day of her diagnosis. "I don't know what the doctors told me, they just talked. I came out of there really scared, went to the chemist, got my inhalers and went home," she recalls. "I thought, 'This is it: the first day of my death'."
Twenty-five years ago, Joan, who is now 68, suffered a month-long coughing fit. She slept sitting upright for 28 consecutive days. At the time, a chest clinic told her it was asthma, and it wasn't until 14 years later that she was diagnosed with chronic obstructive pulmonary disease (COPD).
"Chronic, obstructive and disease: they're really scary words," Joan says. "As soon as they say those words and tell you what they mean, there's a block. You don't hear anything else."
The initial shock of Joan's diagnosis made her afraid to do anything. Unaware of how to live with her condition, she avoided any form of physical activity for fear of damaging her lungs. "I literally did nothing and put on three stone, which is the worst thing I could've done," she explains.
The "frustrating, uncomfortable" disease was terrible to live with, Joan remembers. She was regularly scared that she couldn't breathe. She was confined to her home, unable to carry out even day-to-day activities such as cleaning her windows. The biggest struggle, however, was "getting to grips with the fact it wouldn't get better". "[If] you have flu or pneumonia, it will go away. But this doesn't," she says. "The hardest thing is coming to terms with the fact that it is a long-term, debilitating condition."
Joan says she felt "desperate" and wasn't coping. She was confused about what the future held and embarrassed at her fragility, to the extent that, if she felt breathless in the street, she wouldn't use her inhaler for fear of others judging her.
Fighting back
This continued for two years, and no one stepped in to help. But Joan's life was transformed when she went to see another doctor. "He said, 'Have you ever thought about going to pulmonary rehabilitation?' He explained what it was, and I said that I couldn't exercise because of my lungs. He looked at me aghast. The first day I went was actually the beginning of the rest of my life," Joan remembers.
The rehabilitation involved 12 sessions of exercise and education over a period of six weeks. It was only at this point that Joan started to learn about her condition from the guest speakers – pharmacists, nurses, physiotherapists and psychologists. "I learnt what to do and what not to do. If I'd had that two or three years earlier, the difference would have been vast," she believes.
Exercise proved a real saviour for Joan, who saw her fitness improve dramatically over the short period. Her bleep test results doubled in just 12 weeks, which made her realise what she could achieve. "If I could make that difference in weeks, what could a year do?" she thought.
This renewed hope had an impact on every aspect of Joan's life. "My daily life, my capabilities, my pleasure, my smile, my whole persona, how I dressed, how I cared about myself – everything changed. Suddenly, I wasn't about to die," she recalls.
Joan decided that regular exercise was the way forward, and scoped the local area for opportunities. "I went to the website for Camden [her local council in London] to see what was happening, and there was a little thing that said 'Healthy Hearts'," she explains. "It was just an hour – cardio stuff – then I realised that was the road to go down, to do classes."
Joan now does three classes a week, including one at a local gym. She is "passionate about exercise" and convinced that, after quitting smoking, it is the best thing for anyone with COPD.
She also joined a local support group called Breathe Easy, run by the British Lung Foundation (blf.org.uk/breatheeasy), and enjoyed it so much that she is now the group's chair. Being able to connect with others in a similar situation has made a huge difference to her life, she says, and enables COPD patients to realise they're not alone with the condition.
Joan says she "can't exaggerate" just how much she has changed since she was first diagnosed. Through learning about her condition and regularly exercising, she no longer feels trapped. "That knowledge is the only thing that's really got me through," she explains. "Without it, I wouldn't be exercising, and I probably wouldn't be using my inhalers properly. I would be extremely stressed and very depressed."
Making sacrifices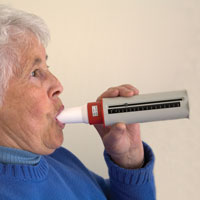 Of course, life is still far from easy. Joan has had to learn to live with COPD, which has meant making sacrifices. "I can't do what I want to do when I want to do it," she stresses.
Joan had to quit her job at the head office of a pub company three years earlier than planned – at the age of 62 – because the stress of full-time work was taking its toll on her health. She still feels unable to function in the same way as she did prior to the condition. "Every now and then, I run out of breath, I'm not sure I can move properly. It's time-consuming, because everything takes longer."
Even simple things that we take for granted are a real challenge for people with COPD. It takes Joan three days to vacuum her house, for example. "I'd like to walk faster, I'd like to bend," she says. "Bending is quite difficult – it constricts your lungs."
She can no longer walk up stairs or hills. She cannot cycle – something she loved as a child and planned to do more of later in life. She also has problems at high altitude, which she realised on a trip to the Swiss mountains.  "I went to Zermatt and the Matterhorn," she remembers. "I went up to 10,300 feet and I felt great for 10 minutes." Then it all changed. "My head was aching, I got straight on the train and came back down and I had the most thumping headache," Joan says.
Hot weather makes Joan breathless, and a cold wind tightens her chest. "I always know the weather forecast because, if you come out dressed for it and prepared for it, it's less stressful," she explains.
It's through small adaptations like this that Joan is able to stay on top of her condition. "I have to avoid stress. If the bus is going to go, let it go – don't stress yourself out to get on it," she says. "If you're in a shop, don't get frustrated because someone is not going fast enough in front of you. If you're walking along and you're getting out of breath, sit at a bus stop for a few minutes, then carry on."
That Joan remains so positive is testimony to her ability to manage her condition. That is something she has learned from rehab, from speakers at her Breathe Easy group and – unfortunately – from many bad experiences. "It doesn't scare me anymore. What will be, will be, and I can deal with it if it happens. The day will probably come when I'm scared again, but hopefully I'm putting that day off for a little bit longer," she says.
Professional input
Of course, medication has played its part in easing Joan's symptoms. She uses a number of different inhalers and always takes a few precautionary puffs if she knows stress is lurking around the corner.
She sees many COPD sufferers who don't use their inhalers correctly, including one woman who spent years using the wrong technique before she was corrected at a Breathe Easy meeting. "Somebody has to show you or tell you how and watch you do it – and be brave enough to say, 'You're not doing it right'," she argues.
Clearly, this is where pharmacists can come in. Joan says her pharmacist was very good at helping her with her inhalers, but she would also have liked to know about inhaler aids, as she also suffers from osteoporosis.
Joan advocates a wider role for the sector in COPD. Pharmacists could do so much more, she believes. Crucially, they could sit down with patients and explain to them, in simple terms, what the condition means. "I needed someone somewhere to say, 'You must exercise, because this is the only way you're going to survive it.' But no one did: not the doctor, not the chemist, not anybody."
Instead of pharmacists being "the last people you see", they should be the main port of call for COPD patients, Joan suggests. "They should say: 'Here's a person with COPD, I wonder if she knows X, Y, and Z. If she doesn't, we'll help'," she argues.
This could even extend to pharmacists conducting annual reviews of COPD patients, as well as lung function and lung condition tests. Having an accessible expert would take pressure off doctors and ensure that COPD patients receive the regular, high-quality care they often lack, Joan says.
Changes like this may be in the pipeline. The multiples are already campaigning for pharmacy-based COPD services to be nationally commissioned after pilot projects yielded encouraging results (see A case for national services, opposite). Even without these, pharmacists can establish themselves as local leaders in respiratory disease, as Surrey pharmacy owner Nader Siabi has proved (see Top tips for supporting COPD patients, below).
Perhaps if the sector changes the way it approaches COPD, more patients like Joan will start to own their condition instead of just carrying it. Now Joan feels she is ready to tackle anything. "No matter what – it can be pouring with rain, it can be blowing a gale – whatever happens, I'm going to go out. I never say no to anything, because that's the only way you're going to get through it.
"I always say to my kids, 'Whatever you want to do, do it now'. That's my policy. If I want to do something, I do it today – I don't know what tomorrow will bring," she explains. "I don't plan for next week or next year, I just do it."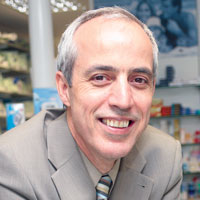 Top tips for supporting COPD patients
Nader Siabi, independent prescriber and owner of Trio Pharmacy in Surrey, runs two COPD clinics in his local doctor's surgery. He offers his top tips for helping patients get on top of the disease
Know the condition
"Get your knowledge to the level at which you will be able to discuss the disease with the patient. Educate yourself and understand what the Nice guidelines say."
Explain the condition
"Tell patients what the condition is. I tend to write it down on a piece of paper and tell them to Google it and read about it. I also put them onto NHS Choices – it's good to signpost people."
Talk about medication
"Ninety per cent of patients will fail on two things: inhaler technique or compliance with their medication. If you can get the two right, you will significantly improve their wellbeing."
Stop them smoking
"Always advise them to give up and, if they have given up, to avoid going back to it again." Make an effort to prevent exacerbations, too: "Patients don't use the diaphragm to inhale properly; what I do is get them engaged in certain exercises where they will actually improve their lung function. This way, the patient stays reassured."
Work with GPs
"If you can get the confidence of the doctor that you can deliver good quality advice with COPD, they will be more than keen to get involved with your pharmacy."
Take charge
Patients should have a regular review, and if the pharmacist understands the disease and the guidelines, there is nothing to stop them doing a review and sending a copy of it to the surgery."
A case for national services
National COPD services could soon become a reality in pharmacy.
Implementing COPD screening and support in pharmacies across England could save the NHS more than £400 million, a project set up by the Co-operative Pharmacy, Lloydspharmacy, Boots and Rowlands found. The Community Pharmacy Future Project involved running pilots of the services in both multiple branches and independent pharmacies.
The savings generated by the services far outweighed the costs of commissioning, an independent evaluation by health economics firm IMS Health found in March.
Alliance Boots' healthcare public affairs director Tricia Kennerley hailed the results as "concrete evidence" that pharmacy has a wider role to play in this area.  
COPD – how pharmacy can help
The patient's management plan should feature personalised information on lifestyle measures to help their symptoms and other information about their condition including:● how to recognise the early signs of an acute exacerbation – and what to do● when to initiate or return to their GP if they have had their therapy prescribed as 'when required' or for an emergency (for example, oral corticosteroids or antibiotics), or if they are using their bronchodilator more regularly● encouragement about exercise; ideally, patients should be walking for at least 20 to 30 minutes a few times a week, or using upper arm and twisting exercises if they are immobile. It should also be noted that:● drinking plenty of fluids helps liquify mucus and make it easier to cough up● using steam humidifiers can help keep the airways moist (they also have a role in liquifying mucus; putting a scarf over the mouth and nose when going outside on cold days can also be helpful)● overweight and obese patients will experience an improvement in symptoms, particularly regarding exercise tolerance, if they lose weight● underweight patients should increase their calorie intake (using nutritional supplements if necessary) to achieve a normal body mass index; this will improve the strength of the muscles in the chest that are used for breathing● strong-smelling products, including toiletries and household cleaners, should be avoided, as they may irritate the airways● physiotherapy exercises can help clear mucus from the lungs.