Pharmacies across England have been clamouring to play their part in the COVID-19 vaccination programme. Despite their enthusiasm, NHS England and NHS Improvement (NHSE&I) have been slow to commission pharmacies to deliver COVID-19 vaccinations.
The commissioner said on January 7 that 200 pharmacies would start administering vaccines "in the coming weeks". Indeed, the first six pharmacies to join the programme began vaccinating on January 14. However, by last Friday (February 19), the total number of pharmacies on NHSE&I's list of jab sites had only reached 195.
The pharmacies that have begun to administer vaccines have demonstrated the capability of the sector. Three companies told C+D how they managed to accommodate the service.
Vaccinating in offices
Olivier Picard, the owner of Newdays Pharmacy, which has four pharmacies in South East England, was keen to join the national vaccine effort when the pharmacy service specification was announced in November.
"We had been told by the Department of Health and Social Care (DH) that if GPs were offering a service then pharmacy-led sites wouldn't be considered because they would only look at GPs," Mr Picard says.
He contacted NHSE&I and his local pharmaceutical committee to find out if local GPs were getting involved. The commissioning body gave pharmacies a nine-day window to apply to deliver the service, but the deadline passed on December 6 without Mr Picard receiving a response, he says.
Then he received a message from NHSE&I saying that most GPs in his area had not applied to administer the vaccines. He filed an application and was told to start planning to deliver the vaccines in January.
Having initially identified a sports club as a potential vaccine site, NHSE&I said the venue was not available for long enough as it could be reclaimed for games when lockdown lifts.
Mr Pickard posted on Facebook asking if anyone knew of a venue large enough for administering COVID-19 vaccines. Someone suggested a block of offices in Marlow, Buckinghamshire that were brand new, but unused due to lockdown.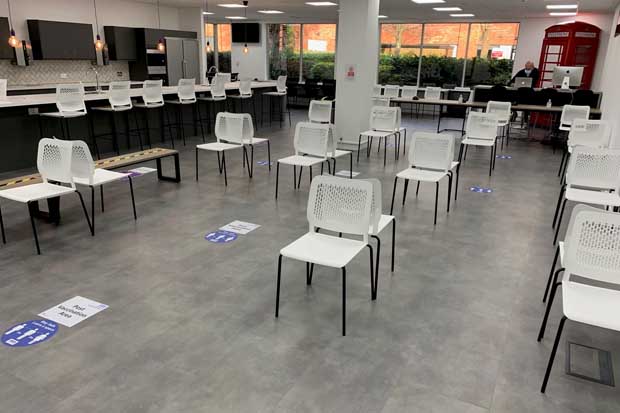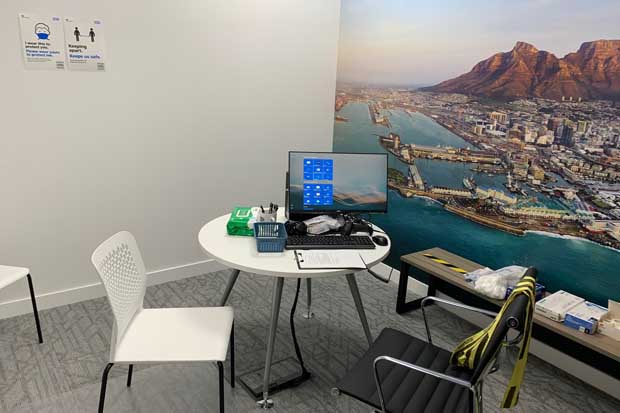 "I have never seen a community come together the way ours has to enable me to support this," Mr Picard says.
He posted a video on Facebook asking for volunteers for data entry, marshalling, greeting and first aid. "In two days, I had over 600 applications," he says.
In addition to the volunteers, Mr Picard recruited 90 vaccinators, who are a combination of pharmacists, GPs, nurses, paramedics and one cardiologist. They vaccinate on top of their usual jobs, each doing one shift a week or fortnight.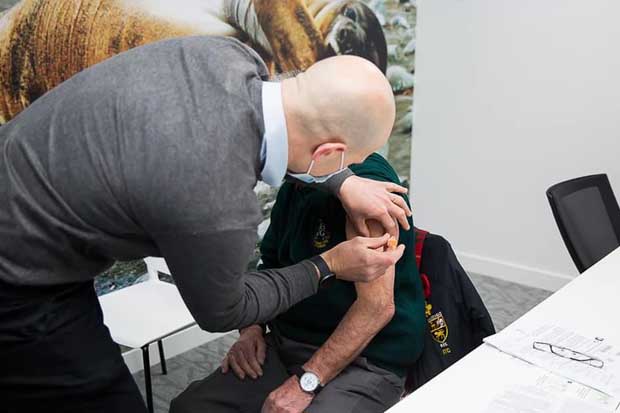 NHSE&I requires vaccination sites to be able to administer 1,000 doses a week. Mr Picard says the team at his office block could inject up to 600 vaccines a day, but they have not been stretched to meet this figure.
"We are immensely frustrated by the fact that we receive a limited supply of vaccines each week," he says, speaking to C+D at the beginning of February. "This week, we only received 800 doses [for the week] and we are being informed that next week we will be limited to 1,200. The good news is we have capacity when NHSE&I is ready to step things up."
On the plus side, Mr Picard says the service has been well received by the community. "The closest mass vaccination hub to us is at Epsom Downs Racecourse, but that's 40 miles up the M25, so if you are 80 and not used to driving far you don't want to do that," he says.
"We have never worked with other healthcare professionals on anything like this, it shows there is an appetite for this kind of collaboration. The dedication of everyone to make this happen has made it a joy to do. We're proud to be taking part in this vital programme."
Making room in Manchester
The requirements of the COVID-19 programme for pharmacy-led sites met another contractor with a spatial challenge. Waqqas Sheikh, owner of the four-branch group Everest Pharmacy in North West England, applied to host a COVID-19 vaccine hub at his branch in Whalley Range, Manchester.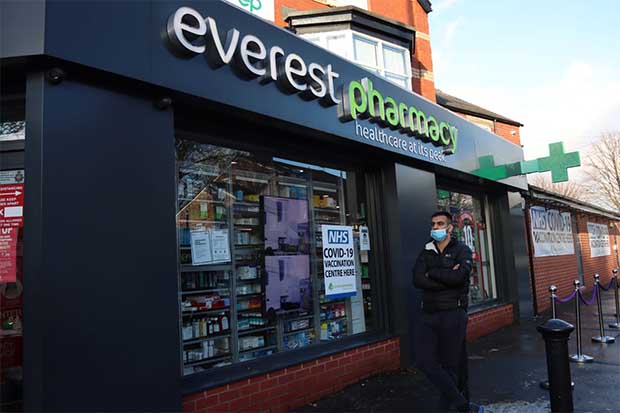 Mr Sheikh says NHSE&I said he had to have four rooms for administering vaccines when he only had three, though the commissioner was satisfied he had sufficient experience overseeing vaccines as he had spent more than a decade running a travel clinic.
Mr Sheikh created a fourth space in the pharmacy's methadone room, moving supervised consumption to another area. He also hired two marquees to serve as waiting areas for patients.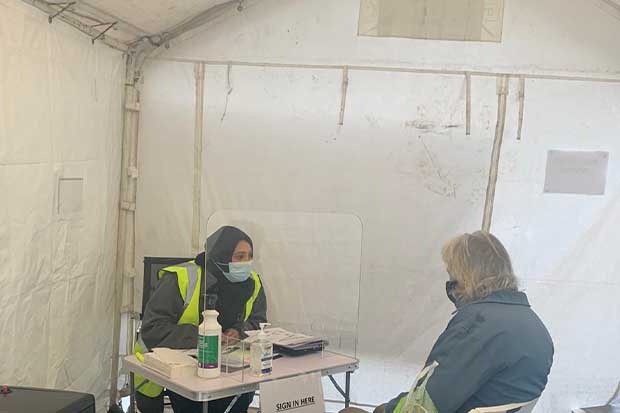 Since they launched the service on January 21, the Everest Pharmacy vaccination team have delivered 2,000 doses a week of the Oxford/AstraZeneca vaccine, working from 8am to 8pm, seven days a week, Mr Sheikh says. Throughout England, pharmacy-led sites had administered more than 350,000 vaccines in the four weeks after going live in mid-January.
Mr Sheikh says there is less fear of wastage with the Oxford/AstraZeneca vaccine than the Pfizer/BioNTech jab because it has simpler storage requirements.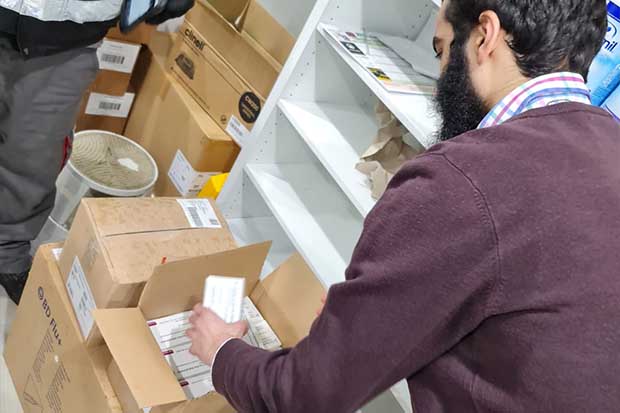 The Oxford/AstraZeneca vaccines can be stored at 2 to 8°C for up to six months. They are delivered in packs of 10 vials, with each vial containing eight or 10 vaccine doses. Once open, the vials should be used within six hours if stored at room temperature or 48 hours in a fridge.
At the end of a day, if the Everest Pharmacy team has any vaccines leftover that are about to expire, they offer these to healthcare workers and staff, Mr Sheikh says.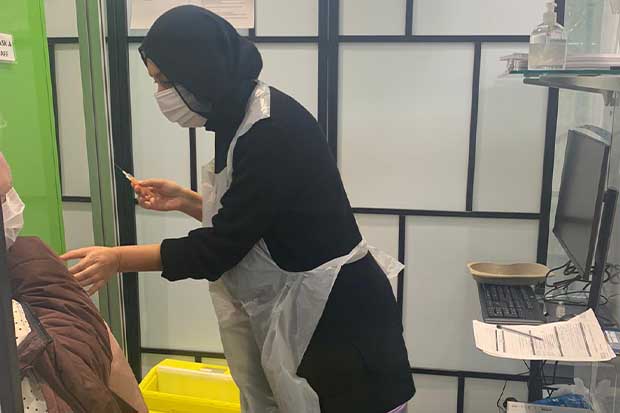 He has moved his managers from the group's four branches to become COVID-19 vaccinators, replacing them with locums.
"Even before we started, my staff were so well-drilled they told me they were dreaming about [the service]. My aim throughout has been to change the mindset not just of our patients but our staff too – community pharmacies can be so much more than just a prescription collection point.
"We have 10 different nationalities working in our pharmacies. We are part of the community we serve, our patients know and trust us."
Five Superdrug branches
Superdrug's Guildford branch in Surrey was one of the first six community pharmacy sites to offer COVID vaccinations from January 14. This branch was soon joined by others in Bristol, Leeds, Manchester and Basingstoke, all administering the Oxford/AstraZeneca vaccine.
The five Superdrug branches had sufficient space to host the COVID-19 vaccination programme in their consultation rooms.
Niamh McMillan, Superdrug's superintendent pharmacist, says: "We have reconfigured areas within each store to make space for the COVID-19-secure waiting area and observation area."
Ms McMillan says that although some patients may not turn up on the day, the vaccinators always endeavour not to waste any COVID-19 vaccines. "In the event that a patient does not attend, our pharmacy teams contact a reserve list of people in the priority cohort groups to offer them the opportunity to have the vaccination", she says.
The multiple has sufficient staff in each branch to keep its other pharmacy services open while delivering the COVID-19 vaccine programme, Ms McMillan says.
Many pharmacy professionals had questions about the COVID-19 vaccines when they were first announced. A C+D poll in December found that 56% of its 186 respondents would not get the vaccine.
But Ms McMillan says none of the Superdrug vaccinators had concerns about the safety of the jabs.
"Our team know many of the highly vulnerable patients who are coming into the store to have a vaccination and want to do everything they can to support them.
"Superdrug is proud to be working with the NHS and welcomes the opportunity for more community pharmacy teams to play an even greater role in delivering the vaccination service."
Pharmacists and their teams have had to move mountains – or at least move the service into unexpected locations – to pitch in with the national COVID-19 vaccine programme. If the red tape was reduced to enable more pharmacies to offer the vaccines, the national effort could reach even more patients.
Are you or your pharmacy involved in the COVID-19 vaccination programme? Let C+D know and share your experiences with fellow pharmacists and staff on the C+D Community. Register for free, or access the site via LinkedIn.