Over the past few months, the Pharmaceutical Services Negotiating Committee (PSNC) has received a lot of queries from contractors concerned about changes to their pharmacies' NHS payments, and whether they have been paid correctly. The funding team has some top tips to help contractors understand how recent funding changes may have affected your cashflow.
Every pharmacy will be affected differently
Since the 12% funding cut came into effect in England in December 2016, contractors have rightly been concerned about the drop in their payments. Due to how the cuts have been implemented, the effect depends very much on their individual circumstances.
Pharmacies in urban areas with lower than average dispensing volumes (typically around 7,000 items a month), have suffered most, due to the government's decision to reduce establishment payments. While some funding has been allocated to support pharmacies located more than a mile from the next nearest pharmacy (through the Pharmacy Access Scheme), this is less likely to apply to urban pharmacies.
Funding was also allocated for quality payments, further reducing the amount available to distribute in prescription item payments – now called the single activity fee (SAF).
Additionally, other changes to contractors' payments further complicate the picture. Examples of other funding mechanisms that are having an impact alongside the cuts include the ongoing margin recovery by the Department of Health (see below), and falling manufacturer prices – compounded by fluctuations due to the timing of payments.
How to calculate the impact for your pharmacy
We strongly advise contractors to analyse the potential impact on their finances, so they can develop plans to deal with them.
PSNC has supported contractors in preparing for the impact on their income by creating indicative income tables. These show the payments an average pharmacy could expect to receive for essential services provided under the community pharmacy contractual framework. The figures, updated following the rise of the SAF to £1.25 per item on April 1, are outlined in relation to dispensing volume.
We also created a calculator which displays a pharmacy's estimated income simply by entering the number of items dispensed per month. It includes quality payments, and an option for those eligible for the Pharmacy Access Scheme. You can find both PSNC's indicative income tables and cashflow calculator here.
Payments between pharmacies of the same dispensing volume may differ, due to factors such as their dispensing mix (ie the combination of medicines patients are being prescribed) and additional fees, such as those for controlled drugs and expensive items.
Take note of category M changes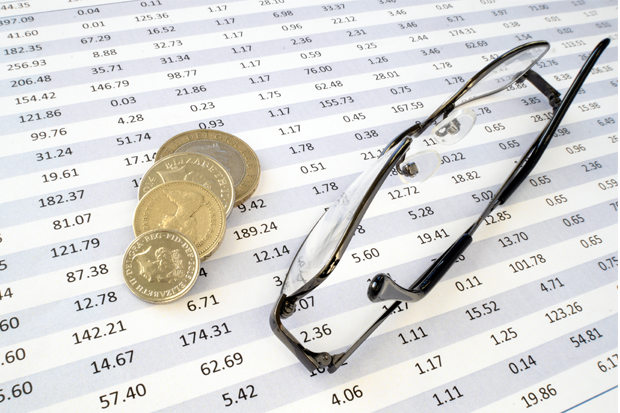 The adjustment to category M reimbursement prices from August came at a difficult time for pharmacies. The £15-million-per-month reduction [in total] for a 12-month period, needed to redress an over-delivery of margin income last year, will unfortunately create additional pressure on contractors' income.
Prepare for fluctuations in cashflow
Contractors should also take the time to consider how the timing of their payments over the coming months may affect their cashflow. The timeline below may help: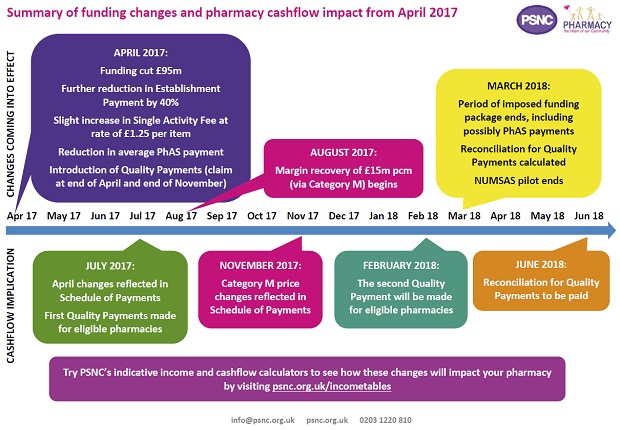 Understand your schedule of payments
The FP34 schedule of payments document provides contractors with a breakdown of reimbursement for drugs and appliances provided against NHS prescriptions, as well as the fees paid for dispensing these items, and providing related services.
The payment mechanisms operated by the NHS are hard to unpick, and the impact on an individual pharmacy depends on its prescription volume and dispensing mix. This means that understanding where to find relevant information on your schedule of payments has never been more important.
The diagram below explains which payments are covered in which sections:
Summary of payment amounts
A short summary of details included in the FP34, plus the calculation of your payment for the month
Drug and appliance costs
Reimbursement for medicines and appliances, including discount deduction, out-of-pocket expense claims and payment for containers and consumables
Prescription fees
The number of single activity fees paid, plus any additional fees – including unlicensed medicines and controlled drug fees, establishment payments, and advanced service payments
Charges
The total of NHS prescription charges levied, including details of FP57 refunds (used by patients to claim refunds for prescriptions they have paid for)
Details of local amounts authorised by area team
Payments authorised by your local NHS England team, usually for locally commissioned services and pre-registration training grants
Details of other amounts authorised
Any payments not included in the above, such as those relating to the flu vaccination service, quality payments, the Pharmacy Access Scheme and the NHS Urgent Medicine Supply Advanced Service
Prescription data
The number of prescription forms and items, plus details of the numbers (not fees) relating to advanced service consultations undertaken
More information