Pharmacist Mr Hampton sprang into action when he realised a child was in trouble in the car park of the Morrisons branch where he works in St Andrews, near Edinburgh, in March.
The mother of three-year-old Cameron Gilmour had called for help during their morning shopping trip, at around 11am.
A man burst into the pharmacy and shouted that if anyone was trained in first aid there was an incident in the car park, Mr Hampton tells C+D.
"I ran outside and saw the little boy over a customer's knee," he recalls. "I was the first out there. I realised he wasn't breathing, so I put him on his back.
"We have two first aiders in store and they rushed out to keep an eye on what we were doing. It was all a bit of a blur and very scary."
Mr Hampton says he and a member of the public performed cardiopulmonary resuscitation (CPR) on the boy – 30 chest compressions and two breaths – which he had learned during his pre-registration training at Lloydspharmacy two years ago. To everyone's relief, Cameron (pictured below) started breathing again.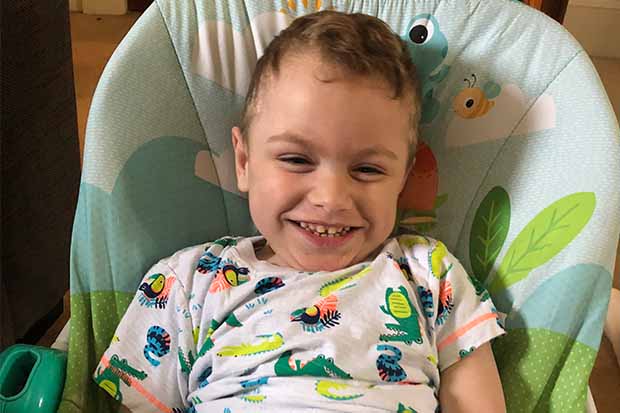 "I wasn't sure exactly what to do, but we gave it our best shot," Mr Hampton says. An ambulance arrived within five minutes to take Cameron to a nearby hospital.
Mr Hampton says Cameron's parents came to see him the next day to thank him. His mother, Ellie, says Cameron would not be alive had it not been for the swift actions of the pharmacist and the other on-the-spot first aider.
"Sam knew straightaway that Cameron had stopped breathing," she says. "What he did brought him round. I want to thank him so much for saving his life." They later learned that Cameron's breathing problems had been caused by infected tonsils; he had an operation to remove them in April.
Mr Hampton describes the first aid training he undertook as a pre-reg as "vital", adding: "As a pharmacist, I felt I needed to respond to help in any way I could.
"A million things go through your head in these situations, but I remembered at the first aid training they said trying something is a lot better than nothing. Cameron seems like a lovely little boy and I'm so glad he's doing better."