The public perception of mental health has come a long way since 2003, when The Sun newspaper famously ran the front-page headline 'Bonkers Bruno locked up'. It was a tactless and tasteless depiction of former world heavyweight boxing champion Frank Bruno's struggle with bipolar disorder and marked something of a turning point in media coverage of mental health issues.
Ten years on, however, it seems there are still serious shortfalls in the provision of NHS care for this group of patients. A September report by the charity Rethink Mental Illness claimed that there are 30,000 avoidable deaths every year among patients with mental health problems.
Those figures do not include suicide. Instead, they cover premature mortality from comorbidities often seen in those with psychiatric disorders, such as side effects of medication, high rates of smoking and complications from weight gain. The report blamed a lack of basic physical health checks from the NHS and a failure to take the concerns of mental health patients seriously.
These disturbing findings led psychiatrists to call for pharmacists to be given the opportunity and encouragement to take on a more prominent role in the monitoring of care for these patients. Some observers feel community pharmacists are ideally placed to detect the early warning signs that other health professionals – such as GPs – can easily miss, but which may point to escalating health problems, such as weight gain, behavioural changes or even lack of response to treatment.
Getting started
The same strategies pharmacists already use to engage patients with other chronic diseases that require good management – such as asthma and diabetes – could be deployed in mental health.
The potential for pharmacists to become more involved with mental health has the full backing of Professor Sue Bailey, president of the Royal College of Psychiatrists. She says: "Community pharmacists have a vital role to play, especially now that so many hospital psychiatric beds have been emptied. There are some patients in the community who can be quite seriously ill. I have no doubt that all pharmacists have the technical knowledge and expertise to help when it comes to medication but some may be reluctant to start a conversation with a mentally ill patient."
Professor Bailey would like to see "a greater awareness among pharmacists of the problems these people face. I've spoken to some pharmacists about this and some say they feel a bit awkward raising the subject of mental illness with patients. But I'd like to see them initiate conversations in much the same way as they would with someone who has diabetes.
"If you saw a diabetic patient stuffing chocolate bars in their mouth you'd say something. By the same token, if you have a regular patient who has bipolar disorder and they are either exceptionally quiet or talking way too much, that's the time to intervene," she says.
Don't be deterred
Some pharmacists might be deterred by the fear of overstepping professional boundaries and straying into medical territory usually occupied by GPs or psychiatrists. "But the fact is, in terms of improving the mental and physical health of these people, we need all the players we can muster," says Professor Bailey.
The mental health charity MIND also sees pharmacists playing a crucial role in shaping better services. Information officer Katherine Darton says obesity, smoking and alcohol abuse often go hand-in-hand with psychiatric conditions and these are areas pharmacists are already routinely targeting.
Dr Darton points out that people with severe mental illness die on average 10 years younger than the general population, often because of physical health problems associated with the adverse effects of medication. So it is "vital that pharmacists are educated in how to engage with people with long-term mental health problems so as to discuss decisions about their treatment with them, including potential alternatives to long-term medication", she says.
While she believes that pharmacy has a valuable role to play in supporting people with mental health issues, Dr Darton does have concerns about confidentiality in high-street pharmacies when staff are talking to patients about their care. "There is a lack of sufficient consultation rooms currently available in what is primarily a retail environment," she says.
John D'Arcy, managing director of Numark, says most pharmacists will have a pretty good knowledge of mental health, especially when it comes to drug efficacy and tolerance, as a significant proportion of their customers will be on antidepressants. The problem, he says, is that beyond issuing prescriptions, mental health is a complex area.
One way into the subject, he believes, is by initiating a discussion over drug compliance. The need to take the right dose at the right time is crucial to maintain stability, yet many patients do not understand what this means.
"Pharmacists should try to make sure patients appreciate the need to take their medicines. If they think they're not, they can flag it up to other agencies. The same applies if they suspect the treatment is not working or the dose is wrong," he says.
The most useful avenue is the medicines use review, Mr D'Arcy says. This provides an ideal opportunity to open up a debate with patients about mental health management, especially as pharmacists can invite patients for a review, rather than having to wait for them to take the initiative themselves.
In the private setting of a consultation room, pharmacists can pick up on warning signals that might suggest a patient's care is falling short. But the real skill is the power of observation. Keeping an eye on patients waiting to collect their prescriptions can provide vital clues to how well they are faring, Mr D'Arcy says.
"Ask yourself if they have put weight on, or are they not as happy as usual? You can do this in the rather more informal setting of a pharmacy, where things are a bit more relaxed than, say, in a GP's surgery. You can end up having conversations where patients will tell you an awful lot of stuff if you're prepared to listen. Often they'll tell you things they failed to mention to their GP because they didn't think it was relevant. After all, a community pharmacy is just that – part of the community," he says.
Time for pharmacists to take a role
The need for pharmacists to take on a bigger role has never been greater. Last year, MIND reported that the number of people calling mental health helplines had risen by nearly 50 per cent – largely due to increased financial pressures. Calls to the charity jumped from 46,000 in 2011-12 to 68,000 in 2012-13.
David Branford, from the Royal Pharmaceutical Society (RPS) , says mental health is a massive problem, with one in four people affected at some point in their lives. He says research undertaken with Wolverhampton University shows that, while pharmacists get lots of good information during training, five years into practice most still lack the confidence to tackle mental health. "What we have failed to do in training is get pharmacists to realise this area is just as important as all the others they cover and that they need to develop a set of skills to tackle it properly, " he says.
Mr Branford, a member of the College of Mental Health Pharmacists, says a different approach is needed to enhance care for patients with mental health issues. This involves getting pharmacists more experience in talking to and dealing with mental health patients, rather than overloading them with facts. "We have been advocating a more experiential approach to training where they can develop the skills and confidence over a period of time.
"But it's also very important to remember that it's potentially a huge market for community pharmacists. When I worked in New Zealand the pharmacy bought the premises next door and converted them into a kind of mental health day centre, complete with exercise facilities, which they invited local patients to use.
"Of course, they got all the business that went with that (in terms of drugs sales) and I am really surprised that nobody in this country has done anything similar," says Mr Branford.
He says the RPS was alarmed that antidepressants were not included as a key target in the new medicine service. "There's a huge amount of evidence that many people stop taking antidepressants within the first four weeks of treatment. It's a prime area for this kind of service. The trouble with mental health is that we are lacking a completely joined-up approach across all of pharmacy at the moment."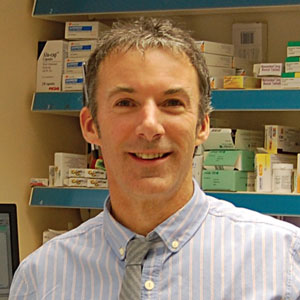 Case study
Pharmacist Sion Llewelyn, from the Rowlands Pharmacy in Bala, north Wales, is a pioneer in the field of community mental health care.
In 2012, he and his staff picked up the C+D Pharmacy Innovation of the Year award for setting up computer cognitive behavioural therapy (CBT) service for patients suffering from depression and anxiety. They wanted to help the local, mainly rural community access CBT, rather than depend solely on antidepressants, or have to travel miles for help.
With a rural healthcare grant from the Welsh Assembly, Mr Llewelyn clubbed together with two local pharmacies and they used their joint computer facilities to give patients access to the Beating the Blues programme, a Nice-recommended CBT treatment for depression and anxiety.
After assessing the level of patients' depression and anxiety, it runs a course of eight interactive sessions to challenge their thoughts and "make them think in a more advantageous way".
Local GPs showed their enthusiasm by referring patients and, although the programme can be done at home, Mr Llewelyn is convinced there is added value in doing the course in a healthcare setting.
"We aim to motivate the patients by facilitating the sessions, making sure they do their homework and bring it back," he explains.