In January, Steve Brine commissioned Public Health England (PHE) to investigate why the prescribing of "addictive medicines" has risen by 3% over the past five years. The review will cover benzodiazepines and z-drugs, pregabalin and gabapentin, and opioid pain medicines.
It will also look at antidepressants, and specifically why the number of antidepressant prescriptions in England has doubled in the last decade. And while these drugs are generally not recognised to be dependence-forming, some patients experience 'discontinuation syndrome' when they try to stop taking them – the symptoms of which can be "severe", the government pointed out.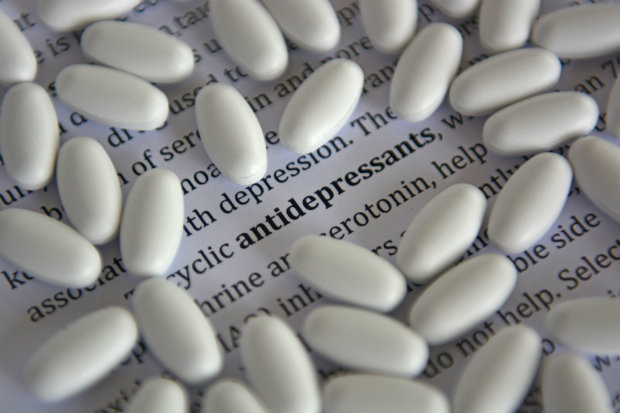 The problem is potentially huge, as NHS figures show one patient in eleven is prescribed one of these medicines.
Launching the review – which is due to report back early in 2019 – Mr Brine said: "We know this is a huge problem in other countries like the United States, and we must absolutely make sure it doesn't become one here. While we are world-leading in offering free treatment for addiction, we cannot be complacent."
What's the scale of the problem?
Emma Davies, an advanced pharmacy practitioner in pain management, and chair of the Primary Care Pharmacy Association's pain group, says: "We need to establish the actual scale of the problem – data in this area is collected from multiple sources and [that] makes it difficult to understand what is actually going on.
"Establishing a registry or including a measure of pain management or opioid prescribing within [GP incentive programme] the Quality and Outcomes Framework would be a place to start in terms of ensuring we're collecting data."
Ms Davies says over-the-counter (OTC) opioids are also a potential problem that she would like to see the review provide some data on. She adds it is concerning that there is a "rise in people misusing prescription opioids – which they are buying" – as well as those being prescribed.
"In Australia, OTC codeine has been removed from sale and this has been postulated as something the UK should follow. Currently, the risks of misuse or addiction to OTC products, or the use of those products in addition to other opioids, is not well defined, and it would be helpful for the review to examine this element too."
Clarity of data is also of concern for Leyla Hannbeck, chief pharmacist at the National Pharmacy Association. "It seems that all prescription data will be analysed, but only some GP patient data. [This] is concerning, because it may paint community pharmacies in a negative light, [if] for example, pharmacists [are] not addressing prescribing concerns or patterns, or warning patients of abuse."
Better guidelines needed
Ms Hannbeck says she would like to see the review "address better referring processes, or guidelines to follow".
"Guidelines for pain differ between clinical commissioning groups, and pharmacies should have access to this. Many of our members call regarding opioid doses and switching for patients who are not on palliative care."
Royal Pharmaceutical Society president Ash Soni tells C+D he would also like to see "better guidelines around when to use opioid painkillers", as well as "better use of pharmacists when it comes to decision-making" around these drugs.
"At the same time, we need more options for people with chronic pain," he says. "At the moment, a lot of the problems around using opioids are because there are few or no alternatives [to painkillers] – such as physiotherapy services, which can reduce the need for pain medication. Patients have nowhere else to go, so opioids are seen as the only option and prescribed."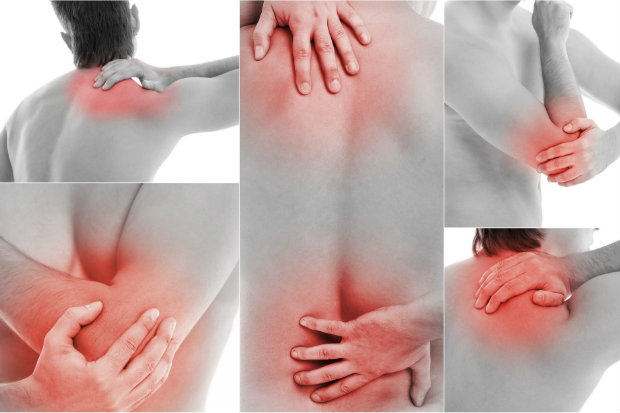 Ms Davies says even though "a recommendation to limit who can prescribe opioids would be helpful", she "doubts it will happen" – as similar recommendations were made by the Harold Shipman inquiry [into the murders committed by the Manchester GP by over-prescribing controlled drugs] but were not "properly implemented".
There also needs to be an acknowledgement that over-prescribing is not only a primary care problem. "Many people are recommended these medicines by specialists," she says, even though "the burden of continued prescribing…is borne by the primary care team".
"Therefore, all sectors and specialities need to take responsibility for their recommendations," Ms Davies adds. "Prescribing and education are required across the board…and hopefully the minister will suggest a cross-sector, multiprofessional approach."
Community pharmacy's role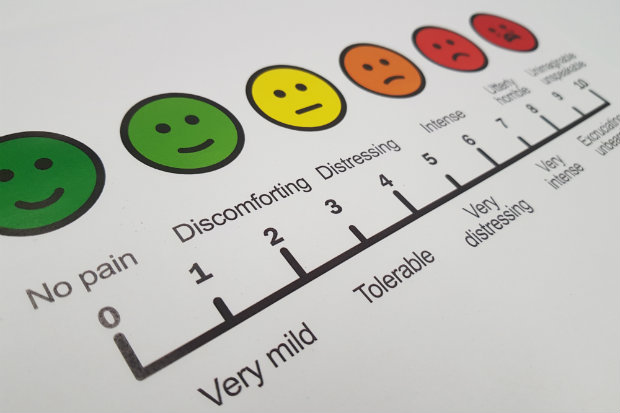 The sector has a key role to play in supporting the estimated 28 million people in the UK who are affected by chronic pain (ie that persists for over three months).
Community pharmacies will often be their first port of call for advice, so good knowledge of local services, such as physiotherapy and support groups, is important in terms of signposting, Ms Davies says. She hopes the review includes "a proper examination of why there is such poor access to alternative treatments and management methods, such as talking therapies and functional restoration."
Ms Hannbeck says community pharmacists are in an ideal position to identify patients at risk of dependence or addiction to prescription drugs, "because they have good rapport and communication, not just with patients, but their family and friends, who may be able to highlight concerns".
She suggests that the review should highlight the role community pharmacies currently play in supporting patients recovering from drug addiction, and "highlight further opportunities to support in this area".
Joint working possibilities
Ms Davies says flagging high doses of opioids (120mg morphine equivalence or higher) to both the patient and the prescriber, as well as monitoring and raising concerns about frequent prescriptions, are important roles for community pharmacists in tackling opioid addiction.
But she adds that "better integration with primary care teams is needed [so] community pharmacists feel supported and able to act when they notice problems".
"It would be great if pharmacists were able to become better integrated with primary care practices in order to support people with reductions in opioids," she tells C+D.
This integration could be aided by access to the summary care record, which – according to the latest data from the NHS Business Services Authority – is currently available in over 95% of pharmacies across England. Ms Hannbeck says this suggests that pharmacies are best-located to conduct reviews of opioid use.
"This could be via a new target group for medicines use reviews, or a new service – for example, monitoring patients and helping prescribers in the step-down and switching process," she argues.
Mr Soni says the hurdle community pharmacists face is "to not be seen as challenging the GP or prescriber if we are asking them why a patient is still on these drugs, or if we find out that the last time the patient spoke to their GP about their medication was months ago, and we suggest they go talk to them again".
Ms Davies adds that greater collaboration between the two healthcare professions would mean that GP practice pharmacists and GPs could work together to set up joint measures to help patients, such as "tapering regimens, with the community pharmacist supporting the patient by reviewing them and then implementing the next change as set out in partnership with the patient's practice".
But she points out: "Legislation would need to be changed to allow this, and more community pharmacists might need to train as [independent] prescribers". "The use of patient-specific directions might need to be examined – but this would be a good use of knowledge and resource and allow closer working relations between the healthcare professionals."
The sector would have some work to do to make this possible – although as Ms Davies stresses, it would be worth it: "I believe [community pharmacy could] improve the care and support offered to people trying to manage their pain and medicines use."
What will the PHE review look at?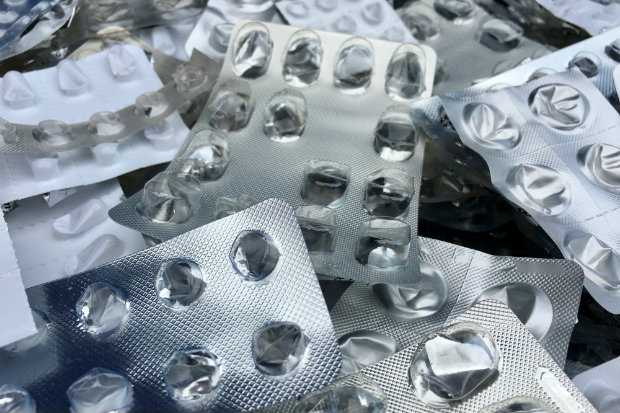 The review will "bring together the best available evidence on":
prevalence and prescribing patterns
the nature and likely causes of dependence or discontinuation syndrome among some people who take these medicines
effective prevention and treatment of dependence and discontinuation syndrome for each drug category.
In addition to a call for papers, a literature review and stakeholder engagement, the review will also "analyse all prescription and some GP patient data to understand prevalence and detail of prescribing patterns, patients and conditions".
Source: Public Health England
Sponsored: GSK launches 'no mess' Voltarol gel applicator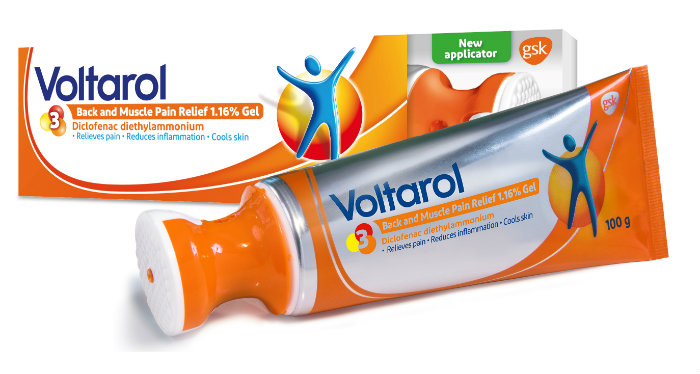 GlaxoSmithKline (GSK) has added a new pain relief gel with a "no mess" applicator to its Voltarol range.
The "innovative" contoured applicator head – which GSK says is the only one available on the market – allows patients to apply and rub in Voltarol Back and Muscle Pain Relief 1.16% gel (diclofenac diethylammonium) directly onto the point of pain.
The applicator opens in three steps – "unlock, pop, apply" – which "allows consumers to apply the gel directly to the area of pain [and] evenly and easily rub the gel into the affected area".
The launch comes after a survey commissioned by GSK of more than 3,000 pain sufferers who do not use topical products found that 27% stated that the sensation of touching gel is one of the greatest barriers to making a purchase.
Charlotte Perry, Voltarol's senior brand manager at GSK, adds: "At Voltarol we are always looking to equip pharmacists with innovative products that are developed based on key consumer insights. Through our research, we identified a need for an inventive solution."
Voltarol Back and Muscle Pain Relief 1.16% 100g gel with applicator retails at £14.99.