Organising a 58-mile charity cycle from Leicestershire to Staffordshire is a laudable feat for anyone. But for pharmacist Tim Hames, the event was a monumental achievement. Not only was it his 50th birthday but, unlike other participants, he was completing the entire journey in a handcycle.
Pharmacy owner Tim had a clear motive for organising last Saturday's fundraiser. His goal was to raise money for the Matt Hampson Foundation, a charity that supports people seriously injured through sport. Having personal experience of a life-changing sports accident, the charity is close to his heart.
Tim's injury occurred during another charity cycle ride in the Peak District in June 2011. He slammed into a wall, which flipped him into the air – and the impact on his body was immediate. "I knew what had happened straight away," he remembers. "I had no sensation from the waist down from the moment I landed."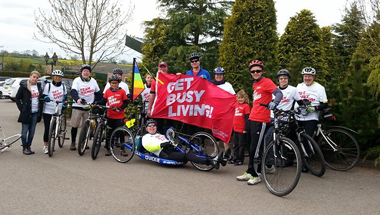 Tim (centre) pictured with other participants in the 58-mile cycle ride
Reality check
Tim was airlifted to a hospital in Manchester, where doctors confirmed he had broken his back. The diagnosis was hard to swallow; Tim had to accept that he may never walk again. "I ended up in a spinal unit, which is an amazing place, and they tell you what's likely to happen and that it's unlikely to get better," he says.
His reaction to the news was brave. Tim sounds fairly upbeat when he talks about the four months he spent recovering in hospital and undergoing intensive physiotherapy – learning vital skills such as how to use a wheelchair, how to cook safely and how to get in and out of a car. He puts this down to his attitude to life. "I find the people who deal with [trauma] best are those who are realistic, not overly pessimistic or optimistic," he explains. "I had just enough knowledge to know it [the injury] wasn't likely to get better and that was the way it would be."
Facing up to the reality was vital to Tim resuming a normal life. A diagnosis of paraplegia often forces people to move home or quit their jobs – but Tim didn't want the same to happen to him. While in hospital, he worked with his wife to plan adaptations to their home, including converting the garage into a downstairs bedroom and bathroom.
At the same time, he made plans to resume work at his Balance Street Pharmacy in Uttoxeter, Staffordshire, which he part owns with GPs in the adjoining health centre. Two of these part-owners were with Tim when he had the accident, and they were determined to see him resume his position as pharmacy manager. "They said, whatever it takes, we'll get you back to work," he recalls.
The promises were followed through. Tim resumed work in December 2011 and initially used a lower table to make it easier for him to check prescriptions. But the plan was always to adapt the pharmacy to his needs. In August 2012, the pharmacy underwent an entire refit to include a consultation room designed for his use and two desks – one for paperwork and one where he can sit with patients.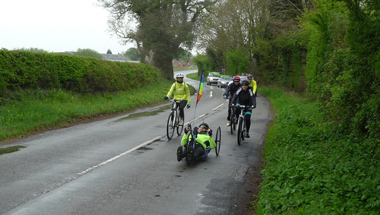 The second half of the cycle journey was mired by "constant drizzle"
Sporting ambitions
But Tim still hadn't regained all of his former life. Having always been sporty, he felt hampered by his condition. "I've always loved doing sports all the way through my life and, before my accident, I did triathalons," he says. Tim tried other sports such as wheelchair basketball but, despite being the cause of his injury, he wanted to get back into cycling. This is where the Matt Hampson Foundation came in: it put up money for a handcycle "straight away", Tim says, so he could pursue his ambitions.
The charity's generosity is what motivated Tim to organise the gruelling 58-mile handcycle from the starting point of Cold Overton in Leicestershire, where the Matt Hampson Foundation is based, to his pharmacy in Uttoxeter. Tim admits he needed a strict training regime to be able to participate. He trained three times a week, indoors during the winter months and outside once the weather turned warmer.
Gradually, he "tried to do longer and longer". A week before he was due to complete the course, Tim had managed "40-odd" miles in one session, but there was one obstacle that still worried him: hills. "The thing with handcycles is, compared to normal cycles, hills are really hard," he explains. Tim needed to rely solely on his upper body strength to navigate the incline that comes just before the halfway mark on the course.

There is a steep incline just before the halfway mark on the course
Tim's training paid off. He started the cycle at 10.30am and, despite facing "constant drizzle" in the second half of the course plus a "few punctures and minor diversions" along the way, he and the team finished by 5.45pm. Spirits were high once the course was finished. "There were about 40 people waiting for us when we arrived at the pharmacy ready with cake and champagne, which helped to revive our weary limbs and chilled bodies!" he says.
Their efforts raised £8,000 for the Matt Hampson Foundation - £3,000 more than their target – and Tim is still taking donations. The achievement proves Tim's accident was by no means the end of his life – and his donation will help other paraplegic patients to say the same.