Poor oral health costs the NHS. The British Dental Association (BDA) estimates that 150 procedures to extract teeth are performed each day under general anaesthetic in hospitals across England, costing the NHS around £33 million a year. In addition, the cost of treating dental patients who've ended up at A&E, rather than getting treatment earlier, could be a staggering £18 million a year, according to the BDA.
This is partly because almost a quarter (23%) of adults in England, Wales and Northern Ireland do not visit the dentist at least once every two years, as recommended, according to the NHS Adult Dental Health Survey. This survey is conducted once every 10 years – the most recent survey was in 2009 – so the statistics may well be worse now.
As such, the results of a pilot scheme in community pharmacies in north-east England should give commissioners and sector bodies pause for thought.
The pilot was run by Andrew Sturrock, leader of the MPharm programme at the University of Sunderland, across five healthy living pharmacies (HLPs) in deprived areas of County Durham between September and December 2016. It aimed to explore whether community pharmacies are a suitable venue for a brief oral health intervention.
Each intervention lasted between five and 10 minutes, during which time patients were shown how to clean their teeth using a phantom demonstrator head and a large toothbrush. Patients were also offered advice and given details of local dental health providers, as well as a 1,550ppm fluoride toothpaste, a soft-to-medium toothbrush and an information leaflet. Pharmacies received a reimbursement – of £5 per patient – for each intervention.
According to the pilot results – published in the British Dental Journal in September 2017 – of the 1,069 patients who participated, only 63% had visited a dentist in the past year. However, after the intervention, 66% said they "definitely" intended to change their oral health habits and 64% "definitely" thought pharmacy was the correct place to receive advice on the subject. Almost three quarters (72%) said the intervention had made their knowledge of oral health "much better".
Promoting the pilot
Mr Sturrock tells C+D the scheme "wasn't rammed down [patients'] necks". Instead, pharmacy staff approached the recruitment of participants in an "ad hoc" manner.
"When the staff member had time, or when they were in a position to intervene, they did so," he says. "A lot of it came from patients who were in to collect medicines; perhaps they were sitting in the pharmacy for five minutes, so while their prescription was being prepared someone said: 'You're going to be here five or 10 minutes, let's make the most of it.'"
Mr Sturrock says the demonstration heads and mouths (pictured below), which were provided to each pharmacy by the local dental team at Health Education England (HEE), often piqued the interest of patients.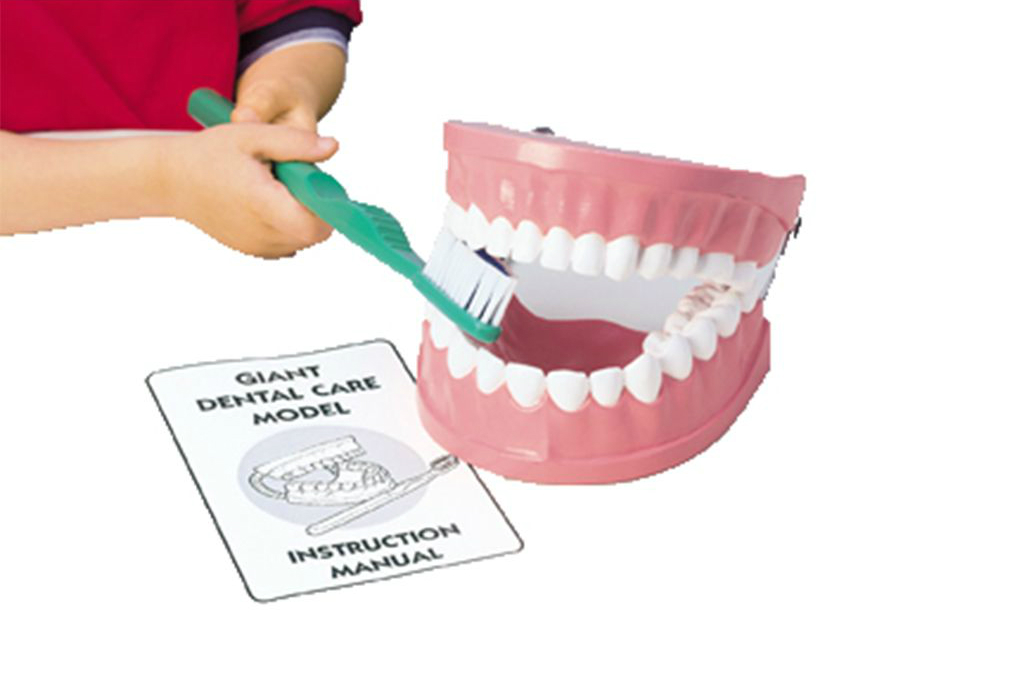 "[The demonstrator head] was put on the counter in quite a lot of the pharmacies, almost as a way to get people to ask: 'Oh, what's that?'" says Mr Sturrock.
In any case, he believes patients in community pharmacy are generally more receptive to being approached in this way than the average person.
"They go in [during the] winter and the pharmacist says: 'Have you had your flu jab?' Or they go in and the pharmacist says: 'Have you got five minutes to have a medicines use review (MUR)?' So I think patients are used to having those kinds of brief interventions."
In addition, now that community pharmacies in England are required to meet level 1 of the healthy living pharmacy framework to qualify for the Quality Payments Scheme, a growing number of pharmacies are already in a position to deliver an oral health service.
"By their nature HLPs [have] quite engaged teams," says Mr Sturrock. "Oral health promotion can slip into that healthy living ethos, which already exists in practice in pharmacies now. This is actually really easy for pharmacists to deliver, as well."
Oral health often "tip of the iceberg"
Mr Sturrock says the potential for positive outcomes gained from the pilot was "just the tip of the iceberg". He would like to see dentists and pharmacists working more closely together in several ways.
In the research paper, which Mr Sturrock authored, he pointed out that dentistry accounts for a disproportionately high number of antibiotic prescriptions. He argued that "a reduction in dental antibiotic usage…could potentially be facilitated through community pharmacy-based interventions", especially as one questionnaire of London pharmacies found that 99.4% of pharmacists considered oral health promotion part of their role.
"I'm trying to push forward more research with dentists to take this further and maybe have a more targeted intervention to specific patient groups," Mr Sturrock tells C+D.
These groups include high-risk patients, such as those with diabetes.
"Patients with periodontal disease are more likely to develop diabetes; equally, if you've got diabetes and periodontal disease, improving your oral health can improve diabetic outcomes," he explains.
"A pharmacist could easily identify those people, because we kind of do it already, through MURs and the new medicine service and other promotion schemes. Pharmacy would be really well placed to catch some of these people who don't engage with oral health elsewhere."
Accessing hard to reach patients
Mr Sturrock also believes an oral health service would be valuable to housebound patients. "It's about whether there are ways for the pharmacy team to get access to people who are their patients, but not able to physically come to the pharmacy," he says.
"Could this service be rolled out with trained pharmacy assistants doing home visits, maybe tying it in with a domiciliary MUR, or even just the delivery of medicines: Could a pharmacy assistant go along and give them some lifestyle advice?"
An important group that the pilot did not consider was children, as the scheme was open to adults only. However, Mr Sturrock says the results suggest young people could benefit more than most from an oral health intervention, by promoting preventative behaviour.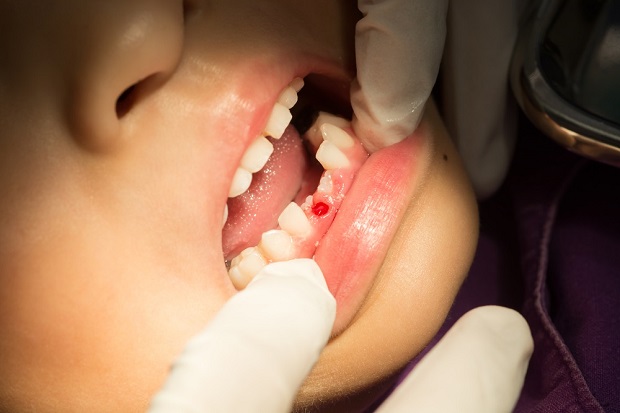 "Children responded to seeing a demonstration on a dummy head, because it was quite visual and hands-on," he says. "It is a good way of getting children in and reinforcing it while the parents are there – and getting the parents to buy into it.
"Taking the service forward, you could be really imaginative with all sort of props and things to demonstrate to kids what can happen. We know there are huge problems with children and their teeth at a fairly young age, including diet, so we could look at focusing on those."
Public health perspective
Claire Jones, a public health pharmacy adviser at Durham County Council who designed the pilot alongside Mr Sturrock, suggests an imaginative approach to props might be essential in a larger rollout. While she was "delighted" with the pilot, she admits that it was "resource-intensive".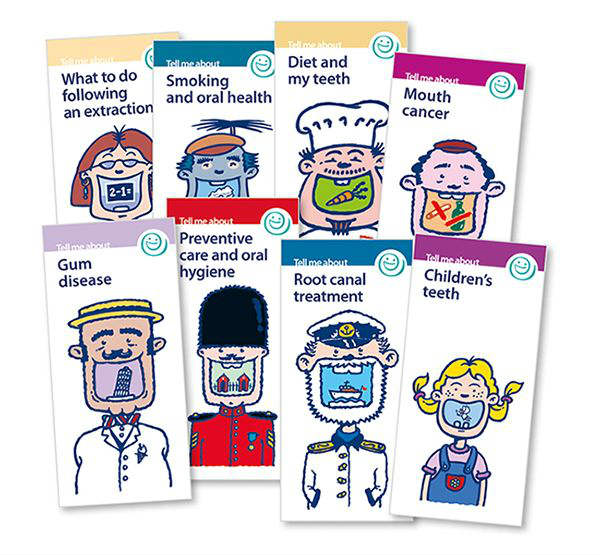 "We supplied a lot of materials from the Oral Health Foundation, in terms of large, scary-looking teeth and the big toothbrush," she says. "That went down really, really well, but we had to supply those and supply all the leaflets, bags, samples of toothpastes, and toothbrushes."
The power of training
For Ms Jones, the most important lesson from the pilot concerns education. She says the improvement in the pharmacy teams' approach after HEE's initial training shows that "there is definitely a training need in community pharmacy around oral health".
Indeed, the results were so promising that after incorporating feedback from the pilot – as well as from Ms Jones and Mr Sturrock – HEE took the training administered in the pilot and rolled it out across Tyneside, Teesside, County Durham and Carlisle last year.
In addition, County Durham Council made oral health a local target for HLPs in 2018-19, while children's oral health is now a focus in the Quality Payments Scheme.
The public health domain of the quality payments criteria requires that "80% of staff working at the pharmacy that provide healthcare advice to the public have successfully completed the Centre for Pharmacy Postgraduate Education (CPPE) children's oral health training assessment".
Mr Sturrock agrees training is key, and extends this to the education he provides to student pharmacists. Since the pilot, he has made oral health a greater part of the MPharm programme at the University of Sunderland.
"Typically, oral health has been a side note [in pharmacy degrees], an add-on here and there; there hasn't been much education on it," he says. "But we're now doing professional education sessions with pharmacy and dental students, just to try to get the two professions to work a bit closer together."
Sector is "missing a trick"
Mr Sturrock tells C+D he hopes his research will encourage commissioners to get on board. "Pharmacy has access to so many people and there's so many opportunities for us to do brief interventions like this that we're missing a trick by not doing it," he says.
"We need to promote oral health across the wider healthcare community and not just leave it to the dentists. There are lots of opportunities – it just needs some commissioners to buy into it and push it forwards."
Sponsored: Iglü "sticks, soothes and shields" to relieve mouth ulcers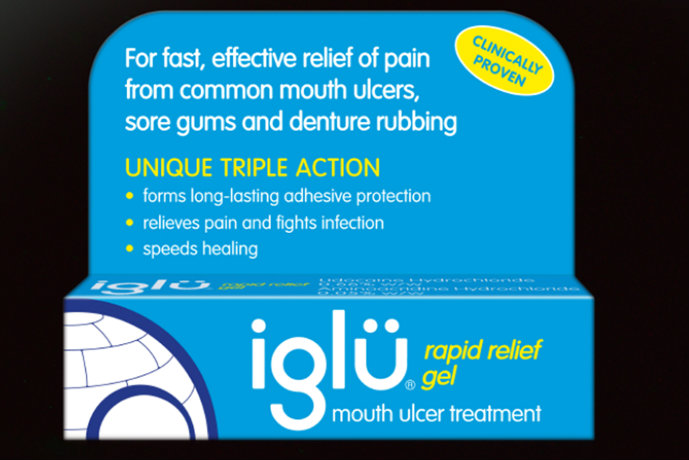 Iglü Rapid Relief Gel is formulated using unique bio-adhesive technology, distributor Dendron has highlighted.
The gel "sticks over the ulcer to form a protective barrier, soothe pain and fight infection", as well as "shield the ulcer to speed up the healing process". This prevents food and drink from "irritating the sore and intensifying the pain", Dendron says.
Iglü Rapid Relief Gel retails at £6.12 for 8g.
To order, email Dendron on [email protected] or call 01923 205 704/01923 205 702
Sponsored: Frador's 40 years of treating mouth ulcers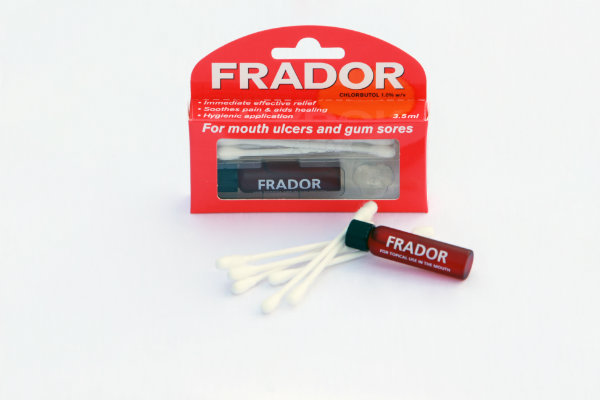 Frador has been used successfully to treat mouth ulcers for more than 40 years, according to manufacturer Fenton Pharmaceuticals.
Applied with a single-use applicator which "reduces the risk of cross-infection and contamination", it is designed to create a "protective coating" that "seals the ulcer from saliva". This "protects it from further infection and inflammation", Fenton says.
According to its manufacturer, Frador has "antibacterial and antifungal properties" that "speed up the body's natural healing processes".
It also contains an analgesic, which allows users to eat, drink, brush their teeth and talk, despite the ulcer, Fenton says.
Frador should be applied four times a day – after meals and before bed – and retails at £4.99 for 3.5ml.
To order, contact Powermed Plus on 01295 753 549