Community pharmacies in England delivered more than 1.4 million vaccinations for the 2018-19 national flu service, according to NHS Business Services Authority data published this month. This was a whopping 87,000 more than the previous season, despite many enduring shortages as a result of limited supplies and phased deliveries of the Fluad vaccine for over-65s.
The average number of flu vaccinations carried out by each pharmacy in England last season was 158. But one contractor, of JWW Allison & Sons in Cockermouth, Cumbria, surpassed this with a staggering total of 2,503.
Nat Mitchell, pharmacist and director, says: "We have been doing flu jabs for about eight seasons now, but I have to admit, this was the hardest year we've ever had." 'Hard' is an understatement, when you consider Mr Mitchell delivered every jab himself, while a pharmacist colleague looked after the business.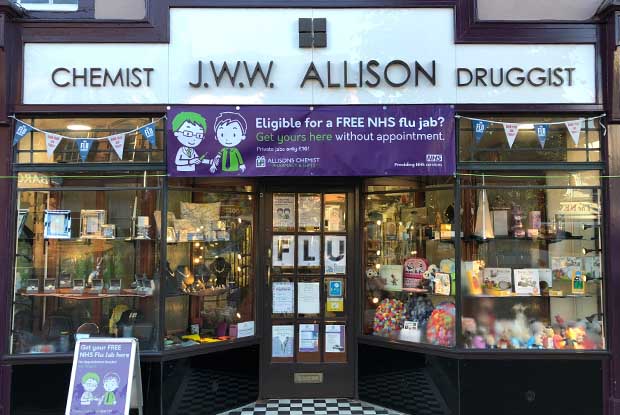 Flu queues
The pharmacy is no stranger to remarkable flu feats, having also delivered the most vaccinations for 2017-18 – 1,773. Before last season began, Mr Mitchell suspected there would be issues with NHS England's instructions that only Fluad could be administered to patients aged 65 and over. He overordered as a result, which he admits was "a bit of a gamble" as "if we had done as many vaccinations as we did last season, then we'd have [had] a hell of a lot of waste". But luckily it paid off.
"Part of our success was getting the vaccine in as early as possible, but it was also down to other suppliers struggling," he says. When local GP surgeries and pharmacies ran out of Fluad, their patients turned to JWW Allison & Sons.
While the pharmacy's regular customers expect it to be offering the flu vaccination service, it received "a lot" of new patients, who had struggled to get Fluad elsewhere. There were even occasional queues.
Mr Mitchell is pleased with his pharmacy's figures, but he admits that rationing the vaccines, keeping patients updated every day and receiving deliveries of Fluad into November, was "very difficult".
"We are happy with the success, but it also dragged on a lot longer [than usual]. Normally, over about six weeks we [would] have probably done the bulk of our vaccinations. But, because we were getting vaccination deliveries well into November, it was still going on when we were coming to Christmas. Thinking back, it gives you chills."
Thinking ahead
Each year, JWW Allison & Sons advertises its flu service "heavily". It promotes before the season begins on the pharmacy's website, on social media and in local publications, as well as through in-store banners and branded t-shirts.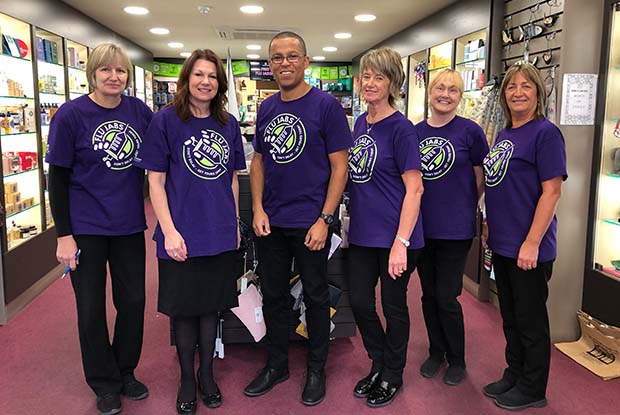 Left to right: Pharmacist Angela Garrison, Sue Hayman MP, Nat Mitchell, dispenser Linda Kaleinikas, accuracy checking technician Carolyn Blackburn, dispenser Christine Lowther
The pharmacy is already gearing up for next flu season, having secured early delivery on the vaccinations. With two NHS England-approved vaccines for over-65s available this time around, Mr Mitchell hopes that managing their delivery will be a little less "involved" than last year.
"With the day-to-day running of the pharmacy, there are enough other things to keep on top of, but everything is in place for the flu season to start relatively early in September. We can get going how we used to."