It is easy to suppose that resistance to COVID-19 vaccinations is a recent phenomenon driven by suspicion at the speed of their creation. But vaccinations have been dogged by concerns that stretch back as far as the distribution of the smallpox vaccine in the 19th century.
Reports of opposition to the smallpox vaccine from pharmacy professionals can be found in the pages of C+D, which published its first edition in 1859. They offer some insight into the scepticism that greeted the COVID-19 vaccine, with more than half of 186 pharmacy professionals (56%) who answered a C+D poll in December saying they would not get a vaccine. Resistance to vaccinations among some pharmacists is nothing new, despite the renowned benefits of inoculation.
Compulsory vaccinations
Vaccination programmes were rolled out from the early 1800s against smallpox, a disease that had a death rate of 30% among victims and often left survivors blind. Despite the almost miraculous benefits to patients, the vaccines had no shortage of critics. Among them were some high-profile figures including Alfred Russel Wallace, who co-conceived the theory of natural selection with Charles Darwin. "Vaccinations give no protection whatever," Mr Wallace claimed in a text in 1898 titled "Vaccination a Delusion".
People avoided vaccination for a variety of reasons, some religious or political, others scientific and sanitary. Some saw it as state control over their bodies, saying that it was an unacceptable invasion of personal liberty.
The friction between authorities and those concerned about the smallpox vaccines rose when the government made vaccination compulsory in 1853. Failure to have infants vaccinated before they were three months old could be fined, with repeat offenders risking imprisonment.
Despite the penalties, some people continued to resist the vaccines. The government applied more stringent regulations through vaccination acts in 1867, 1871 and 1874, but they were not enough.
Anti-vaccination feeling reached a peak in the 1890s, stoked by the National Anti-Vaccination League, with one protest in Leicester attracting a crowd of 100,000. The dissent became too large to ignore. An act in 1898 allowed parents to excuse their children from having the vaccine if they did not believe the jab to be safe or effective.
Pharmacists fined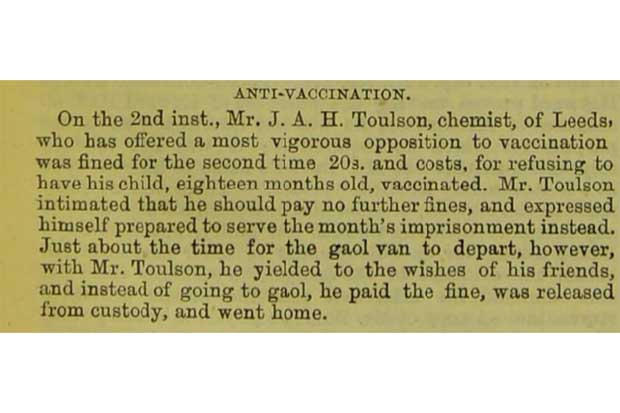 Among the dissidents were several chemists, who found themselves appearing in court. In February 1870, C+D reported how Mr Toulson, a Leeds chemist, refused to have his 18-month-old child vaccinated.
He was fined £1, worth approximately £120 today, but gave "a most vigorous opposition to vaccination" and said he would rather go to prison than pay the fine. "Just as the prison van was about to depart…he yielded to the wishes of his friends, and instead of going to gaol, he paid the fine, was released from custody, and went home".
Mr Toulson was not the only pharmacy professional to vocally resist vaccines that year. Five months after his brush with the law, C+D described another chemist, Frederick Weston in Birmingham, as "an anti-vaccine man".
As well as refusing to organise the vaccination of his child, Mr Watson "did a great deal of harm in the neighbourhood, by recommending the people generally to disobey the law in regard to vaccination". Mr Weston also received a £1 fine. The article went on to describe "herbalist" and "anti-vaccination lecturer" William Hall, who had been summoned to a hearing on the same charge but refused to attend because he was lecturing out of town.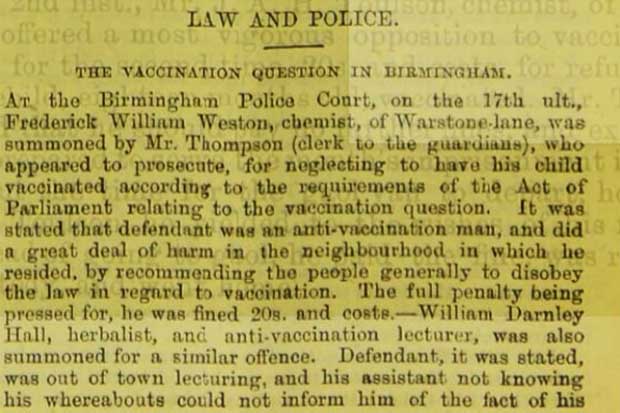 The subject continued to concern C+D the next year. In May 1871, the publication said there was no shortage of "medical men willing to agree that vaccination may be dangerous". It noted how parliament was once more talking about vaccinations in the build-up to another act.
"The future of vaccination is a subject which demands the most serious attention of government, society, and medical men," it said. On one hand, the vaccine had obvious benefits, but on the other the English had a "natural dislike to compulsion in any form".
Some pharmacy professionals went to great lengths to try to avoid having their children vaccinated against smallpox. In January 1873, William Young, a London chemist, was summoned to court in Marylebone for neglecting to have had his child vaccinated, C+D said.
Mr Young submitted a document to the judiciary signed by a doctor certifying that his child was in "an unfit state to be vaccinated". The judge considered Mr Young "a very cruel father to subject his children to the danger of smallpox" and fined him £1.
Rumours about the supposed dangers of vaccination have persisted since the distribution of the smallpox vaccine. Community pharmacy teams today are likely to encounter some resistance to COVID-19 vaccines among patients and colleagues alike. They may wish to remind them that their concerns are centuries old, while acknowledging that the subject of vaccine safety demands serious attention.