The C+D Salary Survey 2018 – which ran throughout October – has revealed that 83% of contractors in England experienced a decrease in their personal income over the previous 12 months. The survey also revealed the average income decrease was 15%.
"Catastrophic" effect on profit
Contractors identify the funding cuts as the biggest threat to their businesses, with one pharmacy owner describing the effect as "catastrophic" on their profits, cashflow and income.
"I had to put in £100,000 of my own money to survive," one contractor says, while another says "dispensing is down about 20%", and "the value of the business [has] dropped by about £200,000".
One contractor reports their net profit is down by 40%, while another says their "gross profit reduced by 8% [and] turnover 13%, despite doing 20% more items", which they describe as a "silly situation".
A further respondent says they have experienced a 35% drop in profit margin, with a 10% increase in overhead spending. "We are busy fools and effectively prisoners within our business," they add.
Increased stress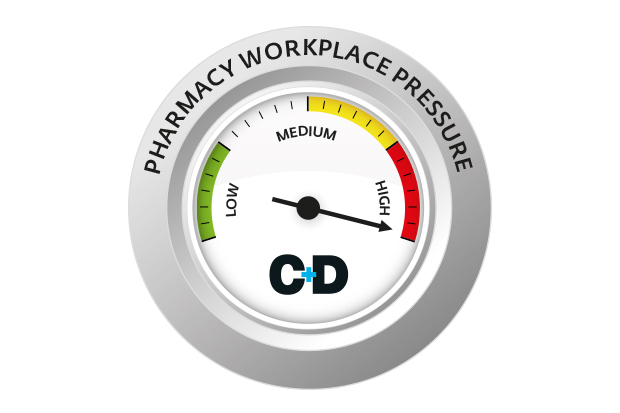 Pharmacy owners also describe how the funding cuts are increasing their stress levels, as the workload spirals for them and their staff.
One respondent says they are "struggling to stay happy with running the day-to-day business".
Staff reductions
Contractors are unable to invest in staff and training as a result of the negative impact of the funding cuts on their businesses, the responses show.
One contractor says they have reduced their staffing costs by "nearly" 30% over the past 12 months.
For another, a "severe reduction in profitability" meant they were unable to give their staff a pay rise "for the first time ever".
"The reduction in funding has meant I employ less staff, and the ones I do employ have to do a lot more sometimes [and] not up to previous standards," another contractor says.
"In all my life, this is the first time I have experienced unparalleled challenges facing community pharmacy coupled with threats, and I don't think the current pay structure [for] pharmacy staff is sustainable long term," another added.
From reducing locum rates to scrapping services, find out what else C+D learned about how contractors in England are weathering 2018's financial challenges.
Workload
Commenting on pay, stress and work-life balance in the sector, several contractors in the survey say they are "disillusioned" and "demotivated".
One contractor "just wants to leave the profession", but has a "mortgage and children" to support.
"I go to work and feel sick at the workload and the daily slap in the face at a government who mocks us by saying we are valued, but stabs us in the back all too often," they add.
Another contractor says that "after over 35 years of enjoying my career, I now feel unable to spend quality time with patients in order to provide the level of service and advice I would like to deliver".
The C+D Salary Survey 2018 – which ran throughout October – was completed by a total of 1,916 pharmacists and pharmacy staff. C+D's coverage from the survey can be found here.