The medicine supply chain has been under siege throughout the COVID-19 outbreak. Pharmacies have fought to keep up with a rising tide of drug requests that led to rife medicine shortages and some businesses reaching their credit limits with wholesalers.
Indira Panchal, owner of the four-branch Meiklejohn Pharmacy group in Bedford, says some wholesalers have delivered orders with errors in them and have been refusing to accept returns at the peak of the crisis.
"The errors that we are finding [are] missing goods," she tells C+D in April. "The suppliers are inundated [with orders] so we don't get the correct goods coming in or there are missing lines. At the end of the month, we will have to rectify all this. Some are not taking return stock."
The surge in patients stockpiling their medicines saw Ms Panchal's team facing triple the usual amount of demand for deliveries at times.
"We have got more invoices and the cut-off times [for ordering] are very short. If you don't place the order by a certain time, you are not going to get it the next day.
"We are dispensing more scripts and the volume of phone calls has increased, meaning we can't get on with our work as the phone is ringing all the time," she says.
Martin Sawer, executive director of wholesaler representatives the Healthcare Distribution Association (HDA) said last month that the medicine supply chain had been "severely flexed, but critically, did not fall over".
The pressure on pharmacies was exacerbated by a shortage in staff, which forced one of Ms Panchal's pharmacies to temporarily close when the pharmacist was self-isolating with COVID-19 symptoms.
Locum rates
Ms Panchal also faced issues with locum cover during lockdown. "Locums have put their rates up horrendously – how can they justify that," she asks. "The pharmacy I had to close was one that is really needed in the most deprived area in Bedford." Ms Panchal worries about what would happen to her other pharmacies if she contracted COVID-19, as she says she could not afford the cost of locum cover.
In March, the General Pharmaceutical Council (GPhC) chief executive Duncan Rudkin kick-started a debate on rates by warning locums against "profiteering to take selfish advantage" of the COVID-19 outbreak with rate hikes. However, many locums argue they should be paid "fairly" for working under heavy pressure and at a heightened risk of contracting the virus.
PPE
Protecting staff from the virus has added further stress on pharmacy teams. Ms Panchal's husband Sailesh (pictured below) spent a weekend installing plastic screens in the branches. Personal protective equipment (PPE) has been in short supply but patients with fevers were still entering the pharmacy to ask for health advice. "We went out of our way to make ourselves safe because we had to do something," says Ms Panchal.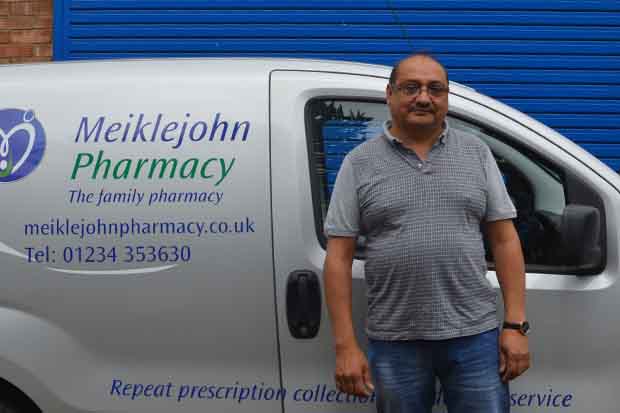 After an initial delivery in March of packs from Public Health England containing 50 masks, 200 aprons and 100 pairs of gloves, contractors have been left to source their own supplies.
For those who cannot get PPE from wholesalers, there is, in theory, a national helpline to call. The national supply disruption response system should be able to support delivery of emergency PPE, according to a Department of Health and Social Care (DH) plan published in April.
Ms Panchal says: "We are front line and we are having to ration our PPE." The rigmarole of getting one box of masks involved numerous calls and emails, she says. "There are systems in place that could take some pressure off, such as electronic repeat dispensing, but in reality, these have not always worked.
"GPs haven't fully utilised systems for repeat prescriptions. If they did, it would be much easier – we could plan better and so could the patients. Some surgeries won't even send controlled drug prescriptions so we're still having to go and pick up FP10 forms, which is ludicrous in a time like this."
Medicine supply problems have caused a minority of patients to lash out at the pharmacy team. Ms Panchal and her staff have borne the brunt of patient abuse. "People are isolated and frustrated and they don't know what's going to happen and that is being taken out on us because we are open," she explains.
A C+D survey that ran from April to May found that almost two thirds (64%) of 859 respondents had seen an increase in abuse towards their teams as a direct result of COVID-19.
It would all be easier to manage if teams felt appreciated by the government, Ms Panchal says. Community pharmacies in England received "advance funding" of £370 million in total between April and July, but this is not new money and will need to be paid back in the future. Ms Panchal is clear that this is simply not good enough. "No, I don't want a loan," she says.
The medicines supply chain may not have fallen over but it has been propped up by the coffers of pharmacies – which have their limit.