Mike Smith has seen community pharmacy develop from all angles: as a Boots apprentice in the 1960s, an independent pharmacy contractor in the 1970s, non-executive director for Alliance Healthcare UK, and to this day, an occasional pharmacy lecturer at Aston University in Birmingham.
Now a non-executive advisor at Alliance Healthcare UK, and celebrating five decades in the profession, he says he has always been proud to be a pharmacist.
"One of the things about pharmacy is that it becomes a way of life, because you become very focused on things like accuracy, concentration and taking care [of people]," he says.
"Although pharmacy has changed a great deal, those disciplines are still exactly the same as they were 50 years ago."
Mr Smith has always championed the notion that the wellbeing of the patient "has to come first", but admits that contractors have to think about the financial side of the business too. This is sometimes easier said than done, when pharmacy is not appropriately remunerated for the services and care it provides, he says.
Pharmacy's worth "is slowly dawning on clinical commissioning groups and NHS England…but I still think we have a long way to go".
Read what Mr Smith thinks has contributed to pharmacy being poorly recognised here.
Pharmacy's USP
When speaking to Mr Smith, his passion and pride for the profession is obvious. For him, pharmacy's unique selling point is the "absolutely sacrosanct" pharmacist-patient relationship, which he fears could be under threat with "the advent of online and remote dispensing".
"I am very proud that we're available anytime without an appointment," he says, recalling the example of an older patient who had recently lost his wife and came to the pharmacy "because he was lonely and wanted someone to talk to".
"I think that is often forgotten – the social function that pharmacies provide, which we're not paid for and there is no real recognition of."
Mr Smith says he is equally proud of the developments in the profession over the years, with the introduction of emerging roles like GP practice-based pharmacists and independent prescribers, not to mention pharmacy's "important role" delivering public health services such as diabetes screening, blood pressure checks and smoking cessation.
"These were not even dreamt of when I first qualified. The thought that a pharmacist could give a flu injection or prescribe [medicines], was just unheard of," he says. "We have made so much progress with pharmacy and that is why I think things have changed for the better. At last we are beginning to really recognise just what pharmacists can do."
While he is no longer a practising pharmacist, Mr Smith admits he was still learning up until his last day, with new services being introduced such as emergency hormonal contraception, and new patient group directions being developed for various conditions.
Future of the profession is "safe"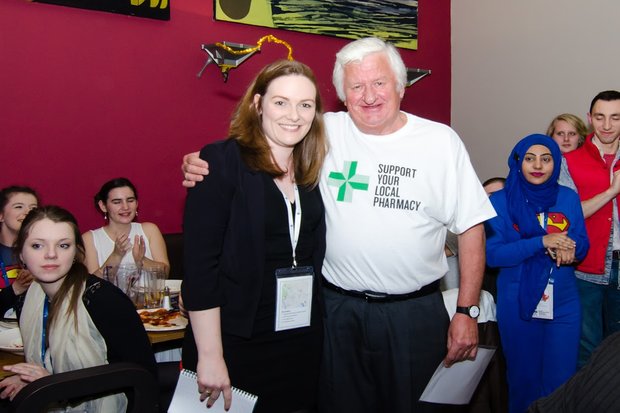 Now an occasional lecturer at his alma mater Aston University, Mr Smith says he "greatly enjoys" talking to students about career opportunities in community pharmacy, and he has every confidence in the next generation of pharmacists.
"I have a room with around 50 to 60 students who are very bright people, clinically very highly qualified, and I have always thought that the profession is safe in their hands," he says.
"My one concern is that these highly qualified students, who have given up five years to their studies, are appropriately rewarded and find decent jobs."
"Oldest" pharmacy student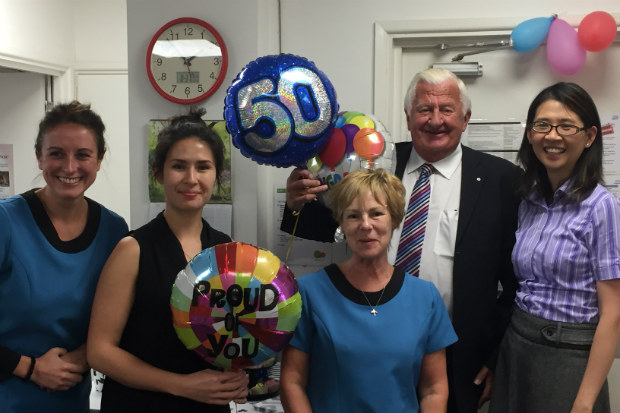 Mr Smith has built up a host of fans through the years – when he visited the C+D Award-winning Bedminster Pharmacy team (pictured above) in Bristol earlier this year, they surprised him with cake and balloons to say thank for "years of supporting younger colleagues".
His achievements also include becoming a fellow of the Royal Pharmaceutical Society (RPS) and becoming an honorary lifetime member of the British Pharmaceutical Students' Association (BPSA).
"At 72, I must be the oldest pharmacy student member in the UK," he quips.
But despite receiving "a very nice letter" from then-RPS president Martin Astbury and CEO Paul Bennett congratulating Mr Smith on his career milestone, "I don't think you do these things for recognition", he says.
"It is nice when people do recognise what you've done. [But] it doesn't change my determination to drive community pharmacy forward as much as I can – especially independent community pharmacy – because I think we just have so much to offer," Mr Smith adds.
"Pharmacy is a great job. We might at times feel in despair or disappointed about the way things are going, but it is a great career and I have enjoyed every one of my 50 years."