Day 2
1.15pm Well, that's it for the C+D Conference for this year. The show is still going in full swing (lots of happy munching going on over lunch), but the final speaker has finished and the techs are packing up in the main auditorium. I hope you've enjoyed the blog; feel free to get in touch on Twitter (@CandDChris) for your take on the show - remember to use the tag #cdconf11. See you next year!
1.03pm I've just left David Baker, of the Dispensing Doctors Association. How are things going for DDs? Not good, seems to be the verdict; they're hit by Cat M, and don't have the possibility of delivering the NMS; a problem he says is more significant due to the high levels of deprevation in the countryside.
12.14pm Time to run down on the last bunch of potential giveaways. Having decided not to go in for my portrait or enter a prize draw for a hamper, I've instead opted to try my hand at hoopla, throwing a frisbee at a champagne bottle to try and win a prize.
Full marks for effort, zero for accuracy. I think I'm going to head to the Mawdsleys stand and have a go on their Wii.
10.55am We're heading toward lunch now and the show is, while not busy, full of milling crowds of suited individuals. I've just had a word with the show's organiser; today is typically when all the big deals get done.
The exhibitors know it, too; everyone is trying to catch the eye of those buyers. The dynamic has changed from networking and product information to a much more sales-charged atmosphere.
10.30am Anyone for pizza? No, I've not talking about whether it's wrong to have pineapple on your Italian crust (it is, by the way). I've just been approached by Perfect Pizza, exhibiting at the show and hoping to entice pharmacists to enter their franchise business. While no one is talking about offering margaritas out of your dispensary, I'm not sure how many pharmacists would be interested in expanding their business into the world of fast food. That said, an initial outlay of some 200k for a 50k annual return may well attract some of the more entrepreneural...
9.15am While pen offers might be down this year, there are a few big goodies for the sharp-eyed. There are a few prize draws about, with prizes including an Amazon Kindle and an iPad 2, if you're willing to leave your details. If you're not, then there is always the chance of a caricature if you wander over to the Pharmacist Support stand (see the photo of GPhC registrar Duncan Rudkin above).
No, I'm not getting mine done.
Day 1
3.50pm I've just run in to one of the Pharmacy Show's organisers and can exclusively reveal that the number of visitors is up on last year - significantly. So far the show has seen a 43 per cent rise in footfall, and that is reflected by the numbers I've seen. Sadly what does seem to be down is the number of free pens on offer. Ah well.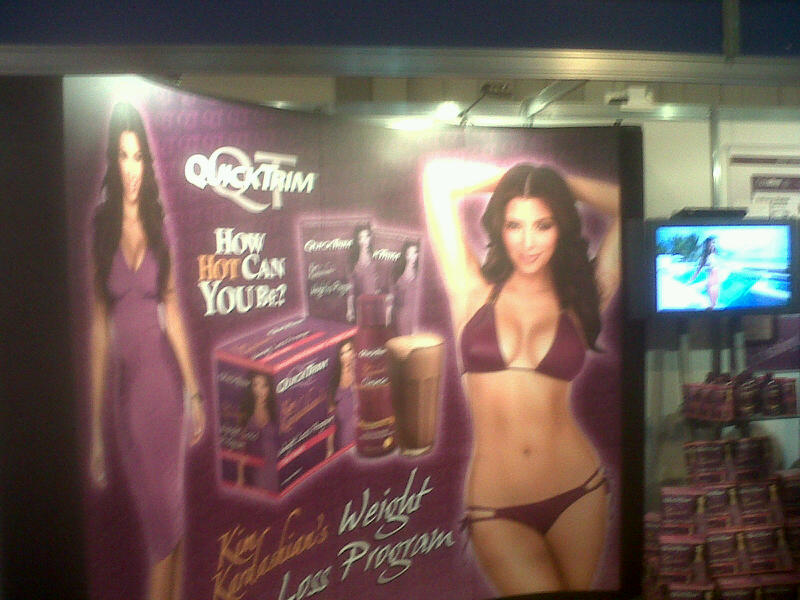 2.54pm No, I was wrong. The most eye-grabbing stand might be the one with the giant poster of Kim Kardashian wearing not much at all. I stand corrected.
2.48pm The one thing about the show that never ceases to amaze me is the array of products. There are stalls for pharmacy items you'd expect, but also quite a few you wouldn't. I've passed stands for contact lenses (great if you fancy yellow eyes), a variety of soft toy products and even a solar panel company. The most arresting stand probably goes to Vi-Aqua, which is demonstrating its erection device with a shop dummy proudly supporting the pump on his privates. It's a bit like something out of Austin Powers, but I'm assured after a demonstration it will be in the next Drug Tariff. Blushes prevent me from adding a photo.
1.40 pm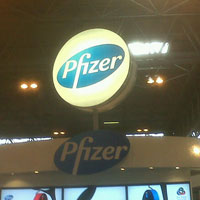 With so many stalls (all set out in a grid system) it can be easy to get lost. My top navigation tip - C+D banner at the end of the hall from the doors, and if you want to orientate yourself, look for the giant rotating Pfizer lollipop - it's right in the centre of the hall.
1.20pm "I'm a bit surprised - people are saying nice things!" Lindsay Gilpin, chair of the English Pharmacy Board, is pleased with the reception the RPS is getting at the show. One year in, naturally my question is how pharmacists are reacting. The answer, it seems, is positively, and a marked contrast from the old RPSGB days. Unfortunately there's no time to chat - I want to catch the C+D Keynote Conference.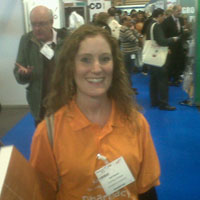 1pm Just come across C+D New Pharmacist of the Year Zoe-Emily Pierce of Sainsbury's - looking resplendent in Orange and amazed at how many people she's run into here today.
12.30pm Well we're here at the Pharmacy Show and first impressions are just how busy it is; and how many familiar faces there are.   Already I've run in to the last president of the RPSGB, Steve Churton. It's his first pharmacy related event in a year, since leaving Lambeth. How does he think things are going? "Things seem to be progressing in the way things should be progessing".   Time to hit the floor and see what's going on around the show.