In the second of a weekly series of diary entries, pharmacist Ginny Henderson of Whitworth Pharmacy in Middlesbrough describes what it's like to work through a pharmacy refit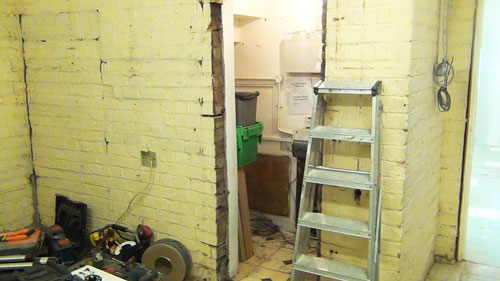 The pharmacy is being given a second consultation room, new storage areas and a joined-up dispensary. While the building work is underway, staff have set up a temporary counter and dispensary in the remaining third of the premises.
Week 2
This week has been incredibly stressful. It's been the first week we've worked in the new layout, so we've been trying to find new homes for everything and keep the equipment running. At different points this week either the phone, the fax, printer or computer has stopped working, but they all seem to be OK now (touch wood!). It's been very difficult getting used to a new workflow, so on Monday and Tuesday we were trying to do everything in the front of the pharmacy. We soon learnt that wasn't possible so we've had to use the front of the shop for walk-ins and methadone patients and the back for deliveries and call-backs.
Today was handover day so I had four different sets of contractors in, plus all my bosses and all the builders' bosses. We didn't even have enough mugs to make everyone brews!
The copper piping was stolen before the air conditioning guys could get here to put the cage over it, but other than that it's been ok. It's been hard for the staff who've had the keys, as they've had to let the builders in and out early in the morning or on Sundays. I'm very lucky that I have a great team who have taken turns and never complained.
The only major drama this week was a power cut. We've had a light fitted in the front of the pharmacy and we think that's why the power went, so we've just switched it off until the electricians can get back. I was in our Stockton office when that happened, deciding what to bring back from storage. I'd put loads of the furniture in storage but now I've got a swanky new shop I didn't want any of it back because it would look out of place. We've decided to have a trip to Ikea and buy everything new.
We've started to stock up the shop. The customers are very pleased, because they've really missed the shop. It's been hard for my counter assistant who's been planning what goes where and what to order, but we're getting there.
It's been tricky because we've started running out of simple things like bags, bottles and pens, so we've had to scrounge off some of our other shops until we can place an order. They've been very helpful and we're lucky to have three other branches close to us.
We're all feeling very tired and to be honest we just want to get back to normal and not have builders and tools about all the time. It feels like it's gone on for months, even though it's only been three weeks. But we're all really pleased to be working somewhere nice and safe. The pharmacy is looking amazing - so modern and much bigger. We are pretty much on deadline other than issues with the branding of pharmacy, which should be sorted out soon.
  Next week: the finished refit – and the final verdict
Click here for the Refit Diaries home page
Click here to read part 1 of the refit diaries
Click here to read part 3 of the refit diaries
Click here to read top tips for your refit