In the first of a weekly series of diary entries, pharmacist Ginny Henderson of Whitworth Pharmacy in Middlesbrough describes what it's like to work through a pharmacy refit
Week 1
Usually with refits you have an eight-week countdown to when the work starts, but we were cut down to two weeks. So we had a lot of work to do in those two weeks to clear everything out. Luckily we had a lot of help from customers, who even helped with the shelving.
The main problem was the decades' worth of junk and old invoices we've had to sort through. Because we've got such a large area and had so many different managers and owners across the years, we've had to spend weeks going through that.
The other tricky thing has been fitting everything into the remaining space. We're lucky because we've got an office in Stockton where we've been able to store a lot of the stuff. Obviously we couldn't do it while we were open, so we've had to move it all over the weekend.
We've got really good relationships with our customers. We know them all so they've understood it's been difficult for us. We've had a lot of patients and groups of kids coming round out of nosiness, to see what's going on. I think it's brilliant for the area because they've lost so much recently. They've lost the community centre and they've lost the youth club, so it's important they know we're investing in them.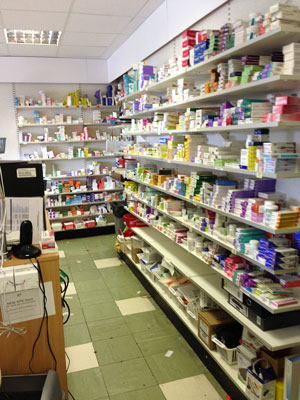 Our vision is for the pharmacy to be fresh and new. There's a lovely colour scheme and we'll have more space. Before, we had someone working out front and someone working out back. Now we're all in the dispensary together so I think communication will be better, which will hopefully filter through and make the service much better for the customers.
I hope it will bring in footfall, because the community will definitely be coming in wanting to know what's changed and whether we'll be doing anything different. It means we can take on extra services, because we'll have extra space and consultation rooms.
As a healthy living pharmacy, it's really important to have a positive image. The shop was looking old, when new pharmacies look so clinical and clean. The old consultation room was so tiny it was more like a cupboard. It was always awkward getting people in there and it sometimes put patients off from talking to me about MURs and things like that. When we have the new consultation rooms, they'll hopefully be more inclined to come in and talk to us.
Click here for the Refit Diaries home page
Click here to read part 2 of the refit diaries
Click here to read part 3 of the refit diaries
Click here to read top tips for your refit