Community pharmacy has fought to survive during a year of relentless financial hardship in 2020. Aside from the surge in demand from patients, there have been unforeseen costs for personal protective equipment (PPE), plastic shields, sourcing medicines and extra staff. These were often paid for out of pharmacy owners' pockets.
Contractors have revealed the impact of the pressures caused by the pandemic in the C+D Salary Survey 2020, which ran from which ran between October 19 and December 10. Many of an average of 45 respondents who responsed to questions aimed at contractors were despondent about their careers, citing stress from the increased workload.
High stress
All but three of the contractor respondents said they had high stress levels during the year up to October 2020, with several blaming the COVID-19 pandemic. The pressure took its toll on the physical health of pharmacy owners, with one contractor saying their working conditions had caused them to have a transient ischaemic attack that year.
Many respondents (14 out of 45) said they had worked longer than 51 hours a week. One of these said they would have been better off financially working one day a week as a locum, as they had only drawn an £8,000 salary from their business in 2020.
Almost all respondents (42 out of 44 who answered the question) said that their workload had increased over the past year, with many saying it was often unrealistic. One said they had worked 12-hour days every day due to a lack of staff. For many, there was no let-up, with most contractors (33 out of 44) saying their life was dominated by work.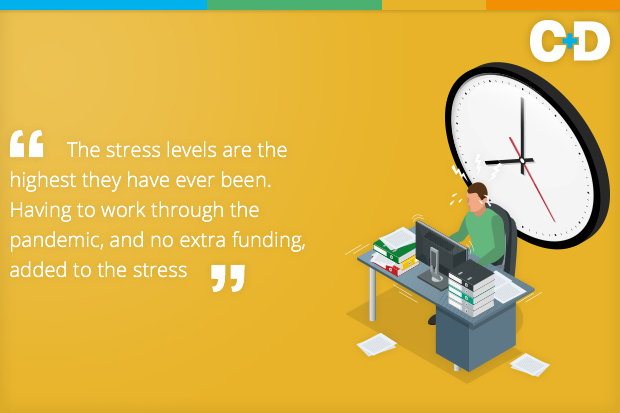 Impact on patients
The stress of contractors can damage patient safety. Half of the respondents (20 out of 41) indicated that out of the adverse effects of their working lives, stress most affected their patient care. Eleven respondents said they had reported more dispensing errors due to an increased workload.
One contractor said they were managing to keep patient care at a high level but at the cost of "taking out frustration at home".
Income pressures
Despite facing more demand from patients, many contractors have had to make cutbacks to survive. One slight financial relief may come from the Department of Health and Social Care (DH) waiving community pharmacy's obligation to pay back £370 million in advance COVID-19 funding, though the DH has not yet confirmed whether it will reclaim the money or not.
Repaying the money will come at a price for many contractors; one predicted such a requirement could have "catastrophic" consequences for the sector.
Almost half of respondents (22 out of 45) said that to be able to repay the advance funding they would have to make staff cuts, while 14 contractors said they would be forced to get a loan.
"We will have to lay off staff, increasing pressure and stress on those that remain – this will inevitably increase the likelihood of errors, putting patients at risk."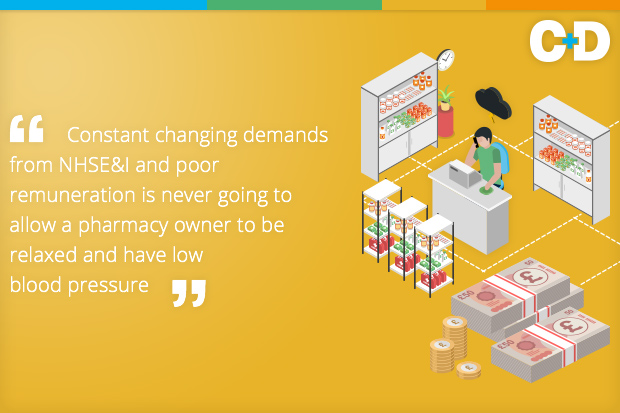 The advance payments were meant to go some way towards easing the impact of buying medicines at a loss. More than half of respondents (23 out of 39) said they lost between £1,000 and £5,000 on average every month on excessive medicine prices – though for some the losses were even higher.
Even though the pandemic has increased demand for pharmacies, almost a quarter of respondents (10 out of 41) said their pharmacy's profitability had decreased in the past 12 months by between 6-10%.
Many contractors pointed to NHS funding cuts as a source of anxiety. "Constant changing demands from NHS England and poor remuneration is never going to allow a pharmacy owner to be relaxed," one contractor wrote.
Disillusioned contractors 
Increased stress alongside a lack of funding has affected the attitudes of contractors towards their careers. More than half of respondents (23 out of 40) said they would not recommend a career in pharmacy, while over a third (17 out of 40) said that they were disillusioned with their profession and would like to sell their business.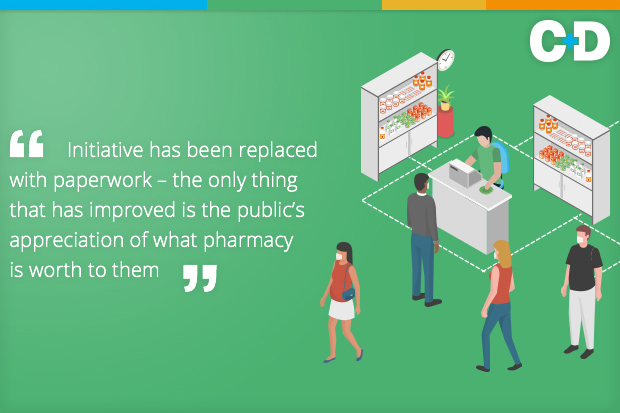 One described the pharmacy profession as "rewarding", but "getting harder and harder". Another said: "The only thing that has improved is the public's appreciation of what pharmacy is worth to them".
Another contractor suggested they would not recommend owning a pharmacy without a "significant boost to funding". A further contractor said that they had tried to discourage their son from going into the profession. Three quarters of respondents (30 out of 40) had not considered buying a new pharmacy in the past year.
Contractors have faced extraordinary pressures during a year that turned healthcare upside down. Their stress levels have rocketed as a result, pushing many to call their career in pharmacy into question. Pharmacies cannot afford to continue losing thousands of pounds a month on medicines prices. If the government continues to refuse to improve the funding for the sector, then the burden on the wellbeing of contractors and the finances of pharmacies will further destabilise the future of pharmacy.
The C+D Salary Survey 2020 – the largest UK survey of community pharmacy – ran between October 19 and December 10 and was completed by a total of 1,667 pharmacists and pharmacy staff. C+D's ongoing coverage from the survey can be found on our dedicated hub.