While the prospect of an independent Scotland dominates the headlines, the country's community pharmacy sector has been blazing its own trail for the past year. But does everyone support the route Scotland is taking?
The proposals were described as "visionary and ground-breaking". They would free  Scotland from the shackles of the norm established across the rest of the UK in a long-term strategy that proudly dared to be different. No, it wasn't the Scottish bid for independence – this was the 10-year vision for pharmacy announced nearly a year ago.
The ambitious and forward-thinking document set out plans to train all pharmacists as NHS-accredited independent prescribers, encourage patients to register with a named pharmacist and allow technicians to take on a greater dispensing role.
The proposals initially received an enthusiastic response from pharmacists and organisations including the Royal Pharmaceutical Society. But one year on, doubts have begun to surface around how the plans will be implemented and whether or not the views of contractors are being ignored. So do the Scottish government's plans still have the support of the sector?
Promoting prescribers
The attempt to transform Scotland's pharmacists into an army of independent prescribers is the most ambitious part of the plans, Community Pharmacy Scotland (CPS) chief executive Harry McQuillan (above) believes.
He is broadly supportive of the principle, which he says would help "plug the gap" in health services created by the demands of an ageing population. But Mr McQuillan says clarification is needed over who will have ultimate responsibility for a patient's prescriptions. There could be an overlap of responsibilities, particularly where pharmacists are looking after patients on repeat prescriptions as part of Scotland's chronic medication service (CMS).
"You could have a patient registered with the CMS as well as a GP practice. Who's accountable within each healthcare system? Those questions will need to be debated," Mr McQuillan told C+D in an exclusive interview in May.
Given the potential for professional overlap, you may expect GPs to be resisting the move – but this hasn't been the case so far. In fact, Mr McQuillan says time-pressured GPs are on board with increasing the number of prescribing pharmacists.
"We've had a cautious acceptance of a greater role [for pharmacists] as more people access healthcare," he says. "I can see it being a positive engagement, providing we get the responsibilities and accountabilities sorted out."
Some pharmacists, however, are more sceptical. Gordon Largue, owner of Largue Pharmacy in Aberdeenshire, backs the plans for prescriber training but warns it may alienate the older generation of pharmacists: "There's a limit to what they're going to do and if it's forced [on them] I think we'll have a wave of older people leaving [the profession]." Samantha Melrose, owner of Buchanhaven Pharmacy in Aberdeenshire, has reservations  for a different reason. She doesn't understand why anyone would turn down prescriber training, as it "adds so many more strings to your bow".
But, on a practical level, she says the government needs to brace itself for the "sheer volume" of people who would require training and ensure skills are put to good use. "I know a lot of people who have done the training and don't have an outlet," she says. "It's demoralising because the training is quite hard; it's not something you can do overnight."
Know your pharmacist
Another area provoking practical concerns is the plan to encourage patients to register with a specific pharmacist.
This is, however, not necessarily as problematic as it first appeared. Although the loose wording of the plans could be interpreted as requiring patients to interact with the same pharmacist every time, in reality it would only involve a pharmacist being nominated to oversee a patient's overall care.
"It's not to say that you need to see the same pharmacist, but you need a pharmacist in charge of your care so they can refer to the appropriate records," Mr McQuillan says.
The concept has the backing of the independents and multiples, Mr McQuillan reports, and Ms Melrose is one of those in favour. She hails the plans as a "positive step" provided the rationale is explained to patients, who aren't used to this way of working. "It would make things a lot more straightforward from a clinical point of view," she says.
A long game
Of course, it will be nine years before these aims are expected to fully materialise. It can be difficult to imagine how pharmacy will transform over this period, during which Scotland will undoubtedly go through significant political and economic changes – even if the Better Together campaign triumphs on September 18.
It is an issue that does not seem to have escaped CPS. To keep contractors and the public engaged with the plans, the negotiating body has set out a number of short-term changes designed to pave the way for a more fundamental repositioning of the pharmacist's role.
These "quick wins" – such as expanding the range of products available on the country's minor ailments scheme and commissioning a national community pharmacy flu vaccination service – could make use of pharmacists' expanding skill sets, according to Mr McQuillan.
Is he concerned the longer-term proposals will lose momentum? Mr McQuillan is adamant the answer is no. Even Scottish independence is unlikely to stall them, he believes: "The government committed to doing something in the full knowledge there was going to a referendum. I don't see them going back."
Likewise, a change in government – almost inevitable during the 10-year lifespan of the vision document – should not derail the plans. "I don't think [that's] going to change the need to have the profession more involved in healthcare," Mr McQuillan says. "There's good recognition that pharmacy can deliver health services in the community."
He is also confident that financial constraints – often cited as the main barrier to meaningful change in the health service – will not prove a death knell for the vision. "If the policy and strategy are right and bought into by people, then [the government] will find the money," he says. "Money is an enabler, but it isn't always the driver that makes things happen."
On the sidelines
But the government enthusiasm to push ahead with the plans could cause problems of its own. CPS has already clashed with the government over its failure to offer the negotiator a seat on the steering board set up to implement the changes – instead having to settle for a place on the subsidiary 'reference group'.
This refusal to recognise contractors' views at the highest level of decision-making could prevent the profession from "advancing as far as we could", warns Mr McQuillan. "It's good to have a vision, [but] at the moment, I'm not sure what the end point of that vision is," he adds.
The sector has been left in a limbo state, in which it knows change is coming but is unsure how or when it will take place. "Normally you'd have a finance plan, an implementation plan and a workplace plan to make this actually happen," Mr McQuillan says – plans that are yet to materialise. "This is the biggest change programme I've seen in my career and my experience is that it's going to take that level of planning to make happen."
Unsurprisingly, contractors share concerns over being excluded from key decisions. Contractor Karen Braithwaite of Aberlour Pharmacy in Moray was pleased to see politicians being "enthusiastic and passionate" about the 10-year strategy in a debate on the issue by the government's health and sport committee in April. "The questions MSPs were asking were really quite intelligent, which was a bit of a surprise," she says. "They recognised that we've got lots of skills that aren't being used."
But Ms Braithwaite believes pharmacy owners deserve to have a voice on the steering board – especially given their financial stake in the plans. "I'm sat here thinking about whether I can afford to get another consultation room because I'm doing so many different roles," she says. "That will be my money, so we need someone at the table."
Ms Melrose backs the argument: "Nobody can say which services [pharmacists should provide] more than the people who are actually delivering them."
As Scotland prepares for its referendum on independence, it seems many contractors feel powerless to decide their own fate. The government may have the ability to push through the changes without much input from the profession. But to truly get the sector on board, pharmacists must be allowed a say in the future of their sector as well as their country. Whether the government will recognise this, however, remains to be seen.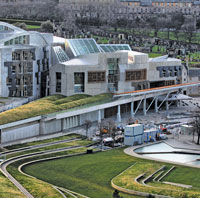 The Scottish government's plans for pharmacy: what it wants to see
● Clinical pharmacist prescribers working in partnership with patients, GPs and other prescribers
● Further development of the pharmacist's contribution to the management of common clinical conditions
● An education and training framework that helps pharmacists deliver pharmaceutical care to patients in all settings
● Development of the use of home visits, telehealth and mobile apps to respond to the needs of different age groups
● Patient registration with a named pharmacist
● Better use of the pharmacy workforce, such as technicians and assistants
● All patients receiving pharmaceutical care, including polypharmacy/medication reviews where appropriate
● National services for cardiovascular health, care of older people in care homes and at home, alcohol and substance misuse, mental health, sexual health and children
Source: Prescription for Excellence. Scottish government, 2013 .