Pharmacists can sort the facts from the fiction in the confusing world of vitamin D deficiency, C+D discovers, in the second of its series on unconventional service areas
Barely a month goes by without vitamin D supplementation being heralded as the potential solution to some health problem. It is accepted that vitamin D is linked to bone health and, for this reason, Nice has this month called for better provision of advice and supplementation. But, if the popular media is to be believed, this is just scratching the surface.
News stories have linked vitamin D with relieving asthma, lowering blood pressure, reducing the risk of multiple sclerosis and improving mental health. And that's just for starters. Evidence for vitamin D being able to relieve these conditions, however, is patchy at best
. Amid all this confusion, one thing is certain. If health professionals need help sifting robust research from vitamin D evangelism, the general public must feel even more unsure of the benefits. Whether they are overly keen to dose up on the vitamin or tempted to ignore the issue altogether, this is where pharmacy has an important contribution to make.
The basics
The pharmacist's role is often to explain the basics of vitamin D to customers. A good starting point is to establish whether they know how it gets into the body. This might sound obvious but chances are that many people think that diet is the key when, in fact, this is just half the story. Dietary sources such as oily fish, eggs and fortified fat spreads and breakfast cereals are valuable, but equally important is the production of vitamin D by the skin when it is exposed to sunlight.
This could cause confusion when coupled with the sun safety message that has been promoted over recent years, which encourages a high level of sun protection even in winter. It is up to the pharmacist, therefore, to explain the right balance between getting enough sun and protecting the skin. Sarah Leyland, National Osteoporosis Society (NOS) helpline manager and senior osteoporosis nurse, advocates short bursts of unprotected sun exposure. "Try to get ten minutes of sun exposure to bare skin, once or twice a day, taking care to never burn," she advises. This will have the most impact between 11am and 3pm from May to September, she says.
Myth busting
A review of reviews published in the British Medical Journal this year went some way to sorting out the vitamin D facts from fiction. It looked at the relationship between vitamin D and an astonishing 137 health outcomes, covering a wide range of skeletal, malignant, cardiovascular, autoimmune, infectious, metabolic and other diseases.
The study did not find highly convincing evidence of a clear role for vitamin D in any outcome – even the popular belief that vitamin D-only supplementation increases bone mineral density and can reduce the risk of fracture or falls in older people. However, it did deem there was a "probable" association between vitamin D concentrations and birth weight, dental caries in children, and parathyroid hormone concentrations in patients with chronic kidney disease requiring dialysis.
Identifying deficiency
The next step is to advise those who may be at risk of vitamin D deficiency. Vitamin D testing is available on the NHS but it's not for everyone, warns Ms Leyland. "We should really only be testing those for whom it may change their clinical care – for example, someone with bone disease who may benefit from vitamin D supplementation or somebody with symptoms that may suggest deficiency, such as widespread and long-term bone pain."
Her feelings are shared by Roger Francis, emeritus professor at Newcastle University's Institute for Ageing and Health. "You have to think about the ethical issues of testing the worried well as a way of encouraging them to pop what can often be expensive supplements," he says.
Even the definition of deficiency can prove a thorny issue, Professor Francis adds. "There is actually no universal consensus on the criteria for vitamin D deficiency but, if we accept the more extreme views of some US experts, virtually everyone in the UK is deficient," he explains.
Generally speaking, a serum level of 25-hydroxy vitamin D (25OHD) over 50nmol/l is accepted as fine, while anything below 30nmol/l indicates deficiency. But anything in between these two values is a grey area, says Professor Francis.
"Someone who works in an office all day may well have levels of vitamin D that are in this range, because of limited sunlight exposure, but experience no apparent ill effects," he tells C+D. "In contrast... in older people living in residential or nursing homes, it may contribute to bone loss, muscle weakness and an increased risk of falls and fractures."
Supplementation
So what course of action should you recommend to customers suffering from a deficiency? Supplementation is the obvious answer. But this is also a contentious issue. Newspaper headlines tend to fall into one of two categories: taking vitamin D supplements is either essential or pointless. The truth, as is often the case, lies somewhere in the middle.
According to NOS guidelines, anyone with a serum 25OHD under 30nmol/l should undergo treatment. Treatment in individuals with a serum 25OHD of 30-50nmol/l, however, is only recommended in certain patient groups, including those with osteoporosis and a raised parathyroid hormone level.
Those who do go down this route should know that not all supplements are equal. "Vitamin D3 is preferable to vitamin D2, and oral therapy is better than intramuscular," says Ms Leyland. Titrated dosing regimens are considered to be more effective than a fixed amount, she adds, although this must be tailored to the individual and loading doses may or may not be necessary.
At risk patients
Certain patients with a serum 25OHD of 30-50nmol/l may benefit from vitamin D supplementation, including those with:  
● fragility fracture, documented osteoporosis or high fracture risk ● treatment with antiresorptive medication for bone disease ● symptoms suggestive of vitamin D deficiency ● increased risk of developing vitamin D deficient in the future because of reduced sunlight exposure, religious or cultural dress code, dark skin etc ● raised parathyroid hormone level ● concurrent therapy with antiepileptic drugs or oral glucocorticoids ● conditions accosted with malabsorption
Source: NOS clinical guideline 2013
This should be considered in conjunction with the patient's other medication, Ms Leyland advises. "Pharmacists are in a great position to identify problems such as someone who is on a vitamin D supplement and also taking a high-dose cod liver oil, which could put them at risk of hypercalcaemia," she explains. "They are also the professional who patients may turn to when trying to find out which supplements are suitable for vegetarians or vegans."
Professor Francis echoes the importance of the pharmacist in this area. "An MUR is a good way to identify anything that someone has put themselves on – for example, a vitamin D supplement they have bought on the internet, the quality of which may be cause for concern," he advises. This way, pharmacists just may to be provide some clarity in the altogether confusing arena of vitamin D.
Case study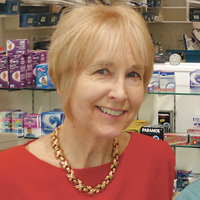 'Our private testing service has raised awareness of vitamin D' Elizabeth Roddick, New Life Pharmacy, Glasgow
It was a personal experience that prompted Ms Roddick to start offering vitamin D services. "A few years ago, I was suffering from a lot of respiratory tract infections," she recalls. "I was leading a pretty good lifestyle – eating a healthy diet and so on – and was feeling well otherwise, so I started looking for answers."
She soon came across information linking vitamin D to the immune system and paid for a private test. "When the results came back, it turned out I was severely deficient. I took fairly high doses of vitamin D for a while, and it changed my life," she says.
Ms Roddick now regularly gives talks in her pharmacy on the topic and offers a private testing service. The results are available within five days and she reviews the outcome with customers either face-to-face, on the telephone or via email if the individual is unable to return.
She believes the service is particularly relevant to the local population.  "Here in Scotland, vitamin D deficiency is a real problem because there are times of the year when the sun is hardly around and certainly not high up in the sky at midday, which is what is really needed," she explains.
While many contractors may be reluctant to set up a full vitamin D testing service, Ms Roddick believes there are key points that all pharmacists and their staff should be conveying. "Every pregnant mother should be taking vitamin D, and those who go on to breastfeed should keep taking it," she stresses. "We also need to balance the message being given out by healthcare professionals to cover up in the sun and wear SPF 50. A little bit of sun exposure is a good thing so stay in the sun until you go a little bit pink – though obviously it is important to not burn – and then cover up."  
 Find out more
• A quick aide-mémoire on vitamin D: tinyurl.com/cdvitamind1 • The chief medical officer's advice on vitamin D supplements for at-risk groups: tinyurl.com/cdvitamind2 • Information on vitamin D testing: tinyurl.com/cdvitamind3 • National Osteoporosis Society materials supporting its Sunlight Campaign: tinyurl.com/cdvitamind4 • Clinical guidelines on vitamin D and bone health: tinyurl.com/cdvitamind5