Pharmacist Ginny Henderson and superintendent Jay Badenhorst share their top tips when you are dealing with a pharmacy refit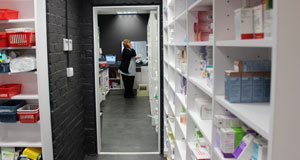 The pharmacist – Ginny Henderson
1. Be prepared for the dust
"We had a lot of asthmatic customers who we had to ask to wait outside. In future, I'd have masks available for staff and patients."
2. Get the staff onboard early
"There was a lot of weekend work and a lot of overtime, so you've got to keep them well informed. Give them plenty of notice and explain how the refit will benefit them after it's been completed."
3. Be flexible
"We planned a workflow, but it wasn't quite the same in real life as it was on the page. You might have to adapt it, especially if it wasn't quite as spacious as you thought."
4 Don't forget the functional stuff
"Plan things like bins, bags, checking points and stationery in advance. If my boss hadn't had the foresight to think of where to put it, the workflow would have been ruined for the sake of a bin cupboard."
5. Have a ruthless clearout
"Clear out as much as possible before the refit starts, but check what you have to keep legally. Also, keep whatever stock you need during the refit period. We ran out of 100ml bottles, and it made the day chaos because of that one tiny thing."
6. Keep the patients informed
"We had lots of posters up, but there were still rumours about us shutting down or becoming a Boots. So it's worth telling people what's happening in advance."
7. Plan ahead
"Get as far ahead as you can with things like the MDS tree and repeat prescription  services."
8. Let your GP know
"It might be worth telling all the surgeries so they know that if you're ordering prescriptions early, it's because you don't have enough space."
9. Keep an address book handy
"We had about five contractors and occasionally one of them would say :'Where has the electrician put this?' I could just say: 'Here's his number'."
10. Make an effort with the builders
"Make plenty of brews and make sure they feel like they're involved. You're going to be working together a lot closer than you think."
The superintendent – Jay Badenhorst
1. Sell your stock
"We were meant to have four weeks' notice before the building started, but in the end we only had two. So we put a 30 per cent reduction on all our products except medicines. The news spread like wildfire and meant everyone came to the shop and emptied the shelves for us."
2. Work together
"When the new sign was fitted, they unfortunately screwed through a wire. It meant that whenever we wanted to switch the sign on, all the electrics surged and went off. There was a lot of back-and-forth between the shopfitter and the signmaker about whose fault it was, which took six weeks to sort out. The lesson was that when people are on site together, get them to talk to each other and test everything at the same time."
3. Know your budget
"Our board thought it would cost around £90,000, but I set myself a target of £60,000. I think in total it ended up costing £70,000, but I didn't have to compromise on important things like the air conditioning, the surface finish and the high-quality flooring."
4. Get your customers involved  
 "I printed off 3D designs so people could see what it would look like and that really got them talking. We used one of the bare walls as a graffiti wall so customers could come in and write messages on it, and that also kept them engaged. A lot of the people who wrote on the wall and looked at the pictures came back for the opening, because they wanted to see if the finished result looked like the plans."
5. Tender out the refit
"You can save a hell of a lot of money. Get the specs you want, get the plans drawn up by architects and then put it out to tender to all of the shopfitters you can get in contact with. The difference between the cheapest and the most expensive quote I received was £60,000.
Click here for the Refit Diaries home page
Click here to read part 1 of the refit diaries
Click here to read part 2 of the refit diaries
Click here to read part 3 of the refit diaries