A bad night's sleep can ruin anyone's day, and leave many of us feeling groggy or irritable. So when a patient recently asked to buy some sleeping tablets, I instinctively launched into my WWHAM questions (who is the patient, what are the symptoms, how long have the symptoms been present, what action has been taken, what medication has been taken). To which the patient seemed a slightly taken back, responding: "I only wanted something to help me sleep."
After an in-depth conversation, I established that despite experiencing difficulties sleeping for several months, the only remedy the patient had attempted was a warm drink at night, in particular a milky cup of tea.
I asked them to describe their "sleep hygiene", to which the response was: "No, I shower in the morning." I went on to describe the concept of sleep hygiene, followed by several tips and techniques he could adopt to potentially help improve his sleep.
What is sleep hygiene?
Sleep hygiene is the recommended practice – both behavioural and environmental – undertaken in order to promote better quality sleep. Although medicinal treatment – either prescribed or over-the-counter – can be hugely beneficial for some patients, you should first encourage them to adopt better sleep hygiene.
By recommending the following list of do's and don'ts to patients, you should be able to help them have a better, and more restful, night's sleep.
Do
encourage patients to take regular exercise – but stress they should not attempt this less than four hours before sleeping
maintain a routine for both waking and sleeping
ensure the bedroom is dark and quiet
consider the bed to be a place where only sleep occurs
try to maintain natural exposure to daylight, as this will help preserve the circadian rhythm – the internal system designed to regulate feelings of sleepiness and wakefulness over a 24-hour period.
Don't
sleep or take naps throughout the day
consume caffeine (coke, diet coke, tea, or coffee) within four hours of bedtime
smoke before bed – as nicotine acts as a stimulant, making sleeping more difficult
lie awake in bed – if a person has not fallen asleep within 30 minutes of going to bed, they should get up and do something else for a short time, eg walk around the house or read in an upright position
allow the bedroom to get too hot or cold
conduct strenuous mental activity before bed, such as completing work or studying
Scroll through their phone or tablet before bed.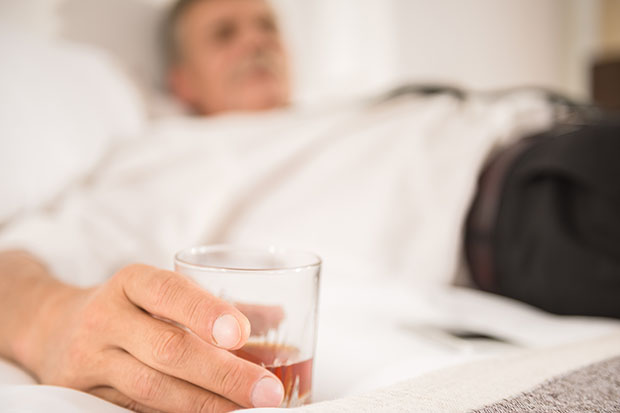 Low to moderate amounts of alcohol may aid sleep in some people; however, this should not be recommended. Alcohol can disturb the quality of sleep, meaning that a full night of sleep may still leave a person feeling fatigued.
Following up with the patient
If a patient is not a regular visitor to your pharmacy, it may not be easy to follow up with them about how their sleep hygiene is progressing. A possible solution is to set a reminder to call the patient at a pre-arranged future date, to check if their sleep pattern has improved.
For regular patients, it may be worth adding a note on their patient medication record indicating you have had the conversation about sleep, as this could help you – or another pharmacist – make a decision on future treatment, which may include over-the-counter sleeping aids.
For more information on sleep
Read the NHS Choices self-help tips on insomnia
Find out more about the reasons people can't sleep and the recommendations for treatment in C+D's CPD module on sleep
Read about how to cope with sleep problems on the Mind website
Sponsored: Sanofi launches Phenergan Night Time insomnia treatment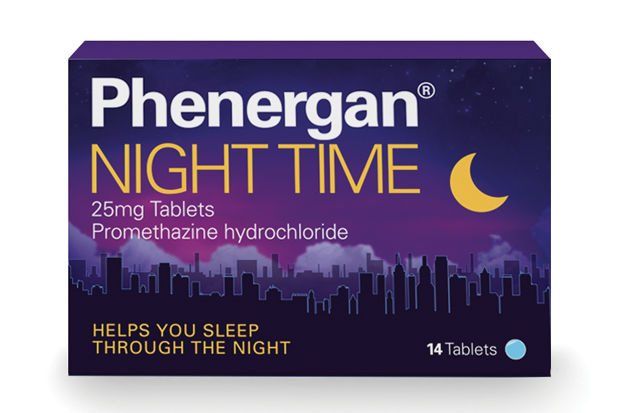 Manufacturer Sanofi has launched Phenergan Night Time for the short-term treatment of insomnia in adults.
The pharmacy-only product contains the active ingredient promethazine hydrochloride, which blocks the action of histamine in the brain, "helping you drift off to sleep", Sanofi says.
Promethazine has been used as a sedative for insomnia for "over 50 years" and "can start work within 20 minutes", the manufacturer says.
"Phenergan Night Time presents a great opportunity for pharmacists. We will be supporting them with training and point-of-sale materials throughout the launch period," according to a Sanofi spokesperson.
The launch will also be supported by a "comprehensive public relations, advertising and digital campaign, including a new website", the manufacturer adds.
Phenergan Night Time retails at £4.79 for 14 25mg tablets.
To order, contact Ceuta Healthcare on 01202 780558