For a medicine to be considered safe, its expected benefits should outweigh any associated risks of harmful reactions. All medicines undergo safety and efficacy checks in clinical trials before they come onto the market. However, this does not necessarily mean a medicine is safe, because the conditions in a trial are often controlled and do not necessarily reflect the range of variants seen in real life.
It is therefore essential that medicines are monitored throughout their marketed life – a process known as pharmacovigilance. This helps uncover previously unrecognised adverse effects, provides healthcare professionals with up-to-date information and prevents future harm to patients.
What is yellow card reporting?
The yellow card scheme is designed to act as an "early warning system" for the identification of unrecognised adverse drug reactions, according to the Medicines and Healthcare products Regulatory Agency (MHRA), which oversees it.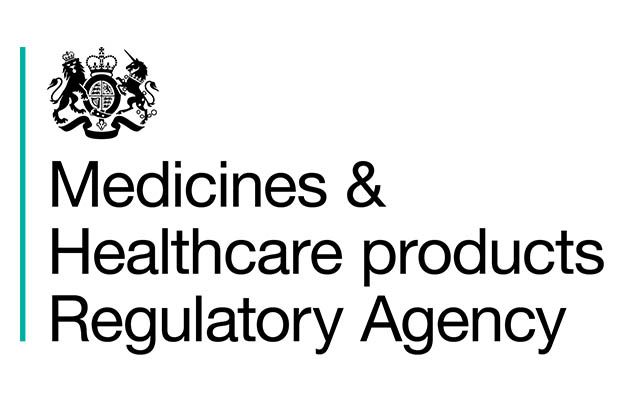 A yellow card report contains a host of information, including: the route of a reported drug's administration and dosing frequency, and the seriousness and outcome of the reaction (for more on this, download the MHRA's yellow card document here).
This information is evaluated by the MHRA's drug safety experts, who determine whether action needs to be taken. For example, if the "risks are considered to outweigh the benefits" of a product, then it may be taken off the market, the MHRA explains.
The agency stresses to C+D that pharmacy's contribution to detecting new concerns via the scheme is "immensely valuable."
Are pharmacists submitting yellow card reports?
Overall reporting from pharmacy (hospital, community, pre-registration pharmacists and pharmacy assistants combined) has increased 113% over the past five years. This equates to an additional 3,657 reports for suspected adverse reactions, the MHRA tells C+D.
Community pharmacy reporting has increased by 57% over the same period, to a total of 1,583 reports in 2017, although this still lags behind the 3,419 reports submitted from hospital pharmacy.
GPs reported the highest number of reactions to the yellow card scheme – 6,539 – accounting for 30% of all reports submitted by healthcare professionals last year.
How does the MHRA view the level of reporting among pharmacies?
The MHRA says that "the pharmacy team is in a unique position, through their interactions with patients, to support them by providing expert advice on the safe use of medicines". However, it recognises that under-reporting is an issue.
It stresses that reporting is "part of a pharmacist's and their team's responsibility" in order to improve patient safety, and the agency "is keen to further improve reporting" from this group.
What are the barriers to reporting?
Of 97 community pharmacists who told C+D they had identified an issue related to an adverse reaction, but not reported it, almost half (47%) cited "workplace pressures/insufficient time to fill out the report during working hours" as reasons for not reporting.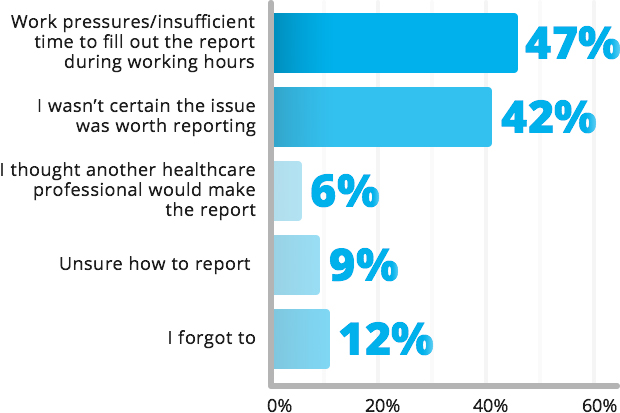 Note: Pharmacists were able to select multiple responses to this question
Forty-two per cent said they "weren't certain the issue was worth reporting", while 12% said they also "forgot to" report the issue.
According to the MHRA, reporting rates are "likely to be influenced by the seriousness of the reaction, their ease of recognition and publicity about the medicine".
As under-reporting is less of a problem with "serious" reactions and those not previously recorded in the product information, this barrier "does not detract from the ability to identify new and important drug safety signals", it argues.
The easier it is to report an issue, the more likely a healthcare professional will do so, the MHRA explains. This has led it to "focus on electronic reporting", for example, by designing its website to make it easier to report, and creating a yellow card app for Apple and Android phones.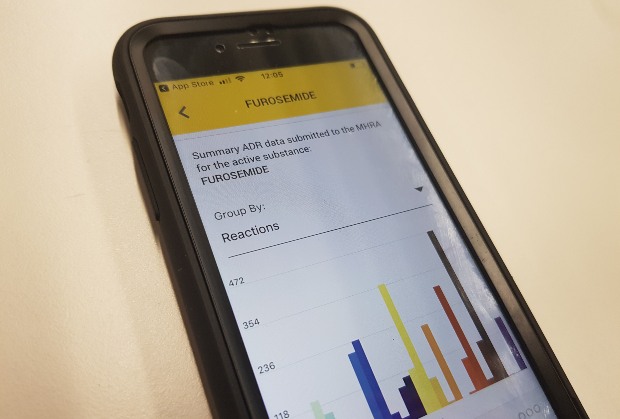 In addition to the app and online submission portal, there are several other tools for submitting errors. Well superintendent Janice Perkins – who is also chair of the Community Pharmacy Patient Safety Group – explains to C+D that an upcoming National Reporting and Learning System tool will have yellow card reporting incorporated into it.
"Anything that means [pharmacists have] got to go to different places" to share information is "unhelpful", and the addition of these resources will help "remove one of the potential barriers", she says.
C+D's poll – conducted in August-September 2018 – also highlighted that some community pharmacists do not feel confident in their knowledge of what should be reported. Ms Perkins insists that "nobody is going to judge [or] challenge you" on what you report, and that MHRA guidance does not indicate a "right or a wrong". If an issue "concerns you, you should report it", she says.
How can pharmacy staff submit yellow card reports?
Pharmacy teams have a number of avenues to submit a yellow card report, including the online tool, the app, or the yellow cards in the British National Formulary (BNF).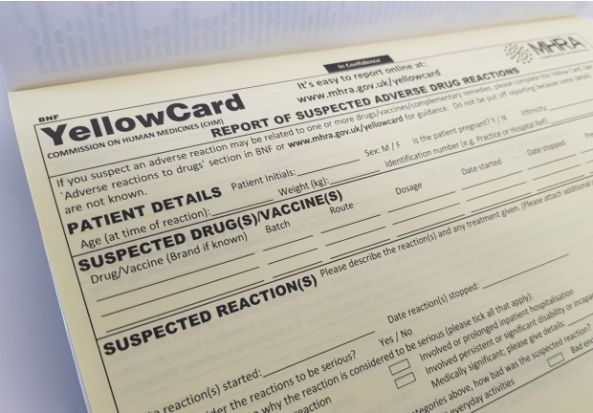 As pharmacists and their staff interact with patients on a daily basis, they have many opportunities to ask about side effects or other issues patients are facing. Ms Perkins highlights advanced pharmacy services as opportunities to engage with patients, and recommends a follow-up phone call as part of the new medicine service (NMS), or discussions as part of a medicines use review (MUR).
As well as improving the level of reporting, this is also a "great opportunity to raise awareness of what pharmacists can do", Ms Perkins says.
Pharmacists who have yet to report should not "feel as if there is something wrong with them", but instead need to feel empowered to start reporting to make future reports. Simple things, such as having yellow cards visible "somewhere near you" in the pharmacy, may help remind you and your team, Ms Perkins adds.
Read more tips on what pharmacy staff can do to improve yellow card reporting in Ms Perkins' blog.
What should be reported?
The MHRA states that for "established medicines, only serious, medically significant reactions or those that result in harm" should be reported.
Serious reactions are defined in the MHRA's medical dictionary. They include reactions where:
the patient died due to a reaction
a patient's life was threatened
a reaction resulted in hospitalisation or prolonged their hospital stay
a congenital abnormality occurred
a reaction involved persistent or significant disability or incapacity.
However, "if you are in any doubt as to whether a reaction is serious, then err on the side of caution and report it".
The MHRA explains that many healthcare professionals consider reactions as "non-serious", even when they "meet the criteria of a serious reaction". A severe reaction does not need to be life-threatening or disabling, but can be one that "seriously" affects the individual, it points out. It gives the example of headaches that are not "normally" serious, but may be very severe and should therefore be reported.
As the BNF lists a vast array of side effects, pharmacists and their teams often believe that there is no need to report a previously recorded adverse drug reaction. However, although the MHRA stresses the importance of reporting all reactions, as it allows the regulator to gain information on their frequency in practice – information that it feeds back into the product's safety profile.
This means pharmacists should not be concerned about reporting incorrectly, as the MHRA is more concerned by "under-reporting, not over-reporting".
The watchdog explains that the information it gathers allows it to "compare medicines in the same therapeutic class", providing greater detail of their relative safety. For example, through gathering yellow card information on various non-steroidal anti-inflammatory drugs, it was able to determine that ibuprofen is associated with the lowest risk of gastrointestinal reactions.
What does the MHRA want you to submit?
The MHRA this week announced it was particularly interested in receiving yellow card reports of suspected adverse drug reactions in the following patient groups and medicines:
children
over-65s
biological medicines and vaccines
reactions associated with delayed drug effects and interactions
complementary remedies.
In addition, the MHRA is on a mission to increase all reports associated with newer drugs and vaccines (which display the black triangle▼ symbol) and dispensing errors. If you are in doubt whether there is a need to report, then you should complete a yellow card anyway, the MHRA asks.