The number of daily COVID-19 cases in Wales peaked over the last week, according to Public Health Wales. This happened despite a 17-day 'firebreak' lockdown starting on October 27. Pharmacies throughout the country have remained open throughout the fluctuating restriction during a pandemic that has left pharmacy staff exhausted but functioning.
Russell Goodway, chief executive of Community Pharmacy Wales (CPW), says that community pharmacy was in a better position for the most recent lockdown than it was for the first one in March because they had staffing and systems to handle the surge in patient demand. 
"To some extent, pharmacies were OK because they hadn't really returned to the pre-pandemic situation in terms of staffing levels.
"Most of them kept staff on because footfall in pharmacy hadn't significantly reduced since the first lockdown ended. A significant number of patients continue to go to pharmacy as a first port of call."
In the first lockdown, the stockpiling of medicines placed a huge pressure on supply chains. Before the firebreak, CPW was keen to counteract panic-induced demand as much as possible.
"We asked the Welsh government to issue a public information statement. We have had quite good communication about not needing to worry about getting your medicines."
A £15k funding shortfall
Nathan Raymond, director of Mendus Pharmacy in Pembroke, south west Wales, says pharmacy anticipation marked a key difference between the lockdowns.
"Last time, it was the shock factor and no one knew how to handle it," says Mr Raymond (pictured below with his team), who won the C+D Pharmacy Design Award 2019. "Prescription volume went through the roof overnight, we were selling out of everything. This time it's been a bit like the prelude to Christmas."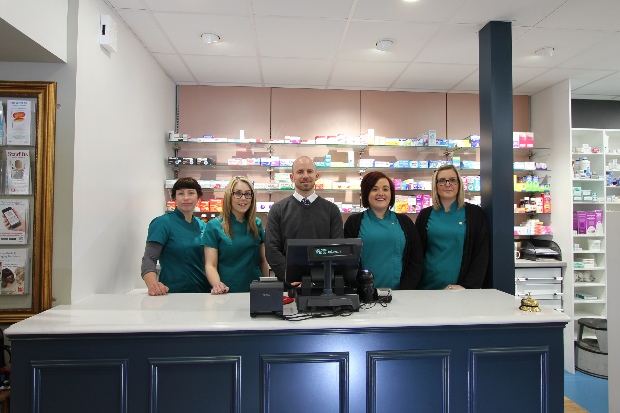 During the first lockdown, Mr Raymond had cash flow problems despite working harder than ever before. "There was a shortfall of around £10,000-£15,000. You think: 'I've done all this work and I'm here until 11pm, coming in on weekends and I'm out of pocket.'"
Although his finances have improved since then, he remains concerned about returning an advance payment to the government. Welsh pharmacies received approximately £50 million in the spring to ease their cash flow but the money will have to be repaid.
In a plea for more funding, Mr Raymond has sent negotiators a spreadsheet with his bills for more medicine, staffing and deliveries to reveal the full cost of the pandemic to his business.
"There has to be some sort of recognition of the extra costs that have been incurred and that needs to happen promptly. We're now in a second wave, we can't just function on goodwill."
"Cost pressures will get worse"
To add insult to injury, Mr Goodway says the efforts of community pharmacy have not been recognised – despite teams putting their wellbeing at risk. "There is an element of fear because the doors are open and people can come in.
"In some dispensaries, social distancing has been impossible. Patients were coming in and not knowing whether they had COVID-19 symptoms. Pharmacy teams felt they had gone over the call of duty and that hasn't been recognised.
"We're in negotiations with the Welsh government on meeting the additional costs incurred during the first lockdown.
"We anticipate additional cost pressures will continue and get worse. We will continue to monitor these and ensure we share them with the Welsh government. It's trying to maintain business as usual in what is an extremely pressured climate."
Mr Goodway says pharmacies ramped up their home delivery services, but some are now having to limit them. At Mendus Pharmacy, Mr Raymond says the team are doing double the usual number of deliveries, at around 60 a day. Nevertheless, this marks a reduction from a high of 70-80 daily deliveries during the first lockdown.
The pandemic has forced the team to get more organised with their medicine delivery service, Mr Raymond says. "Now we only do certain areas on certain days, which was a necessary move in our rural area – some deliveries are 15 or 16 miles away. We're a bit more joined up now."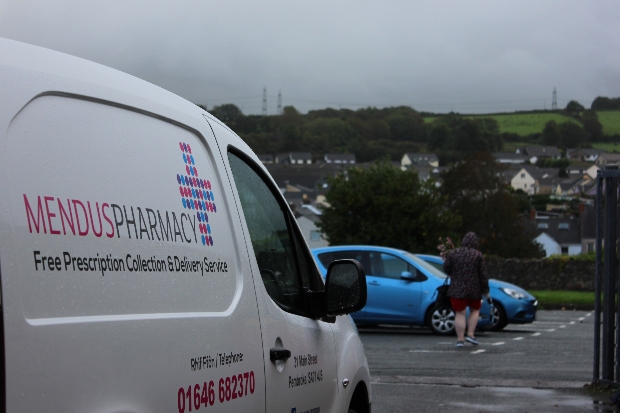 Back in the height of the first wave, people cut through from one side of the pharmacy to the other through a back door, creating stressful congestion.
Patients have become better at giving one another space to socially distance. "We're a lot more comfortable and relaxed," says Mr Raymond. The back entrance is now exclusively used for the numerous patients wanting a flu vaccine.
"We have been doing non-stop flu jabs, we could have been doing them in the thousands with the interest we have had." This winter the team delivered the entire volume administered last season, 450 vaccinations, in a fortnight.
The extra work is taking its toll, says Mr Raymond. "We have a very good group of staff and people are OK, but they are exhausted. I've probably had two days off since February, staff aren't able to take annual leave other than the odd day here or there."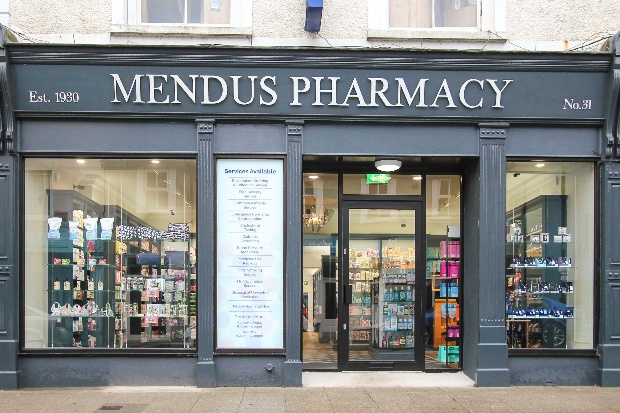 Mr Raymond is uncertain when life will return to normal. "There's hope with the vaccine but a lot of people have promoted that as a miracle cure – it doesn't really work like that."
"There is a lot of frustration among patients and we bear the brunt of that, but that's part of the job."