The arrival of colder weather signals the start of pharmacy's busiest season. As sneezes, sore heads and coughs rear their heads, community pharmacies become a key destination for winter remedies. 
It's a category that warrants investment from pharmacy businesses – worth nearly £302 million over the past year and growing at a rate of 12%, according to market research company Kantar Worldpanel. What's more, pharmacies have grown their sales faster than their supermarket competitors. 
So how can pharmacies keep this growth going? The answer lies in capitalising on strengths and opportunities, as well as addressing weaknesses and threats.
 
£113m

Value of the winter remedies category to pharmacy

38%

Increase in sales of cold treatments in pharmacies last year

48%

Share of the market held by the big four supermarkets
Strengths: Growing role and cold remedies
Pharmacy has registered an impressive 24% growth in winter remedy sales over the past year – double the market average. This took pharmacies' income from winter remedies to a total of £113m, which represents a 38% slice of the total category. Kantar Worldpanel attributes this "really successful season" largely to an increase in the frequency of shopper visits to pharmacy.
The trend could be down to pharmacy's increasing advice role. Last winter saw the launch of NHS England's Feeling under the weather campaign, which encouraged patients – especially the elderly – to visit their pharmacy rather than their GP for minor ailments, including colds and flu. 
Terry Maguire, owner of Maguire's Pharmacies in Belfast, says pharmacists should play to this strength by taking time to discuss symptoms and offering more advice on self-care. He believes pharmacists are "missing a trick as a profession, and not getting behind this category forcefully enough". "We need to keep this ground for ourselves, and should be managing conditions such as coughs and colds," he says. 
Cathy Crossthwaite, Numark's marketing co-ordinator, agrees that this advice role is vital to cement winter remedies as a "flagship" category for pharmacy. "There are so many types of cold and flu virus, customers often find it difficult to ensure they are choosing the most appropriate products without preliminary advice," she says. Offering help can ensure they receive relief and, in turn, drive sales. 
It is also important to capitalise on products that perform particularly well in the sector. Pharmacy secured double-digit growth in all of the winter remedies sub-categories last year: cold treatments, cough and throat lozenges, cough liquids and decongestants. But cold treatments marked a particularly strong area, with sales growth of 38%. This means they now account for a quarter of pharmacy's total winter remedies sales. 
This should be reflected in stock choices. Numark's Ms Crossthwaite says it is "imperative" to stock your pharmacy appropriately and to give "the lion's share of space to medicines". Now is the perfect time to prepare – more than 60% of sales for cold and flu medicines will take place in November, December, January and February, she says.
 
The 4 types of winter remedies customer
Numark's marketing co-ordinator Cathy Crossthwaite outlines the main categories of customer looking for cold and flu treatment


Young children
Parents of young children with colds or flu will often be concerned about temperature control. In these cases, you could recommend children's medicines such as Calpol, which can help to control the fever. Cold and flu medicines can relieve the symptoms. For convenience, pharmacists can create a dedicated range specifically for children so customers can pick out all necessary products from a single bay.

Parents
​Similarly to professionals, parents can't afford to take time off, so require non-drowsy, quick-fix treatments. Suggest tissues and antibacterial gel as an add-on to help them avoid passing the illness onto their children.

The busy professional
​These customers want a quick fix. They require instant relief from symptoms and non-drowsy treatments to allow them to continue with their busy schedules. These customers are a perfect opportunity to promote private flu vaccinations. Colds and flu only hold them back from their daily tasks, and you can help them to avoid this outcome altogether.

The elderly
​These customers may suffer more severely from colds and flu than other age groups, and are more likely to purchase products throughout the year. Flu and fevers can sometimes be an underlying symptom of a more serious illness, so it is important to know when a patient needs referring to their GP.
Weaknesses: Lack of space
Choosing stock can be difficult when shelf space is limited. Space is always a weakness in pharmacy, but this is particularly noticeable in the winter remedies category, given the numerous products available. Kate Higgins, buyer at Well, says it is difficult to compete with the large supermarkets, "which have large fixtures to offer bigger ranges and choice".
Numark's Ms Crossthwaite recommends displaying leading brands at the top of the winter remedies shelf to signpost people to the category. Benylin, Covonia and Lemsip are the top three performing brands in pharmacy, and Ms Crossthwaite also mentions Beechams and Actifed as strong sellers. 
Rather than overcrowding your fixture, she recommends stocking the brand leader with one value offering – such as own-brand – to offer customers variety.
It is also important to make the most of space behind the counter. Ms Crossthwaite says Day and Night Nurse products are an important part of the P-medicines category, so should be displayed at the top of the fixture, in a place that is easy for customers to see.
 
Opportunities: Advertising and new products
As winter approaches, manufacturers of colds and flu products will start investing in advertising. This could not only raise customer awareness, but also boost demand.
Craig Shaw, category marketing director at Reckitt Benckiser UK, says the manufacturer has ambitious plans to promote its "trusted brands" such as Lemsip, Nurofen and Strepsils this winter. 
"We will be launching our biggest ever consumer marketing campaign with all our cold and flu brands on TV throughout the season," he reveals. The brands have already shown strong growth, Mr Shaw says – Lemsip has shown growth of 13% season on season, and the Strepsils Extra range grew by more than 17% last winter.
There are also new product developments on the way. This month, Reckitt Benckiser will launch the Nurofen Sinus range, which comprises two new products specifically targeted at relieving sinus pain and nasal congestion (see Featured products, right). The new range will be supported by a £4m promotional campaign that is set to run from October until January.
It is also worth being aware of other new products. Fisherman's Friend is performing well, with its Honey & Lemon launch last year helping to drive a 19% uplift in value sales through pharmacy. Olbus has also introduced a Max Strength all-in-one remedy to its range this season.
And Kantar Worldpanel says the launch of natural cough remedy Bronchostop last year was a success – attracting 1.2 million shoppers, which is "far more" than any other recent launch.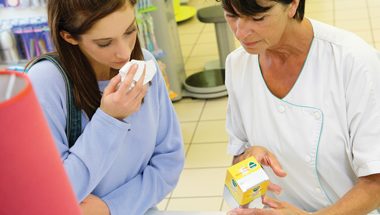 Threats: Bargain stores
As with all categories, the ease and competitive pricing of general retailers can pose a threat. Winter remedies is no exception to this dilemma – the big four supermarkets account for 48% of the category and their sales are growing, even if not as fast as in pharmacy. But it appears bargain stores are even more of a threat in the category. Kantar Worldpanel says they experienced "double-digit growth" and "strong shopper gains" last year – and now have a higher shopper share than Superdrug, Morrison's or Sainsbury's. 
The only way to counter this is to focus on the unique selling points of pharmacy. This not only includes pharmacy-only products such as Day and Night Nurse, but also services. In fact, the launch of the national flu vaccination service this winter could prove a major plus point for pharmacy. 
Ms Crossthwaite points out this could be extended to a private service. "There is much scope for running a private vaccination service because there are many people who do not fall into an at-risk category and are therefore not eligible to receive a free vaccination, but still wish to protect themselves," she says. Local businesses may also be keen to protect their staff and willing to pay for a private pharmacy service, she points out. 
All in all, succeeding in this category relies on understanding the customer (see The 4 types of winter remedies customer, p24) and catering for their needs. If pharmacies can prove themselves reliable and helpful with strong unique selling points, there is no reason why their strong growth in this category can't continue. 
 
What can I recommend for a child's cold?
A customer wants advice on how to treat their child's cold symptoms. What should you advise?

Leyla Hannbeck
Head of pharmacy services, NPA 
"You should start by finding out the age of the child and using the WWHAM questioning technique – Who is the patient, What are the symptoms, How long have the symptoms been present, Action taken and Medication being taken. 
"The main symptoms of a cold include a blocked or runny nose, sneezing, coughing, sore throat, hoarse voice and a general sense of feeling unwell. Symptoms are usually at their worst during the first two to three days of illness, before they gradually start to improve. The child may also have a raised temperature.
"You should advise the customer that most colds are self-limiting and will clear up on their own. You could recommend increasing the amount of fluid that the child drinks because, if the child has a fever and does not drink enough fluid, this could lead to dehydration. If the child has symptoms such as a fever or aches and pains, depending on the age of the child, a liquid paracetamol or ibuprofen preparation may help if appropriate (as long as they are not taking any other preparations containing these products and the instructions on the product packaging are followed). 
"Taking ibuprofen and paracetamol at the same time is not usually necessary for a cold and should be avoided in children. However, if the child remains distressed before the next dose of paracetamol or ibuprofen, the customer may wish to give the other medicine later.
"For babies and young children, saline nose drops may help relieve a blocked nose. 
"If the child has any of the following symptoms, they should be referred to the GP:
• a raised temperature (39⁰C or above if child is between three and six months or 38⁰C or above if under three months old)
• breathing difficulties
• severe earache
• chest pain or are coughing up bloodstained phlegm
• a persistent or severely sore throat.
 
"The child should also be referred if symptoms persist longer than three weeks, seem to be getting worse or if any other worrying symptoms develop."
*Unless otherwise specified, all quoted data is provided by Kantar Worldpanel (52 weeks to July 19, 2015)