As the nation revels in the season of overindulgence, community pharmacists will be on hand to ease the aches and pains of Christmas excesses.
With GP surgeries and health centres closed over the holidays, community pharmacists' role in ensuring patients stay healthy will be even more vital during the festive period.
This means checking patients have an adequate supply of their repeat prescriptions to see them into 2017. But it can also involve advertising your pharmacy as the ideal place to do some healthcare shopping for those last-minute seasonal essentials. 
With food and drink flowing, make sure to use C+D's guide to prepare for the Christmas rush of digestive ailments – and boost your seasonal sales in the process.
Tummy trouble
According to consumer analysts Kantar Worldpanel, the indigestion and stomach upset market has experienced accelerated growth this year, with 175,000 more shoppers buying into the category than the same period in 2015. 
Moreover, the average price shoppers pay for such products is now £3.19, an 18p rise since last year. Kantar attributes this "price hike" to one brand: Nexium (esomeprazole), a proton-pump inhibitor that reduces stomach acid. This is good news for pharmacies – a key channel for Nexium – which have a 21% share of the indigestion and upset stomach remedy market – and growing.
Gaviscon and Rennie continue to dominate the market, with a 54% share between them, according to Kantar. Both of these brands have achieved value and volume growth this year, it points out.
According to a report on digestive remedies released by analysts Euromonitor in September, the Reckitt Benckiser group remains the leader in this market in 2016, with a 34% value share which the analysts attributed to the popularity of Gaviscon. Gaviscon Dual Relief in particular, which tackles the symptoms of both heartburn and indigestion, is attractive to a wide consumer group "who are not sure of what specific problem they have with their stomach, and go for something less specific". Euromonitor also highlighted some patients' preference "for a well-known brand that is always present in the media".
As Lloydspharmacist Steph Pacey points out: "The most common digestive illness patients present with during the festive season is indigestion. Over the festive period we all tend to overindulge – be that drinking more alcohol, eating richer foods higher in fat, or skipping meals to fit in last-minute Christmas shopping. These alterations to our usual routine can be disruptive on our digestive health."
Ms Pacey says that a sudden change in diet can be the simplest explanation of digestive complaints. "For some patients, all they need is reassurance."
But she adds: "Community pharmacists should be in a position to offer initial and ongoing help for people with symptoms of dyspepsia; this includes advice about lifestyle changes, using over-the-counter (OTC) medication as self-help measures, support with prescribed medication, and advice about when to consult a GP."
Food poisoning
For some unfortunate patients, food poisoning may dampen their sense of Christmas cheer.
While self-limiting conditions can be treated at home without seeking medical advice, for those patients vulnerable to dehydration – such as the elderly – pharmacists can recommend the use of an oral rehydration solution.
When it comes to the winter vomiting bug, novovirus, there is no specific cure, so the condition is usually left to run its course. You should remind patients that they should stay at home for at least 48 hours, until the symptoms have passed, and avoid visiting their GP – although they can phone them if they are concerned. 
You should suggest patients call their doctor if they are suffering from severe dehydration, are only passing small amounts of urine or no urine at all, have reduced consciousness, or if their diarrhoea is bloody.
Beat the bloat
Some patients will come to the pharmacy complaining of bloating, which you should investigate further. 
Irritable bowel syndrome (IBS) is an increasingly common diagnosis – the National Institute for health and Care Excellence (Nice) estimates that IBS "affects between 10% and 20% of the general population". 
Consequently, says Euromonitor: "This category is expected to pose growing competition to many other categories within digestive remedies". Its own data shows that sales of IBS treatments have been rising steadily year on year, reaching £9.9 million in 2016.
Ms Pacey says: "IBS's incidence and prevalence varies depending on diagnostic criteria, but… the condition can have a significant negative impact on the patient's quality of life."
Common symptoms of IBS include abdominal pain, cramps, bloating and excessive wind. Nice's guidance recommends that healthcare professionals should consider recommending an assessment for IBS if a patient has had symptoms of abdominal pain, bloating or a change in bowel habits for at least six months.
You can help patients by asking them how long they have been suffering with such symptoms. OTC remedies, such as Buscopan, may be suitable, and patients can also be encouraged to keep a food diary to assess whether any particular foods are acting as triggers.
IBS can sometimes be an indicator of coeliac disease. According to charity Coeliac UK, one in four people with coeliac disease have been treated for IBS prior to being diagnosed with the disease.
This autoimmune condition is caused by a reaction to gluten – although there is a misconception that it is a food allergy or an intolerance.  If someone with coeliac disease accidentally eats gluten, damage to the gut lining occurs and they are "likely to be unwell within a few hours", according to Coeliac UK. 
Coeliac disease affects at least 1% of the UK's population. However, only about 25% of people with the condition are clinically diagnosed.
Coeliac UK director of policy, research and campaigns Norma McGough says: "Symptoms of coeliac disease range from mild to severe and can vary between individuals. [They] can include bloating, diarrhoea, nausea, wind, constipation, tiredness, anaemia, mouth ulcers, sudden or unexpected weight loss and skin rashes."
Pharmacists can help coeliac patients by making sure they are stocked up with prescription gluten-free food to see them through the Christmas period. Gluten-free food provider Juvela offers useful resources for pharmacists and their patients, as well as ideas for seasonal, gluten-free recipes.
A burning sensation
Heartburn caused by gastro-oesophageal reflux disease, in which stomach acid leaks up into the oesophagus, is another common complaint during the festival season.
Dr Anton Emmanuel, of the British Society of Gastroenterology, says: "The main presentations [at this time of year] are around reflux and bowel dysfunction. In terms of reflux, there are often conservative things patients can do without having to take medications, which may help."
These self-help measures could involve eating smaller meals more frequently, and avoiding food and drink that triggers reflux.
Dr Emmanuel advises pharmacists to identify "patients who are potentially reflux sufferers, by their consumption of antacids, as well as identifying patients who are taking a lot of non-steroidals".
While he concedes that the festive season may be associated with consuming as much food and drink as possible, "some people may find that they can't swallow – that's important [to take notice of]". 
A difficulty swallowing could be a sign of dysphagia – which has symptoms including coughing or choking when eating or drinking, and a sensation of food being stuck in the throat or chest. 
Dysphagia is usually caused by another health condition, such as a stroke, dementia, mouth cancer or oesophageal cancer. It is therefore essential for pharmacists to refer patients to a GP for further investigation.
Pay attention
Over the Christmas period – and indeed all year round – pharmacists can add value to what they sell through their medicines expertise and the attention they pay to their patients.
"Pharmacists can stand out from the competition by offering a personalised service to patients," says Ms Pacey, "selecting treatments that suit their needs, and providing them with a plan for managing symptoms long-term to ensure they feel reassured throughout the festive season."
Taking time to assess what your patients would benefit from, and thinking ahead to make sure they have their medicines cupboards fully stocked, is essential.
Ms Pacey adds: "Getting to know your patients means you can boost sales over the Christmas period by anticipating their needs and suggesting they have appropriate remedies and treatment strategies available for the morning after the Christmas party, or when the family come to visit."
If one of your patients imbibed one too many cups of mulled wine at that Christmas party, there is – sadly – no such thing as a hangover cure. In the case of such alcoholic excess, the best course of action is reassurance, paracetamol and plenty of fluids.
Ensuring your knowledge of these common seasonal ailments – and their treatments – is up to date, guarantees your pharmacy team will be recognised as the Christmas holiday heroes they are.
How can you boost sales across the festive season and into New Year?
Leyla Hannbeck, chief pharmacist, National Pharmacy Association
Food and drink play an important role in Christmas and New Year festivities. As New Year is also regarded as a time for making resolutions, pharmacies can take this opportunity to encourage customers to adopt a healthier lifestyle, raise awareness of how food and drink consumption may affect prescribed medication, and educate customers on dealing with digestive system symptoms. 
Lifestyle advice on diet and exercise may be given at the point of making over-the-counter (OTC) remedy sales. Furthermore, staff can help educate customers on avoiding sugary snacks and preventing food poisoning, by avoiding cross-contamination between raw and ready-to-eat foods. 
Certain medicines have documented interactions with the food or drink enjoyed more frequently during this season. For example, warfarin interacts with cranberry juice and green leafy vegetables including brussels sprouts, while verapamil interacts with grapefruit juice.
A patient's medical condition is also of importance – for example, diabetes requires monitoring of food and drink intake.
Additionally, the risks of alcohol consumption with low-dose methotrexate should be considered, due to the potential for liver damage.
A number of OTC products can be recommended for customers presenting with digestive issues such as bloating, constipation, diarrhoea and heartburn. However, thorough questioning is advised, because some symptoms may be due to incorrect OTC product administration – for example, ibuprofen taken on an empty stomach to treat a hangover may cause an upset stomach.
When questioning patients, it's useful to use the WWHAM mnemonic: Who is the medicine for? What are the symptoms? How long has the patient had the symptoms? What action has been taken already? Are they taking any other medication?
The festive season may see more alcohol consumption, leading to dehydration, which increases digestive issues and the risk of side effects from existing medicines. So pharmacy staff should highlight the Department of Health guidelines for men and women to limit alcohol consumption to 14 units per week, and suggest drinking slowly with food, whilst alternating with water, while at Christmas parties.
Regarding hangovers, antacids are useful – and paracetamol is the preferred painkiller.
Sponsored products:
Sanofi highlights Maalox for indigestion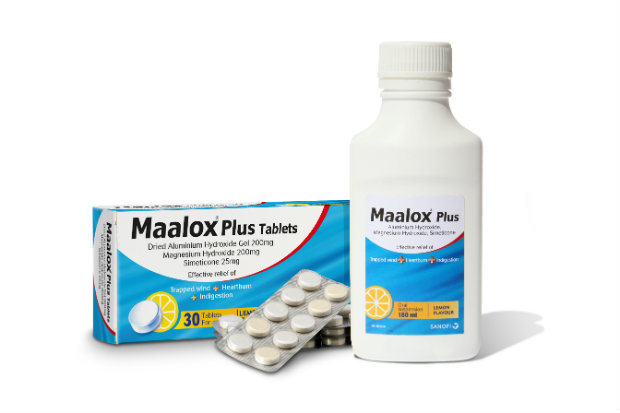 Manufacturer Sanofi has highlighted its Maalox Plus range as a treatment for trapped wind, bloating, indigestion and heartburn.
The lemon-flavoured triple-action formula is available in a tablet formulation that relieves excess acid in the stomach in under 30 minutes, Sanofi claims. 
Maalox Plus, which contains antifoaming agent simethicone, is available in a 180ml liquid formulation for £3.60, as well as 200mg tablets, at £4.50 for a pack of 30.
For trade enquiries, contact Ceuta Healthcare on 01202 780558. For product enquiries, contact Sanofi Medical Information on 0845 372 7101.
Gaviscon teams up with Great British Chefs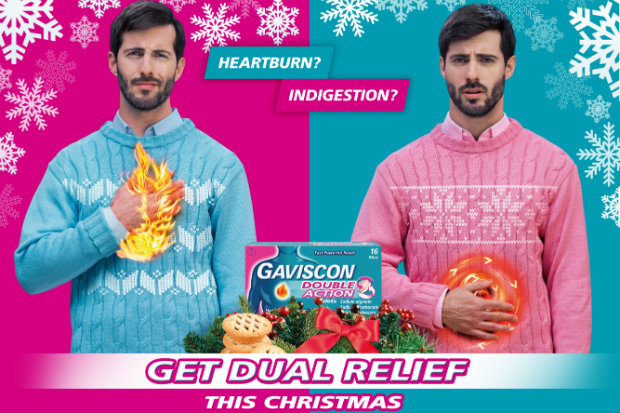 Heartburn and indigestion brand Gaviscon has teamed up with culinary website Great British Chefs to help consumers embrace the festive season and enjoy "lighter" takes on classic winter dishes.
The partnership is part of a £2.5 million advertising spend, and also includes a six-week campaign to drive awareness in pharmacies, with the aid of training guides and "shelf wobblers". 
Gaviscon senior brand manager Anne Dawson says: "Over the Christmas period the consumer need for heartburn and indigestion relief is likely to rise, which will drive footfall into pharmacies."
The Gaviscon Double Action range includes packs of 16 tablets for £3.39, 300ml liquid containers for £7.89 and packs of 12 10ml sachets for £4.99. 
For information, call 0500 445446.