EXCLUSIVE
A £160 million bank loan Day Lewis secured in March has given it the "firepower" required to buy all Lloydspharmacy branches that the multiple may have to sell ahead of its buyout of Sainsbury's pharmacy business.
Last month, government watchdog the Competition and Markets Authority (CMA) identified 13 areas across England and Wales where the deal could result in a "substantial lessening of competition" (see map) unless one or more Lloydspharmacy branches are sold.
Day Lewis CEO Kirit Patel first told C+D in December that he would be "very keen" to buy any Lloydspharmacy branches available.

He reaffirmed last week that he is "happy" to purchase all of the branches that the multiple could be forced to jettison in each of the 13 areas.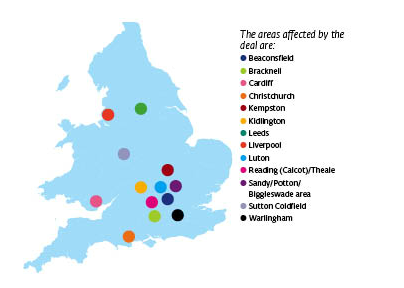 "National presence" would make purchases easy
Day Lewis already owns branches in most of the areas where Lloydspharmacy may have to sell up, and his company's "national presence" means it would have little trouble incorporating these pharmacies into the business, Mr Patel said.
Any potential purchasers of the pharmacies will need to be "mindful" of the financial impact of the government's plans to slash pharmacy funding in England by £170m in October, Mr Patel warned.
But he predicted that bidding for Lloydspharmacy branches would be "competitive", with many prospective buyers.
Day Lewis is the only company that has expressed an interest to C+D in buying the pharmacies. Read the responses from Boots and Well here.


Would you consider bidding for any of the Lloydspharmacy branches? 
We want to hear your views, but please express them in the spirit of a constructive, professional debate. For more information about what this means, please click here to see our community principles and information