Exclusive data from the C+D Salary Survey – presented to England's chief pharmaceutical officer Keith Ridge last month – revealed that stress among pharmacists rose six percentage points from 2016-18.
When asked by C+D how Boots is addressing stress among its employees, the multiple's pharmacy director Richard Bradley pointed to a wellbeing steering group, pharmacist mental health first aiders and its "five ways to wellbeing" initiative.
"We have also worked closely with the Pharmacist Support charity over a number of years to develop training for all our pharmacists and pre-regs, as well as setting up a coaching service, which we are hoping will be available for all pharmacists in Great Britain soon."
The multiple has "started discussions with colleagues in the University of Manchester, who are looking at this important issue", and has "shared our experiences, resources and learning with other community pharmacies in the UK", Mr Bradley said.
"While this goes some way in addressing the symptoms of a busy workplace, we understand we need to address the causes too, and welcome any work to look at the causes of stress in community pharmacy, and to find solutions for our pharmacy teams as a whole," Mr Bradley added.
"We are also investing in new technology and colleague training to enable simpler and more efficient processes within our pharmacies."
Well has also told C+D how it is tackling stress, including its own initiative with Pharmacist Support.
Lloydspharmacy told C+D it would not comment on how or if the multiple is tackling pharmacist stress.
RPS English board chair Sandra Gidley – who passed C+D's stress data to Keith Ridge – has said the society wants NHS England to fund a pharmacy version of the GP Health Service. Read C+D's analysis of this service and whether it would be a good fit for pharmacy.
What did C+D's stress findings show?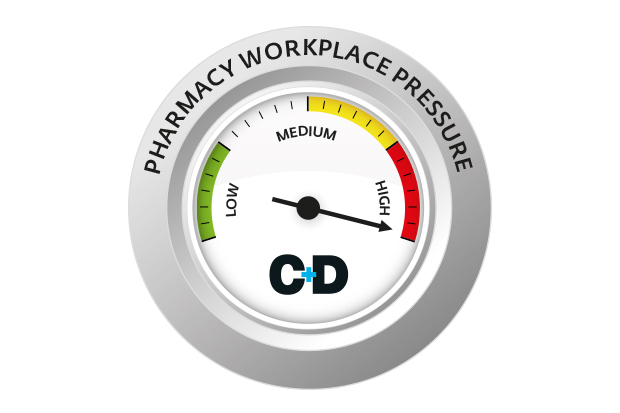 A briefing document – compiled by C+D from the past five years of Salary Survey data – revealed that stress levels among UK pharmacists rose six percentage points between 2016 and 2018.
C+D's document – which you can download here – was presented by RPS English board chair Sandra Gidley to NHS England's chief pharmaceutical officer Dr Ridge in a meeting on January 10.
The document also highlighted the impact of stress on the public in 2018, with 34% of the 1,067 pharmacists who responded to last year's survey saying it had the greatest effect on their service to patients.
Stress-related problems affecting readers in 2018 included: trouble sleeping, cited by 43% of pharmacists; depression (27%); drinking more than usual (11%); and suicidal thoughts (6%).